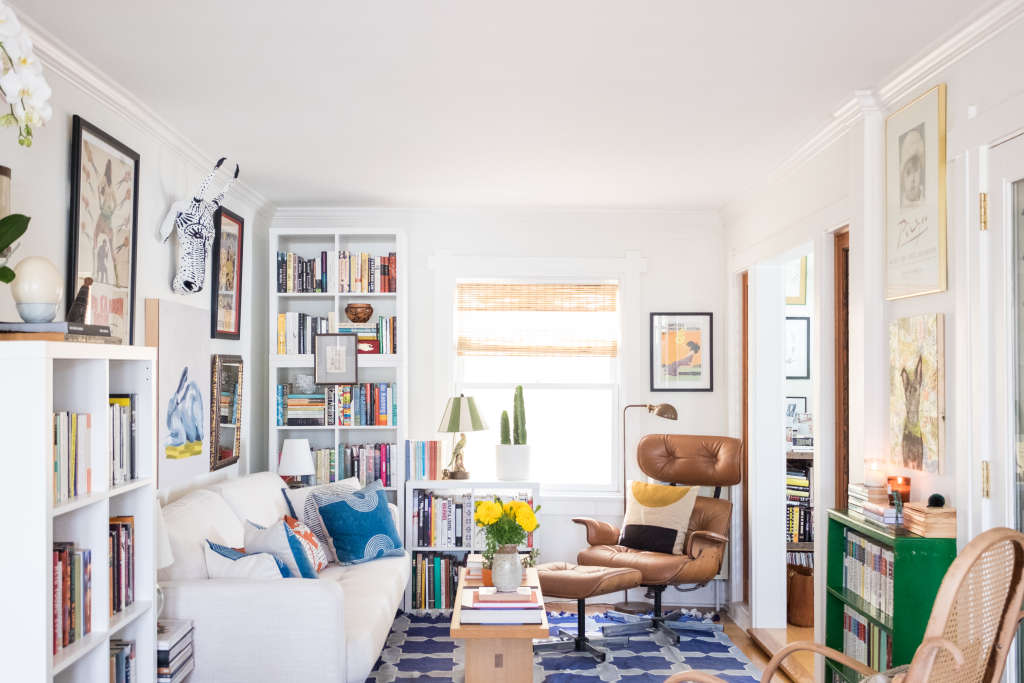 A large part of being a real estate agent is zhushing up a space to attract potential buyers. Because of this, many agents keep an accent and furniture inventory to lend to sellers with an open house or listing photo shoot on the calendar. In case you're wondering, they aren't super snobby when it comes to sourcing decor items: They often shop in the same places with an eye on price. I asked real estate agents for insider intel on where they shop to find the inexpensive accents they need. Here, their go-to purchases at nine major discount stores:
One addition that Beatrice de Jong, director of residential sales at Open Listings in Los Angeles, California thinks totally changes the vibe of a space? A great rug. "I think a new rug can transform a room to look more intentionally styled and clean," she says. She frequently looks to AllModern.com for affordable, yet stylish rugs, like this one.
Kristine Menas Daley, a real estate consultant in Chicago, was looking for a circular mirror to hang over a fireplace, but was having trouble finding exactly what she wanted. "I had been searching all over the place but everything was crazy expensive." Then an Amazon ad for an Umbra mirror appeared—"I went to check it out and it was only $150—less than a third of other mirrors I had seen. I was pleasantly surprised!"
Related: 20 Eye-Catching Ways to Decorate with Mirrors
When Anna Hehenberger, a real estate agent at Warburg Realty in New York City needs to create a compelling tablescape, she heads to Crate and Barrel's hip sister brand to pick up a set of dinnerware, like this artisan-inspired set. "[Their selection is] very practical and cute," she says. "I have also had great customer service experiences with them, so I recommend!"
If Becki Danchik, a real estate agent with Warburg Realty in New York city, is looking to freshen up a space with an interesting chair (like this one), she heads to World Market for their eclectic collection. "They frequently have sales and member perks that allow you to save more as well," she says.
If you're looking to visually fill out a section of your home on the cheap, look no further than your friendly neighborhood Dollar Tree, says Jeanine Boiko, a real estate salesperson in Wantagh, New York. "You can dress up candles and apothecary style jars with soaps and faux fruit for use in your kitchen or bathroom," she says. "If you're staging a house, some stores offer white plates and mugs. These are perfect for a breakfast nook, kitchen bar, or dining room table."
Related: 5 Moving Essentials to Buy at the Dollar Store
The Swedish mega-store is best approached with a "mix and match" game plan, says Daley. "For example, I love their white glass top [TORSBY] table with a chrome base as it's very similar to others but sold for a fraction of the cost." She especially loves how versatile their tables are. For example this one can be converted into a desk or a kids' craft table in a basement, depending on the house's needs.
Though staged homes usually have minimal clutter, the best ones maintain a bit of a lived-in vibe—and that means wrangling anything that can be displayed in an aesthetically-pleasing manner. Many times, this calls for finding organizers. Danchik's choice for affordable ones? Muji. "You'll find plenty of them that you didn't know you needed, but they come in handy for every room in the house," she says. She recommends this $1.50 desk organizer and $7 cutlery stand.
When Samira Tapia, a Realtor with Compass in Beverly Hills, California, needs a few new bedroom decor pieces for a listing, she heads straight to T.J. Maxx to create an Instagram-worthy set-up. "Their linens are great for creating a luxurious yet au courant bed setup," she says. "Layering bedroom linens with their throw pillows and draping a throw across the bed warms up the space for not much money."
Related: 5 Smart Tricks for Shopping T.J. Maxx Like a Pro
When a real estate agent comes across a dimly lit home, they're likely going to call in reinforcements. Daley's retailer of choice for lighting fixtures (like the fan pictured above) and accent lighting? Wayfair. "I love Wayfair because they have great filters, the app is as easy and fun to look through as Instagram, and they have great customer service," she says. "Also, they have a great sale section, so be sure to scroll through to find some bargains."
Have all your pieces but don't now how to display them? Here, 5 staging moves real estate agents will do to every home, no mater how pretty it already is.