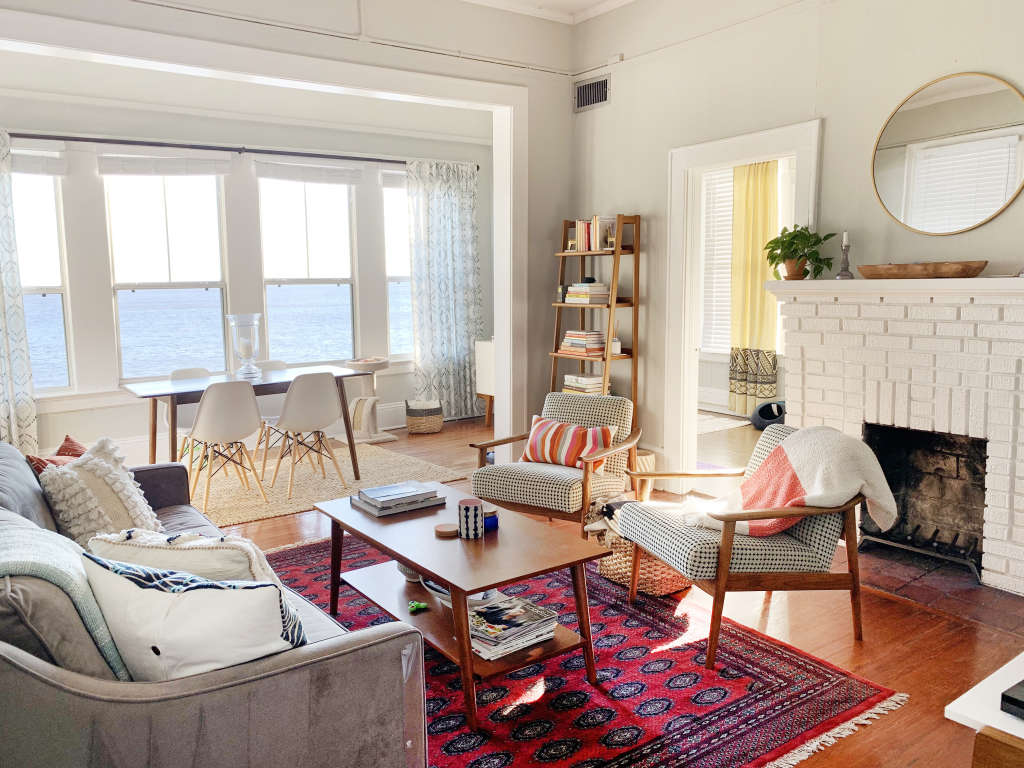 Name: Miya Kusumoto, my kitten, Poppy
Location: Riverside — Jacksonville, Florida
Size: 900 square feet
Years lived in: 2 years, renting
The Riverside House—Rochester House as it was originally known—was built in 1869 as a boutique hotel that could accommodate up to 40 guests. Perhaps the most famous guest that stayed at the hotel was Mary Todd Lincoln—reportedly she came down South to recover from arthritic pain.
The original photos of the property show amazing architecture, unique outdoor spaces, and a beautiful river view. The Riverside house is now divided into five apartments–two on the first floor, two on the second, and one on the third floor.
I moved to Riverside three years ago for work after finishing graduate school and was so looking forward to living in the historic Riverside Neighborhood of Jacksonville. The neighborhood is young and vibrant, art and music filled, and has a number of restaurants and bars within walking distance. I actually lived in a different apartment around the corner and was shocked to see an apartment in the Riverside House come available! This was a building I constantly rode my bike by and daydreamed about living in.
My parents have a really amazing art collection and I grew up with a deep appreciation for filling my walls with colors and pieces that are meaningful to me. I have some prints I love from Etsy and from my sister who is an artist, photographs I've taken while traveling, and menus from some of my favorite restaurants. One of my recent creative outlets was attempting a painting of my own—I did and I am super proud of it!
(Image credit: Miya Kusumoto)
I moved in (and after the movers complained to me about carrying my heavy furniture up the spiral staircase), I was able to enjoy a glass of wine and a good book on my porch. The days since, I have spent hanging up gallery walls with my favorite photographs, art, and menus (albeit a little crookedly), curating cozy spaces for my cat to cuddle up in while I'm at work, and reading and studying at my dining table.
I work in technology at a large financial services corporation and I am currently studying to get my data science certification. I stay really busy but I always love to have my time at home—in my cozy haven with all of my favorite surroundings. The space I have built around me is somewhere I love to be—it is filled with my favorite photographs, books, memories, smells, and music and I have learned how to be productive in this space (even though I want to be rearranging, redecorating, or reading a book).
My cat, Poppy, also loves the space. She loves to peek out the windows and click at the animals that make their appearances outside the window. I take her outside on the leash from time to time and other than getting rather curious looks from all of the passersby, I think she enjoys staring at the water and chasing lizards.
If there is one thing I would change about this apartment, it would be the kitchen. It's a bit dated and the lack of a dishwasher makes it difficult to commit to cooking a large meal. I love the natural light in this room, though, and the floor to ceiling windows make me feel like I am cooking in a tree house.
(Image credit: Miya Kusumoto)
What is your favorite room and why? Hands down, my favorite room is the living/dining room. I love it because as the light changes throughout the day, so does the energy of the room. In the mornings, the river looks smooth and calm, and I don't need any light because the morning sunshine lights the room with a silver glow. Then in the evenings as the sun sets, I can light my lamps and my candles and give the room an intimate and relaxing feeling. You can't see the river but you can see the lights of San Marco, Ortega, and the Air Station flickering through the windows. This room is absolutely where I spend majority of my time. From reading a book or watching a movie curled up on the couch, or enjoying a meal, practicing calligraphy, or studying at the dining table, the room's energy and history always feel like they are surrounding me and allowing me to truly appreciate the space.
One of the quirks about living in an apartment that was not built as an apartment originally are all of the weird spaces that are now standalone rooms. My bathroom is long and skinny with very limited storage so it was difficult to figure out how to keep all of my bathroom items organized. Baskets and simple shelving have become my best friends.
(Image credit: Miya Kusumoto)
Any advice for creating a home you love? When I first moved into a place by myself, I was in a frenzy to fill it with furniture. I was scouring antique malls and home decor stores to ensure I had my place all warm and homey as quickly as I could. My indecisiveness kicked in—and thank goodness for that— because it forced me to slow down and really understand what energy I wanted my space to radiate. I found a couch and chairs I loved, I found rugs and tables I loved, and I found a bed I loved. Each of these pieces—seemingly disparate in style and acquired at different times—all work together to form a space that's cohesive and representative of my personal style.
I truly love my home because it is filled with items that I love—both individually and together. I also think it is important not to feel stuck to the styles and designs that are shown in magazines and online. It is great to take them for inspiration but I always make sure I am going with my favorite colors, fabrics, lines, and styles. Like your favorite outfit, if you feel comfortable and confident in it, you will be able to rock anything.
Thanks, Miya!
This submission has been edited for clarity and length.
• Interested in sharing your home with Apartment Therapy? Contact the editors through our House Tour & House Call Submission Form.