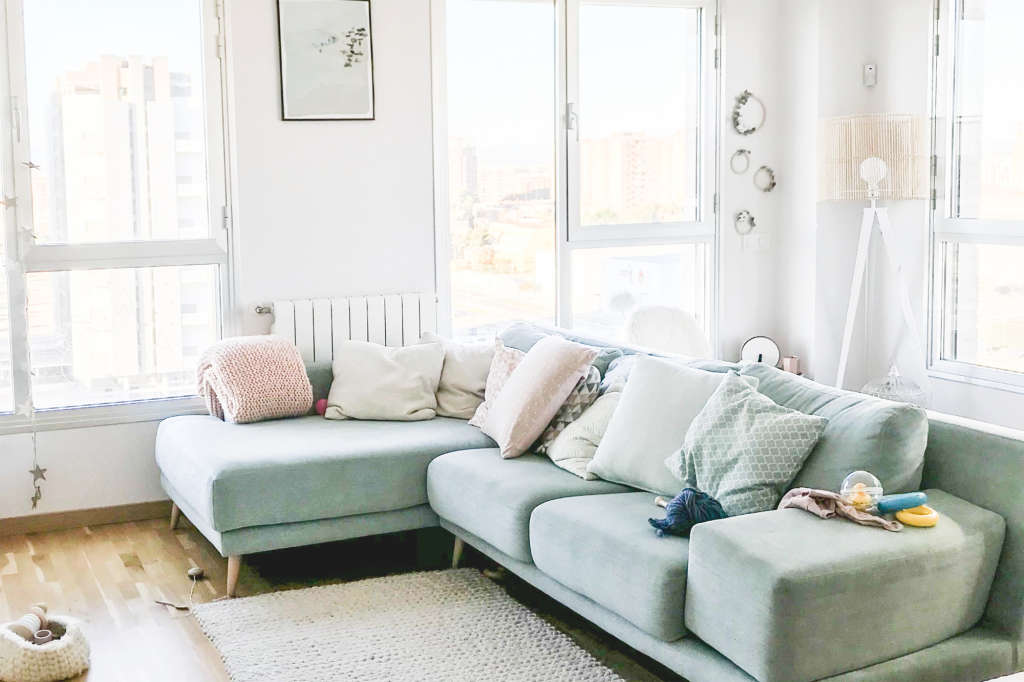 Name: Sofia Gil, my husband and two daughters: 1 and 4 years old
Location: Valencia, Spain
Size: 1184 square feet
Years lived in: 4 years, renting
We are a Portuguese family living in Valencia, and we love it here. Our flat is very bright, and my husband and I decided to use pastel colors for the decor. A lot of the furniture is second hand and painted with chalk paint; we love to combine old and new. A few years ago we lived in Germany and we loved the Nordic styling found there, so we tried to bring that look to our home here in Spain.
Describe your home's style in 5 words or less: Nordic pastel home in Spain
What is your favorite room and why? The living room is my favourite room because it's the brighter room and also is where we spend time together as a family. The room is quite big and it's divided into four nooks: dining, piano, sofa, and chill-out zone with a window bench. Here we all do different activities. I knit most of the time and do some crafts, the girls play, my husband plays the piano, and we all watch TV!
If you could magically change something about your home, what would it be? That's an easy answer! Would love to have white floors!!
What's the last thing you bought (or found!) for your home? The last thing I got for my home was the knitted play mats from my own shop for the girls' rooms. They are uniquely made and hand knitted by me.
Any advice for creating a home you love? Start by choosing a color palette and stick to it; you will get harmony and your home will be beautiful. Do lots of DIY and your home will be unique with furniture that you have customized.
Thanks, Sofia!
• Interested in sharing your home with Apartment Therapy? Contact the editors through our House Tour & House Call Submission Form.
*This submission's responses have been edited for length and clarity.