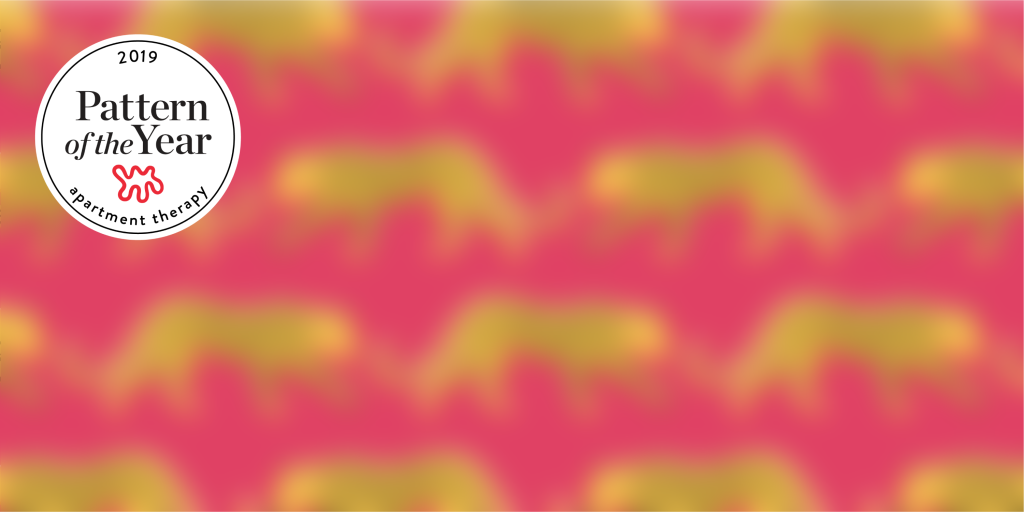 Like all the best trends—velvet furnishings, pastel kitchen appliances, even low-carb diets—animal prints have cycled in and out of style over the years (and centuries). At times they've been perceived as luxurious and expensive, at other times tacky, outdated, and even a little scandalous, but they never truly leave the cultural lexicon (most recently, Tom Ford's 2018 Fall Ready to Wear Collection relied heavily on those wild patterns).
But at Apartment Therapy, we've started noticing a whole new way of incorporating animal print inside the home—instead of the the typical zoomed-in cheetah markings, leopard spots, and zebra stripes, we're seeing repeating patterns showcasing the entire animal, typically on a solid colored background. And we're calling it our first-ever pattern of the year: The New Animal Print.
It's a bit maximalist, but we're actually seeing a shift away from the stark minimalism that has dominated the past decade or so. 2018 was marked by an array of maximalist, even whimsical trends, from terrazzo, to patterns featuring body part after body part, to curvy furniture that calls back to the Art Deco era. Don't worry, Scandi simplicity isn't going anywhere, it's just not the be all end all anymore. That's part of why we were so drawn to The New Animal Print—it evokes that sense of maximalism, but it's also natural, thanks to the animals it portrays, while echoing the repetitive nature of most traditional prints. It's like the perfect marriage between accessible and out-there.
Plus, we're only a month into 2019, and we've already seen iterations of this pattern creeping up more and more. There was last week's House Tour that featured zebra-adorned wallpaper, the leopard-patterned wallpaper Cole & Son shared on their Instagram, and the countless home products we've seen with similar prints: wallpaper, of course, but also rugs, and pillows, even smaller accessories like wallets and tableware.
Why a Pattern of the Year?
It's hard to miss the yearly excitement over Color of the Year announcements, when paint companies (not to mention Pantone) release their prediction for the specific shade they think will reign supreme for the next 12 months. Well, this is our own Apartment Therapy twist on that idea. Patterns have a special ability to truly define an era; think about the late '60s and you probably picture mod, Mondrian-inspired prints. Think about 2017 and palm leaves and banana leaves come to mind (both of which are admittedly still popular, but past their peak). So we set out to find a pattern that's on the rise in the decor world: one that encompasses the trends we're seeing right now, and that feels decidedly 2019.
To kickstart our search for our first Pattern of the Year we wanted to hear from our audience, so we hit up Instagram Stories with some directional questions to get a sense of the prints people respond to most. The results included tons of requests for animal-inspired prints, patterns with tropical or global influences, large shapes, hand painting, and yes, plenty for more leafy prints. After taking this into consideration, a small panel of AT editors nailed down five specific patterns that we brought to the entire Apartment Therapy Media team for a vote. Those patterns were: Neo Art Deco, Large Scale Abstract, Blush Botanicals, The New Animal Print, and Illustrated Citrus.
After counting the votes and determining the top three—Large Scale Abstract, The New Animal Print, and Blush Botanicals—I sat down with our founder and CEO Maxwell Ryan and our Editor-in-Chief Laura Schocker to make the final decision. We wanted to land on the one pattern that not only aligned with as many reader requests as possible, but that was on the up and up in the world of design. Most importantly, we wanted it to feel fun, fresh, and new (sorry Blush Botanicals, but been there done that). And so, The New Animal Print was crowned our first Apartment Therapy Pattern of the Year.
What's Old is New Again
This isn't your grandma's (or Jackie O's) animal print, though it is rooted in history. There are echoes back to medieval folk art, especially large scale tapestries featuring animal imagery, the most famous of which is probably The Unicorn Tapestries, currently on display at The Metropolitan Museum of Art's Cloisters location. The fantastical nature of the unicorns may not be present in today's take, but the idea of featuring an animal as the focal point of a sizable wall hanging is a similar idea.
(Image credit: Shutterstock/Everett – Art)
It's also impossible to talk about a pattern like this without touching on the iconic Scalamandre zebra print with the vibrant red background. First designed by Flora Scalamandre in the 1940s, it famously graced the walls of Gino's, a legendary restaurant on New York's Upper East Side once frequented by the likes of Frank Sinatra and Jackie Kennedy Onassis. After a fire in the 1980s ruined the wallpaper, the design was re-released and is now available in a variety of colorways.
The first time I saw the Scalamandre zebras was a formative moment for my design sense. I've never been one for maximalism—both my decor and closet rely heavily on black, white, and gray, with just a few touches of color (mostly red). So when I watched "The Royal Tenenbaums" in high school, I was surprised by how transfixed I became by the red zebra wallpaper in Margot Tenenbaum's bathroom. It was loud, whimsical, and unapologetically bold, but it also showed how a large-scale pattern in your favorite colors can almost transform into a neutral. It's a visual I go back to time and time again today as a design editor.
Of course, Scalamandre wasn't the only person to create an iconic wallpaper out of repeating animals, Andy Warhol crafted something similar in 1966 with the first in his Cow series. He screenprinted a photo of a cow in bright, vibrant colors, and printed a repeating version of the image as a wallpaper. The following three images in the Cow series were also brightly colored screenprints, but the original yellow and pink wallpaper is the most enduring image, and is currently serving as a backdrop for The Whitney's new Warhol exhibition.
It's also worth noting that animal wallpaper has had a place in residential homes for some time. But more often than not, those papers were childish and intended for nurseries and kids' rooms. My own bedroom as a little kid, for instance, was plastered with pastel bears. The New Animal Print, on the other hand, is a much more sophisticated, adult take fit for the rest of the home.
History isn't the only influence here, though. Wallpaper seems to be taking a cue from wallpaper—the kind found on our screens that is. The repetitive layout is reminiscent of the tiled designs found on phone backgrounds, phone cases, and apps like Patternator that allow you to create "wallpaper" designs of your favorite images. It's even reminiscent of one of 2018's trendiest holiday gifts, socks with a custom pattern featuring your pet's face.
Bringing 'The New Animal Print' Home
Beyond its timeliness, the pattern has a sense of sophistication that design-minded folks are drawn to. Even Apartment Therapy's own Lifestyle Editor, Taryn Williford is considering adding an eye-catching tiger print wallpaper from Spoonflower—one that her friends absolutely loved—to her ultra stylish Atlanta loft.
"I have been through my fair share of wallpaper samples, but everyone who saw the tiger print one taped to my wall agreed it was something special. I think it's the perfect mix of a lot of the best patterns," she told me. "It's repetitive like a modern geometric. But it still has a naturally organic vibe, because it's an animal, after all. If you can't get sick of cute animal photos, you'll never get sick of this pattern."
Wallpapers inspired by that iconic Scalamandre wallpaper are also still popular, as illustrated by our House Tour section. The most recent example I came across is a masterclass in using these maximalist patterns in small, accessible ways. The renter purchased a red zebra-adorned wallpaper on Etsy, and used it line the back of her bookshelf. The result? A punch of pattern in an easy-to-digest dose.
Using these animal-heavy wallpapers to cover small spaces, instead of entire rooms, is a great way to dip your toe into the trend without fully committing. This Dallas homeowner, for instance, used Julia Rothman's Serengeti wallpaper from Hygge & West to paper the interior of two built-in shelves, as well as the front of a staircase to great success. This specific iteration also includes trees, which could satisfy pattern-lovers' desire for leafy prints as well.
Of course, even papering a small portion of your space can feel intimidating. If that's the case for you, there are plenty of even smaller ways to introduce The New Animal Print to your home. I like the idea of bringing the pattern into a bright bathroom, either as a shower curtain, towel, or even a bathmat. But a blanket or throw pillow would be a great way to bring the pattern into your living or sleeping space too. Looking for something even more commitment-free? Try an art print. You can add it to your gallery wall now, but swap it out should you ever tire of the pattern (or fall in love with 2020's Pattern of the Year).
If you are ready to bring The New Animal Print home, check out our new store over on Society 6. We covered some of our favorite furnishings and accessories with our 2019 Pattern of the Year.
We'll be following The New Animal Print throughout the year, and plan to bring you more inspiration for incorporating it into your space as we work our way through 2019. Most of all, though, we're thrilled to kick off this new yearly franchise. Let us know what you think in the comments below.
Apartment Therapy supports our readers with carefully chosen product recommendations to improve life at home. You support us through our independently chosen links, many of which earn us a commission.