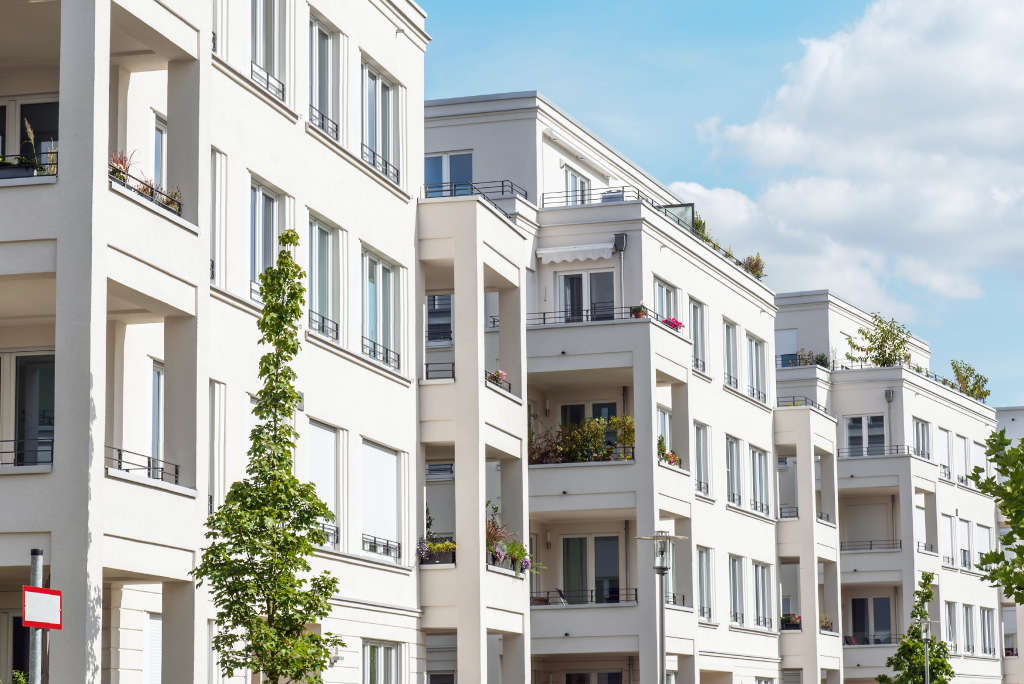 Even if you read your lease line-by-line (you deserve a juris doctorate!) when you signed, you'd probably like clarification on some policies and have some questions about your rental—whether you've resigned twice or just moved in. Have there ever been bed bugs? Ghosts? If my lease ends at the end of the month, what's the absolute latest time I can move out? What's my best option for pizza delivery?! Speaking of deliveries, where do my Amazon Prime packages go?
Your landlord or property manager has a wealth of knowledge that's probably going untapped, and many are willing to entertain your questions.
Ready? Let's play 20 questions: Landlord edition! Here, what you should ask your landlord or property manager—stat!
1. How much should I budget for utilities?
Many prospective residents don't ask about utility costs, and just focus on the apartment rent, says Dan Tenenbaum, the founding principal for Pacific Crest Realty, a Los Angeles-based apartment owner.
"Utilities can often add a significant amount to the total cost of housing," points out Tenenbaum, who is also the chair of the California Apartment Association for Los Angeles. "Some owners include all or most utilities in the rent, while some don't include any."
Your landlord might also be able to help you budget for utilities. Tenenbaum says he sees what residents are being charged for water, sewer, and trash, and how they vary from building to building. They're also aware of changes in codes and laws that could affect your utility rates. For example, trash costs for most L.A. residents nearly doubled at the end of 2017 because of a newly implemented city recycling program, he explains.
2. Is this property subject to rent control?
You can go online to see if your city has rent increase restrictions, suggests Tenenbaum. Your landlord will know whether any rent-stabilizing ordinances apply to buildings you're looking at or living in. Rent control ordinances are most often mandated at a city level, he explains, so expect a lot of variation. For example, in New York, there's a difference between rent control and rent stabilization, and there are several nuances—for example although a building may contain rent stabilized units, not all units in the building are necessarily rent stabilized.
3. What kind of complaints did previous tenants make?
This is a good line of questioning to find out whether there are noise or smoke issues that could disrupt you, explains New York City real estate agent Becki Danchik of Warburg Realty.
Danchik also suggests asking: "If I have an issue with a neighbor, what's the best way to address it?" It may not be a good idea to confront your neighbor directly, and, for the sake of harmony, the landlord might actually prefer to handle the issue on your behalf.
4. Are you reporting to credit bureaus?
Millennial credit scores are so-so, and one thing that's holding them back is credit history. While it's standard for mortgage companies to report to the credit bureaus, in most cases, landlords don't report monthly, on-time payments made by renters.
But, there are services out there that allow landlords to report on-time payments as a method to help build up the renter's credit score, says Jonathan Faccone, founder of Halo Homebuyers, a New Jersey real estate company. He suggests renters ask their landlords if they could report their on-time payments.
"This is a great and mutually beneficial way to incentivize the renter to pay their rent on time, as well as help the tenant build up their credit history," he says.
5. Where can I work on my car?
Do you save money by doing your own oil changes or do you buy and fix cars for extra income? Awesome. But, many leases don't allow you to work on your car on the property, points out Robert Taylor, a rehabber in the Sacramento, California area who has experience as a landlord. Your landlord is likely familiar with the area and can point you to a garage for DIY repairs.
6. Where can I find additional parking?
Parking can be a challenge when you're renting. Even if you have a spot of your own, where should your friends or family members park when they visit? Landlords typically know a lot of the neighbors and might know someone who rents out their garage or an extra spot, says Jesse Harris, Property Manager with Medallion Capital Group, based in Toronto, Ontario. The key here is to make sure you, or your visitors, don't get towed away by accidentally parking in an area you shouldn't.
7. What is the guest policy?
Raise your hand if you've ever had a roommate's significant other spend so much time in your apartment it was as though you had an additional roommate—but a freeloading one! This tends to be a universal experience.
If you're simply dating someone, your love interest probably wouldn't go on the lease, explains Shawn Breyer, who is with the real estate company Breyer Homes in Atlanta, Georgia. But, a lease will usually limit the number of days someone who isn't on the lease can be a guest at the property, Breyer says.
"Having your companion staying too long at your apartment can be a direct violation of your lease," he says.
You may get a tsk, tsk in the form of a notice of a lease violation, and, in extreme cases, be evicted. Though, some landlords won't care at all how often your partner stays over, while others will want that person added to a lease. It's complicated.
8. How would an early lease termination work?
Sometimes you need to get out of your lease early, whether that's because of a job offer or your dream home hit the market and you're ready to bite. There's likely information about breaking the lease in your lease agreement. But, talking through it with your landlord might help you better understand your options if a life change comes about, says Riley Adams, a property owner in New Orleans.
9. Would you live here?
"This question is great because it puts the landlord on the spot," Adams says. "Try your best to gauge the sincerity in the explanation. Does it seem believable they'd want to live there? Or do you see them embellishing details or lessening some clear negatives."
10. How can I lower my energy bill?
Experience some sticker shock when your utility bills started coming in? Ask your property manager how you can conserve energy, suggests Teris Pantazes, owner of Construction KAT, a Baltimore, Maryland, company that manages tenant build outs and turnovers.
"We know the quirks of the building and can help you on a lot of ways to keep utility bills low," he says.
11. Which neighbors are squeaky wheels?
"I'd rather tell you up front than get calls at 10 p.m. on a Friday," Pantazes says. There you have it!
12. How do you like to receive rent payments?
Ask about different ways to pay rent. "I'm human. I have a smartphone. I too would rather get a Cash App Payment than wait for a check in the mail," Pantazes says.
13. Are there any renovations coming up?
This is a big one, especially if you work from home! Steve Silva, a New York City real estate agent, with Warburg Realty recommends asking if there are any construction projects or renovations within the building that are coming up. If so, it might be time to find a nearby coworking space or a coffee shop that doesn't have time limitations on the free WiFi.
14. What's the pet policy?
Thinking about getting a pet? Check in with your landlord to see what kind of rules and restrictions are in place, and what kind of fees residents with pets are responsible for, Silva suggests. You may need to put down an extra deposit and pay an additional fee each month with rent. Also, some buildings have limits requiring dogs be under a certain weight.
15. How often does an exterminator come to the building?
And, a follow-up question to ask: What's the procedure when the exterminator visits individual apartments? According to New York City real estate agent Deborah Ribner of Warburg Realty, asking these questions will help you glean whether there are any pest problems. You also want to know whether you need to be home when an exterminator comes through the apartment or whether someone from the apartment can help accompany the exterminator, Ribner says.
16. What DIY projects require building approval?
Also, when it comes to apartment improvement projects that require approval, ask what the process is like and what kind of lead time is needed, Ribner suggests. For instance, are you allowed to paint the apartment? Does that require approval? How long does it take to get approval? If you plan to hire a professional to do the job, is there an extra layer of approval needed from the building?
17. Who should I contact in the case of an emergency?
"If there is a leak from your bathtub over Labor Day weekend, you need to know who you should be contacting to get an immediate response and assistance," Ribner says. Tenants should know who to get in touch with in case of an emergency. If you can't reach the superintendent on a weekend, after-hours or over a holiday, what's the emergency number for the building?
18. What local service providers offer discounts?
Your property manager can assist with move-in by providing checklists and connecting residents with local service providers, many of whom offer discounts and incentives to residents, says Diana Pittro, executive vice president of Chicago-based RMK Management, a property management firm with a portfolio of over 6,100 apartment homes in Illinois, Indiana, Wisconsin, and Minnesota areas.
"Need help moving your piano or finding a dog walker? Property managers have likely already been asked that question and have a ready reply," Pittro says.
19. Where's the best hiking trail?
"Similar to a hotel concierge, property managers can tell you where to find your favorite food, direct you to a kayaking group, or provide the location and reviews of the nearest elementary school," Pittro says. A great property manager will want to make sure the resident experience is a happy one, so will want to share information with you about local parks, cultural organizations, and school districts, she says.
20. How can you make my life easier?
If you're in a luxury rental, you might be surprised to learn that property managers just might be able to assist with day-to-day tasks, says Ben Creamer, the co-founder of Downtown Apartment Company, a full-service brokerage specializing in luxury residential rentals in Chicago.
"Renters are often surprised to learn that a property manager can help with ordering flowers, making dinner reservations, or arranging for housekeeping services," he says.
So, have we made a strong case that your landlord or property manager would be a solid contender for your "Phone-A-Friend"?