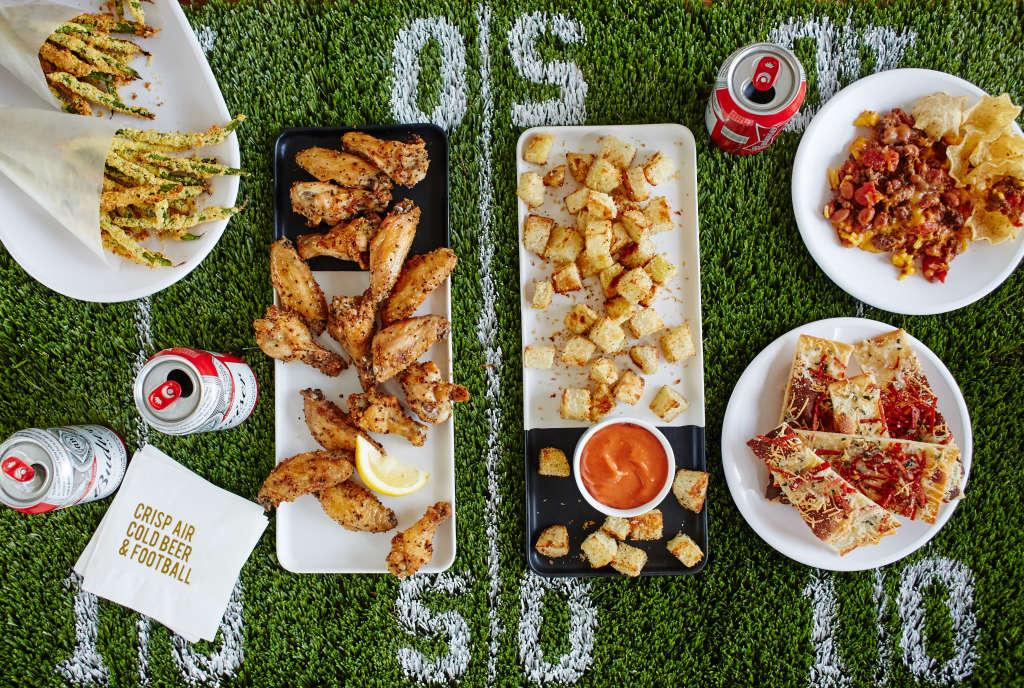 Super Bowl LIII is this weekend. If you're not a diehard Patriots or Rams fan, you may not be too hyped up. It's even possible you forgot the big game is coming up this weekend. You're forgiven because there's still time to whip up a Sunday afternoon fiesta, complete with decorations and themed snacks.
Pinterest has plenty of clever and chic ideas to help you elevate your Super Bowl party decor, no matter who you're cheering for this year. We picked out the nine Super Bowl party ideas you should try.
This snack set-up is ideal for procrastinators or for those who don't have a lot of prep time this week. You can buy the ingredients pre-chopped and ready to eat. All you need to do is pour them into bowls and arrange at different heights. To add interest, you can place the bowls on a wooden board.
It's amazing what a difference serving jars and scoops make with the simplest snacks. These oversized glass jars keep the chips tidy and germ-free, all while showing off the different colors and textures of the chips. Guests can scoop their favorites into adorable brown paper bag footballs.
Simple sliders get a festive upgrade with an array of mix-and-match toppings. What makes this burger bar extra special is that all the ingredients sit up high on cake stands, leaving room for a decorative grass "field" below. You can brighten up the food display with ingredient markers decked in your favorite team's colors.
This hot pretzel bar is all about the dips. You can whip up your favorite flavors from scratch or pick up pre-made sauces. Then, pour them into a variety of bowls, using different shapes and materials to add visual interest. The photo-ready pretzels and sauce selection makes it almost too pretty to eat…almost.
This eye-catching burrito bar will make your friends think they've walked into a very chic Chipotle. The toppings are simple, but the chalkboard sign and yarn pom poms are anything but ordinary. Everyone can mix together a bowl or wrap up a burrito with all their favorites.
You can print out a banner to turn your food table into a concession stand, just in time for kickoff. It lets everyone know where to find all the delicious munchies.
Help guests make memories with a football photo booth. All you need is black kraft paper, a chalk ink pen, and props to keep everyone entertained between commercials.
It can take a lot of food to feed a house filled with football fans. If you consider yourself handy, this carpentry project might be the best way to keep your snacks organized in one spot. Plus, it could make your house the place to watch the game.
You don't need VIP access to feel like you're right on the sidelines with this gridiron project. To make this football field, all you need is green felt, white duct tape, pre-cut vinyl numbers, and a table or kitchen island you're willing to transform.