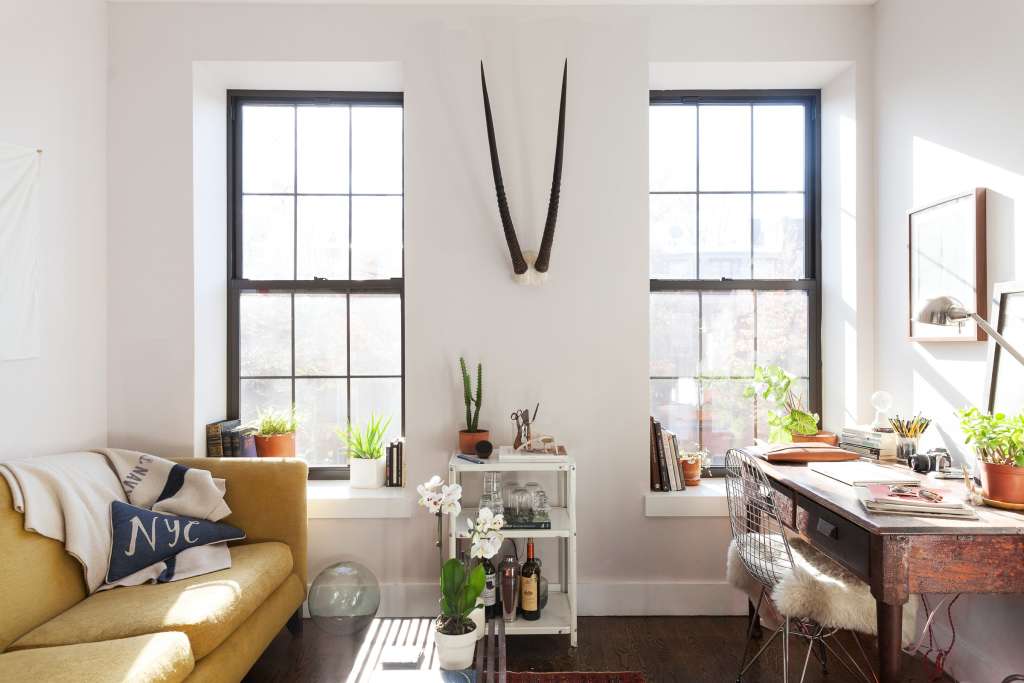 I have a confession to make. I used to be fully committed to and head-over-heels in love with Craigslist, and only Craigslist, when it came to buying secondhand furniture. The deals on there were just too good. That time I scored a Lucite console table for only $25? Gold. The scorched bamboo side table I snagged for free? Yes, please! Ok, I'd used LetGo a couple of times and was always curious about the other resale apps out there, but 99 percent of the time, Craigslist had the goods.
This past fall, though, I started hearing a bit more about Facebook Marketplace, and I honestly don't know why I didn't think to check it out sooner. But you guys—I'm obsessed. I've found so many amazing pieces on there as a buyer and have had equally good luck as a seller. Here are a few reasons why I love it:
1. It's Quick
If you want to shop or sell on Facebook Marketplace, you better be speedy. The good news is that you're likely to get unwanted items out of the house within days. This rapid-fire pace is partly due to the fact that all communication takes place over Facebook messenger, rather than email, and since many people have the messenger app downloaded on their smartphones, the process is similar to texting. Here's how it works as a buyer. If you spot an item you like, there's an option for Facebook to send an automated message to the seller (usually along the lines of "Good morning, is this available?"), or you can craft your own. I usually send an automated message first since it's the fastest option (again, things really do move quickly!) and will then follow up with any specific questions, such as those pertaining to the seller's location (beyond the general one that's provided), an item's weight (crucial info if I'll be transporting it upstairs!), item measurements (if they weren't indicated in the description), or whether they prefer cash or PayPal/Venmo (people are often flexible). Sellers generally respond in a timely manner, and assuming you're the first person to express interest, they'll then work with you to coordinate a pickup time. The whole process is much, much speedier than Craigslist, where people generally go back and forth via email for hours or even days. That said, be prepared to be "on call" if you're posting an item, as buyers will expect a timely reply.
2. It's Personal
On Facebook Marketplace, you can automatically see who exactly you're messaging, as each item is associated with an individual person's profile. This makes the entire experience feel friendlier and more secure than other sites (and sellers will obviously see you, too, when you reach out to them). Additionally, Facebook Marketplace gives an options for buyers and sellers to rate one another after a transaction, and although this is not mandatory, it fosters a sense of accountability.
3. It's Accessible
Stuck in the back of an Uber? Waiting to meet a friend at the bar? Even if you just have five minutes, it's easy to browse Facebook Marketplace on the go, which I've found makes the site so much more accessible than Craigslist. (Yes, I'm one of those Craigslist diehards who's downloaded their mobile app, but it just feels kind of antiquated and difficult to navigate!). I've come across amazing items on Facebook while waiting in the checkout line at Target or killing time between meetings, so it's worth doing a quick scroll throughout the day just to see what's new.
4. It's Efficient
Listing items takes all of 30 seconds, seriously! As a seller, the process is quick and easy—you just take a picture of the item, include a brief description and/or measurements, and go ahead and upload. No need to enter your email address or contact info, as everything is synched to your messenger app. As a buyer, you can easily see all the items a seller is offering by clicking on their profile. This is useful if you find that you're drawn to someone's style or are curious as to what else they're offering before making a long trek to pick up one item. I always found the linking process on Craigslist confusing, so this feature is definitely one I appreciate.
5. The Selection is Top Notch
In general, I've found that the items I've seen on Facebook marketplace are more stylish and in-demand that those I've spotted on Craigslist in recent months. I don't know if more people are using Facebook now or if I've been missing out all along, but I've been pleased with what I've found, and friends have had equally good luck (one scored a pair of cane chairs with leopard print seat cushions for only $35!). Some of my favorite Facebook finds have been a pair of vintage peacock chairs for $100, a midcentury modern-style dining table for $15, and a small campaign dresser for $40. (Can you see why this is addicting?!).
Have you used Facebook Marketplace to buy or sell? What gems have you found?