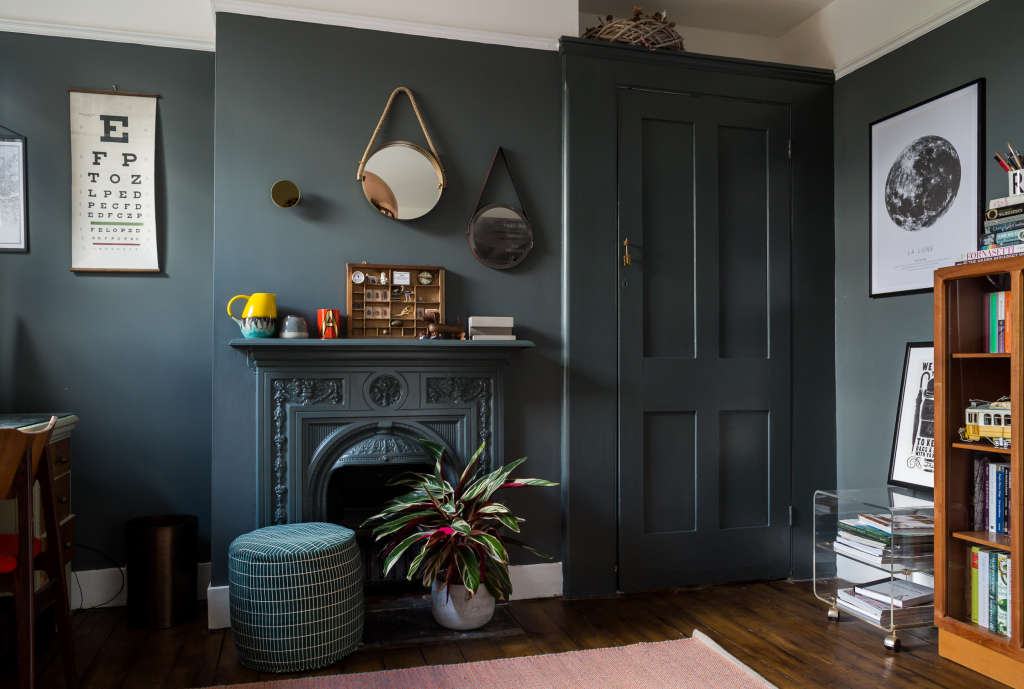 When I moved into a sprawling old Victorian in Louisville, Kentucky three years ago, my neighbors terrified me with their tales of four-digit utility bills. I'd swapped an under-900-square-foot bungalow for the three-story, 1890 behemoth, and was so scared of the bill the first year, I chose to freeze rather than turn up the thermostat. The bills were bad, but not horrendous, so the next year I made it a little more comfortable, daring to put it in the high 60s while we were home and awake. Then, last January, the stuff-of-legends bill hit: it was $661. I was shell-shocked.
This could NOT happen again, so now that winter has truly arrived and we're in the midst of a polar vortex, I've instituted some measures to make sure I never see a number like that again.
Spend time in one room
The Victorians had the right idea. There's a fireplace in basically every room of this house, even the kitchen. In the 19th century they could retreat to one room, close the door, or slide the pocket doors shut, and light the coal fireplace.
Obviously I'm not living in Dickensian times, so no coal for us and the fireplaces are purely decorative. But I can still follow their model. I work from home so we moved my desk from drafty and frigid downstairs to the most naturally warm room in the house—the TV room with low ceilings on the second floor—and here I will stay 'til spring.
Use one little heater instead of the whole-house furnace
Naturally it's cheaper to heat one room than the whole house, so rather than turn up the thermostat, I plugged in an electric radiator into my winter-favorite room, and just heat this space when I'm in here. Electric does cost more than the gas that powers our furnace, but I can turn the thermostat for the house down to 60 and let this little guy heat the room to comfort. I also use a small space heater to warm the bathroom before I get in for a shower.
Make the most of natural warmth
I've heard tales of people living in Siberia who would curl up at night with their dogs for warmth. We have our thermostat programmed to dip to 57 overnight, so it's key that we have warmth in our room. Conveniently, my small dog likes to sleep curled up to me at the top of the bed, and my big Great Pyrenees mix likes to sprawl across the foot of the bed. Their combined warmth (not to mention coziness) seriously helps keep us warm.
All the gadgets
A couple Christmases ago we got a heated mattress pad as a gift. This was possibly the best gift ever. We turn it on a few minutes before bedtime to preheat the sheets, then back down or off for sleeping. On extra cold nights, we bring out the heated blanket and joke that we will be paninis when we wake up. Before bedtime, while we're curled up on the couch in the TV room, I wrap a large heating pad around my feet, or tuck it behind my back, and stay super toasty.
The old fashioned wear-more-clothes approach
Of course I have to emerge from my hibernation area to do things like cook and clean and let the dogs out. So I keep a hooded fleece robe on a hook by the bed, and wrap up in that when I go downstairs. On the reallycold days, I'll bundle in multiple layers—including something like a Cuddl Duds underlayer—plus a scarf or hat, thick socks, and often fingerless gloves that I can wear while working. (I have an autoimmune condition called Raynaud's that causes my fingers to turn white and numb if they get chilled so it's extra important to keep my hands warm.) I feel a little eccentric when I have to answer the door in this get-up, but that's ok, I'd rather be warm and not throwing away a small fortune on the heat bill.
Apartment Therapy supports our readers with carefully chosen product recommendations to improve life at home. You support us through our independently chosen links, many of which earn us a commission.