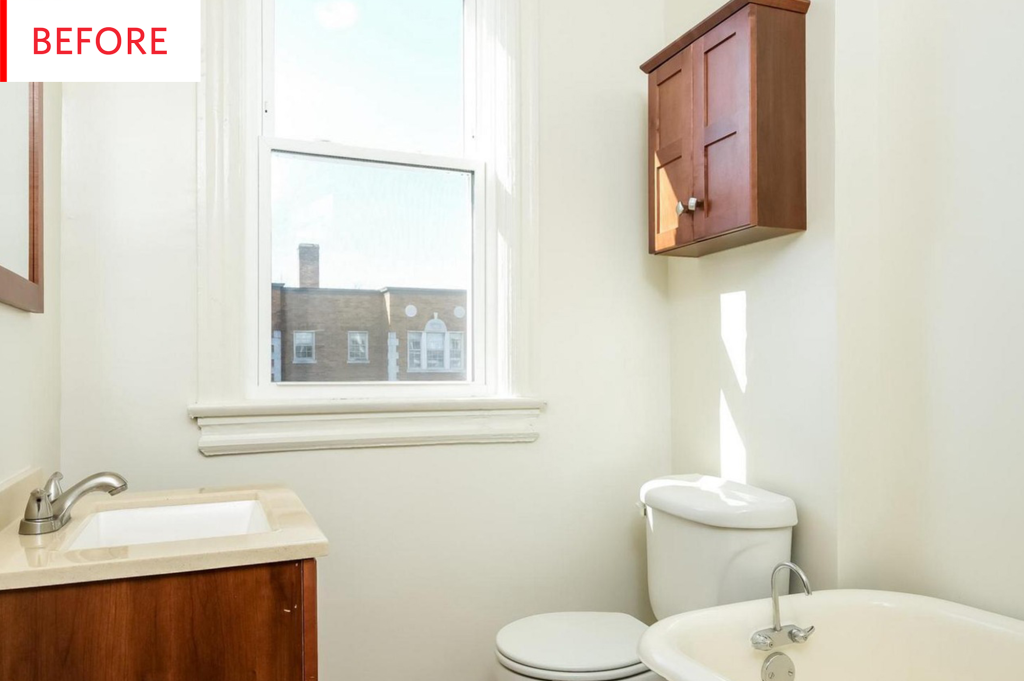 The fixtures and finishes in this bathroom were, perhaps, a bit builder standard, and its owners were less charmed. They set out to create a bathroom that fit into their 107-year-old home—and one that had a shower, please.
The bathroom was not overflowing with century-old details and original delights they had hoped for in an older house—with one exception:
My husband and I purchased a 107-year-old home and it's our dream to restore it back to its former glory one room at a time and we started with the bathroom. The bathroom had no personality. It was dated and everything was brown and beige. Although it was clean and usable, it didn't spark joy. The only thing that made me smile and was worth saving was the vintage clawfoot tub.
A vintage clawfoot bathtub is a treasure to find—yes, they can be purchased new, but there's nothing like the serendipitous thrill of renting/buying a place with an original tub.
In what was a mostly blank slate, Jenny Fischer has created a sweet and stylish bathroom that looks far more at home in a vintage house that the earlier version did. That blue paint is utterly delicious, and it looks so rich juxtaposed with the white tile, fixtures, and window frame. The new double sink offers a lot more utility than the small single one did, yet doesn't make the room feel smaller or more crowded.
That slate-like floor was pretty cool, but it definitely contributed to the "everything brown and beige" aesthetic. And as mentioned up top, a major element was missing: It's the only bathroom in the house, and the clawfoot tub had no shower attached.
While a bathroom is definitely intimidating to tackle—plumbing, electricity, and tiling—it also seems like the perfect place to start. Bathrooms are generally smaller than most other rooms, and it's easier to contain the chaos to one room.
Where there was once a fairly standard and very beige floor is now an utterly delightful classic black-and-white floor featuring petite black flowers made of hexagonal tiles. The little black tiles play so well with the black grout between the subway tiles and the fantastically curved black faucets. The floating vanity makes cleaning easier.
All of these original pieces get the job done: the sink is nice and small but offers horizontal space for essentials, the vanity and wall-mounted cupboard provide private storage, and the mirror reflects light and faces. They all fulfill their purpose, but Jenny and husband were willing to invest the time and money to swap them out to create a truly special space:
We stretched the process out over four months because we both have full-time jobs and my husband sometimes has to work during the weekends. We didn't have every day to work on the bathroom and did what we could during our spare time. We spent around $6,000 and did all of the demo and installation ourselves to save on cost. The only outside help we had was for the plumbing and electrical. There were no huge surprises or setbacks. We knew what we were expecting going into this renovation on a century-old home. We found the original hardwood under the old tile, but this home was built with no subfloor so we used the hardwood as our subfloor to lay down the new tile.
A closer look is even more fun. The gorgeous blue paint is enhanced by the gleaming gold hues. Brass mirrors worthy of a home of this age pair well with the ornate black hardware: faucets, towel ring, drawer handles, and sconces. The clean geometry of the sinks, vanity, and wall tiles balance the more detailed features well.
Jenny is, fortunately, quite pleased with the results of all that hard work:
I love everything about how it turned out. The mirrors are my favorite and I get so many compliments on them. It brings me joy every time I walk into the bathroom. There is absolutely nothing I would do differently.
That is so wonderful to hear after a major renovation!
The pivot mirrors are from Pottery Barn, the floor tiles are by Merola from Home Depot, and the shower is from Vintage Tub & Bath.
The pup portrait is not only wonderful, it works wonderfully in the room, with the black, blue, and gold tones coordinating perfectly with the rest of the decor. Speaking of impressive coordination, the brass toilet paper holder is a classy touch. The white shelf has more appeal than the dark cabinet, and it looks great next to the white window frame and shower curtain.
For anyone with an older home who is considering doing a makeover, Jenny has some very wise words to share:
When you are tackling a renovation in an old home, expect nothing to be level and have straight lines and edges. You just have to accept the crooked corners and work around it the best you can. Also, don't assume walls are drywall when trying to drill things into them. All of our walls were plaster over brick or lath.
Thank you, Jenny Fischer!