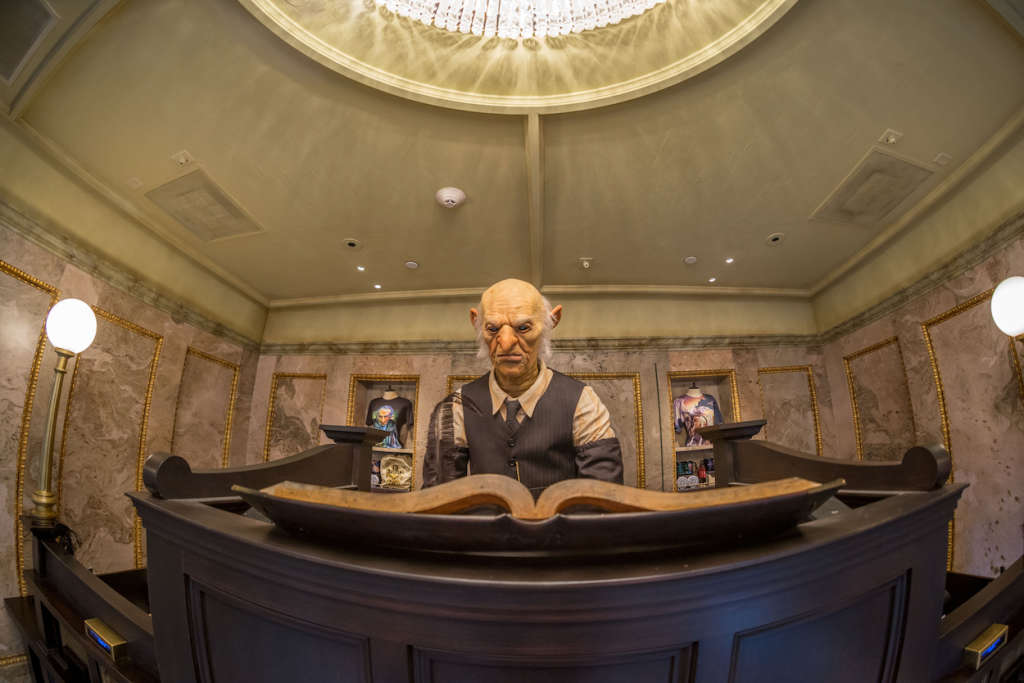 Harry Potter fans, get ready to dip into your little sacks of money and pull out all of your Knuts, Sickles, and Galleons. You're going to need some money for the newest addition to Warner Bros. Studio Tour London. It is official, you can now visit Gringotts Wizarding Bank!
Warner Bros. Studio Tour London opened "The Making of Harry Potter" back in 2012, as a way to preserve set pieces from the Harry Potter films for fans to experience for many years to come. The tour sits at Studio Tour Drive in Leavesden (about a 20-minute train ride from London), across from the working film studios where all eight of the Harry Potter movies were actually made. The tour offers fans a very unique look into the Harry Potter universe, with the real Hogwarts castle that was used in the films (it is much smaller in person), #4 Privet Drive, Diagon Alley, the Potter family home in Godric's Hollow, and now Gringotts is joining the studio.
On April 6th, fans will get their first chance to visit the actual Gringotts Wizarding Bank and not just a replica built in Orlando, Florida (no disrespect Wizarding World of Harry Potter, we love you). This expansion is the biggest one yet at Warner Bros. Studio Tour London.
From Harry Potter first discovering Diagon Alley to the famous trio escaping on a Ukrainian Ironbelly dragon in their quest for a Horcrux, Gringotts Wizarding Bank played an important role in the Harry Potter film series. On 6th April, we will unveil a permanent addition allowing visitors to walk through the wizarding bank of Gringotts, the Lestrange vault, a gallery of goblins and so much more.
(Image credit: Chettarin / Shutterstock.com )
Gringotts is lined by towering marble pillars, with a grand hall that has magnificent crystal chandeliers. These pillars and chandeliers will be making their way into the tour. The prop department made 210,000 coins for just the last two movies since there was an epic escape from Gringotts scene in those films. That's a lot of money in the Potter universe! Even the Malfoy family would surely be impressed.
Fans can expect to see some of the masks of the famous goblins who worked at Gringotts, including Griphook and Bogrod. The prosthetic masks took weeks to make and they include hairs that had to be painstakingly added individually. It took four hours to transform actor Warwick Davis (also Professor Filius Flitwick) into Griphook.
The tour will take fans through the banking hall at Gringotts, then down into the Lestrange vault. Be on the lookout for Helga Hufflepuff's cup! For filming the scene where Harry, Ron, Hermione, and Griphook enter the Lestrange vault, 38,000 rubberized pieces of prop were made, including over 7,000 fake Hufflepuff cups.
The official opening day of the 16,500sqft Gringotts Wizarding Bank expansion is Saturday, April 6, 2019. You can purchase your tickets online here. General admission tickets to the Warner Bros. Studio Tour London – The Making of Harry Potter cost £43.00 ($56.29 USD) for adults 16+. The tour lasts around 3 ½ hours and you can schedule your visit ahead of time. It's better to pick an earlier time slot, as the tour is not guided, so you can stay longer if you'd like to really soak in the magic. Don't forget, if you don't live in the UK, you might want to also book a plane ticket and hotel stay. We're already looking at flights online now!