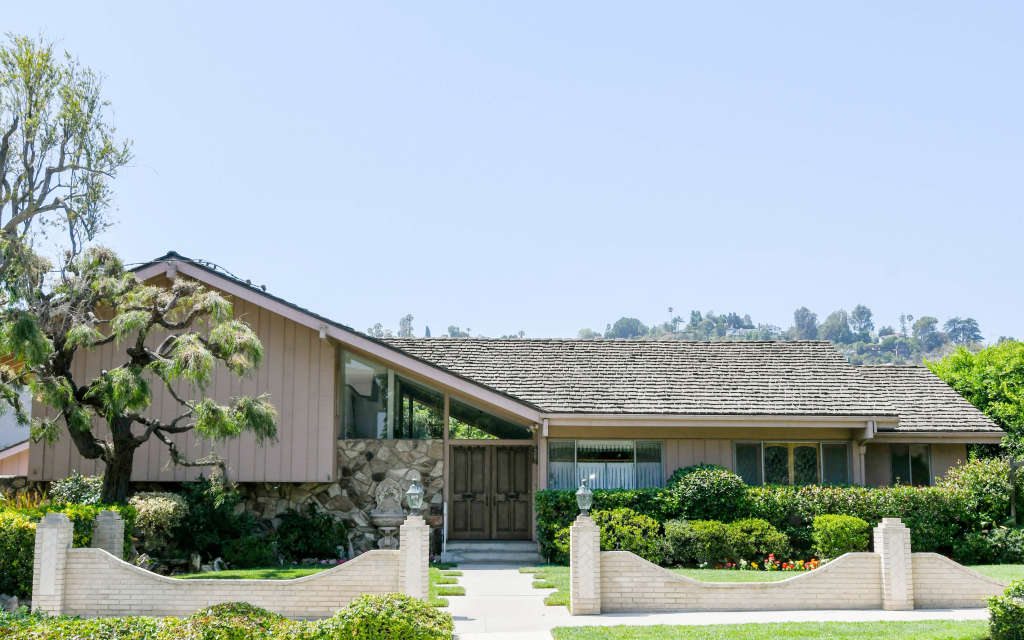 Everything on "The Brady Bunch" always seemed so perfect, down to the family's sprawling Los Angeles-area home. Though the home wasn't really designed by Mr. Brady, it is a real five-bedroom, three-bedroom home on Dilling Street in Studio City. While the interior scenes were filmed on a sound stage at Paramount Studios, the interior layout of this house is pretty similar to the one portrayed in the show.
If you grew up dreaming of starting your own family band in this sunny home, your time unfortunately has passed: The home was last purchased in 2018 for $3.5 million by HGTV. The network will show the overhaul of the iconic home's interior by six of sitcom's stars to look exactly like it did on the show—conversation pit and all—in its upcoming series "A Very Brady Renovation."
I think Mr. Brady did pretty well for himself as an architect, but I'm not sure he'd be able to raise six children and afford that L.A. house in 2019—good thing he built it when he did!
Interested in seeing what your family band would need to pull in annually in order to compete with HGTV? Using the guideline that your monthly mortgage should be no more than 28 percent of your salary (and using a 20 percent down payment and current interest rates), you (and your singing children) would need to earn a salary of about $810K to afford the $18,870 monthly mortgage payments on the Brady family home.
Related: 20 Questions You Should Ask Your Landlord Right Now
If you're flush with that much cash, there are still some similarly spacious homes nearby, like this five-bedroom, seven-bathroom home in Studio City.
This recent construction house is listed at $3.2 million and has a gourmet chef's kitchen, complete with Calcutta Gold marble countertop, Thermador appliances, a walk-in pantry, built-in breakfast nook, oversized island center, dual Viking refrigerator drawers, and two dishwashers. (Sounds like Alice's dream!)
There's also a guest house and a pool. (Perfect for when Cousin Oliver comes to visit!)
While the Brady home sold at a premium due to its fame, it's actually at the very high end of home prices in the area, where the median price is about $1.5 million, according to Ernie Espinoza of Allison James Estates and Homes.
Related: 7 Things I Wish I'd Known Before Buying My Fixer-Upper
According to reviews on Trulia, Studio City residents love its proximity to shopping on Ventura Boulevard as well as access to beautiful hiking spots. It's fairly walkable, and residents cite safety as a draw, as well.
"Studio City has an awesome farmers' market every Sunday on Ventura," says Brad Korb, owner of Brad Korb Real Estate Group. "The area also has a new and thriving restaurant scene, including The Bellwether and Firefly."
If you're looking to something similar to the Brady home at a price point that's more typical to the area, here's a four-bedroom, three-bathroom home in Studio City. It's listed at $1.4 million.
Homes in the mid-century style can be found throughout Los Angeles. Espinoza says he's seen a resurgence in their popularity after the success of AMC's "Mad Men." He adds that the style is particularly appealing to those who are nostalgic about the time period.
The Brady home was built in 1959, and this three-bedroom, two-bathroom home in the Woodland Hills neighborhood of Los Angeles, built in 1961, is in the same popular style of the era.
It has a split-level, open-concept floor plan that would be ideal for entertaining—and a backyard just the right size for a seesaw.
It's listed at $700K.
Looking for something a little less famous for your first home? Here's the salary you need to buy a modest home in New York City, San Francisco, and 22 other places.