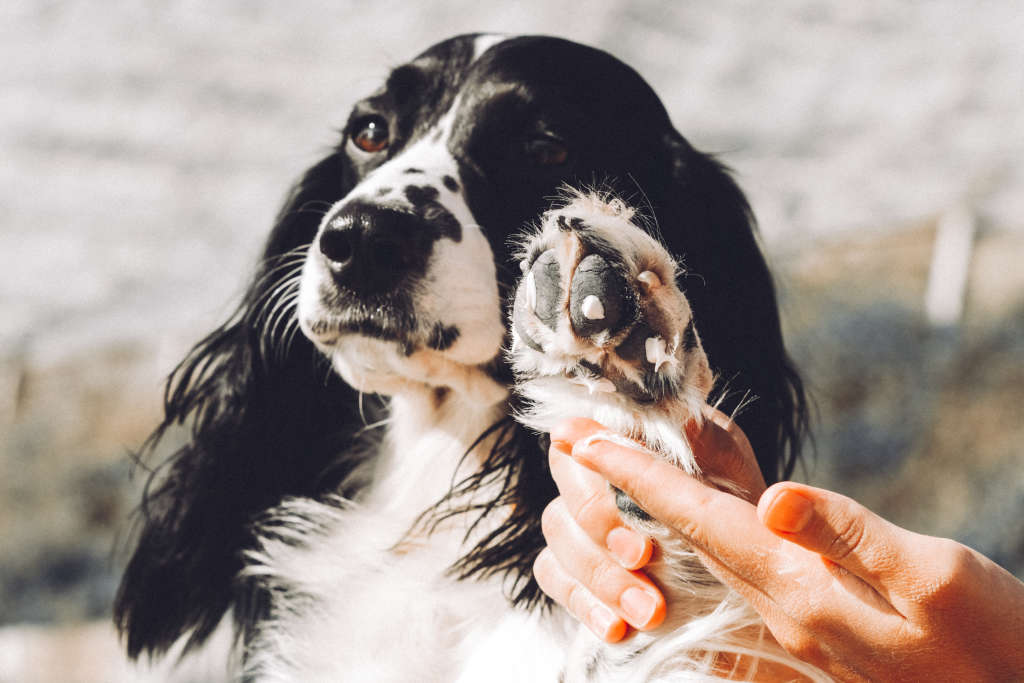 Now that it is officially February, we're due for some winter weather. The end of January saw a polar vortex sweep the U.S. that had temperatures plummeting into the -50 and -60°F range. There were 100-degree differences in temperatures between Florida and the states impacted by the frigid cold snap. With this cold weather comes a lot of ice. In order to combat ice on sidewalks and roadways, rock salt is thrown down on the ground.
As any pet owner knows, rock salt is an enemy to dogs. If you live in an apartment complex, you're thankful that management de-ices the area, but it is often with very harsh salt that is not pet-friendly. Not only is rock salt dangerous if your pet ingests it, but it can also really destroy their poor little paws. It can be very rough on the pads of their paws and cause lesions and bleeding. On top of that, large and small pieces of rock salt can also get embedded in your pet's paws.
There are a variety of pet-friendly salts sold on Amazon and in stores like Petsmart and Petco, but if you cannot control the type of rock salt used in your area, don't panic. If you tried dog booties and your pet kicked them off in nanoseconds, you might want to try this wax. Thanks to Buzzfeed, we now know about Musher's Secret Pet Paw Protection Wax. It might just be the perfect solution to your problem, and it can be used all-year-long, not just during cold weather bouts.
Musher's Secret Pet Paw Protection Wax is a wax you can apply to your dog's paws to protect them from sand, hot pavement, ice and rock salt. It is an all-natural wax-based cream that has vitamin E in it, so it also moisturizes your dog's paws. You're not the only one who gets dry skin during the winter!
The product description reads:
This easy-to-apply all-natural wax-based cream protects paws from harsh surfaces. Protect paws from sand, hot pavement, ice and salt with all natural 100 percent wax-based cream. When applied to pads and between toes, dries in seconds to form a semi-permeable shield. Non-toxic, non-allergenic, non-staining formula can be used weekly or as needed to prevent abrasions, burning, drying and cracking. Perfect for mushing, hunting, walking or before any outdoor activity. Acts as an invisible boot to prevent potential paw problems.
You can purchase Musher's Secret Pet Paw Protection Wax from Amazon in three different sizes:
60-gram, $12.75
60-gram – 2 pack, $24.50
1-pound, $29.62
On Amazon, it has 4.5 stars and over 4,000 reviews and it is marked a #1 best-seller in dog paw protectors. One reviewer wrote:
Amazing product. Bought the 1lb since I have 2 medium size huskies. I live in las vegas. Currently temperatures are 115°+ their paws were dry and felt like lil razors since they were cracked. I applied enough on all four paws each and in 6hrs I noticed the difference. Their paws were smooth and moist and felt like little sponges. Im sure I apply daily their paws will be back to normal soon. They been playful since their paws got smoother. Before they were laying down sleeping.
I also applied to their nose since its been dry as well. And so far its been good too. Very wet as it should be.
Musher's can be the perfect solution for anyone who's dog hates walking in the snow or on the freezing cold ground outside. It has the added benefit of thoroughly moisturizing your pet's paws to keep them smooth all-year-long.
Apartment Therapy supports our readers with carefully chosen product recommendations to improve life at home. You support us through our independently chosen links, many of which earn us a commission.