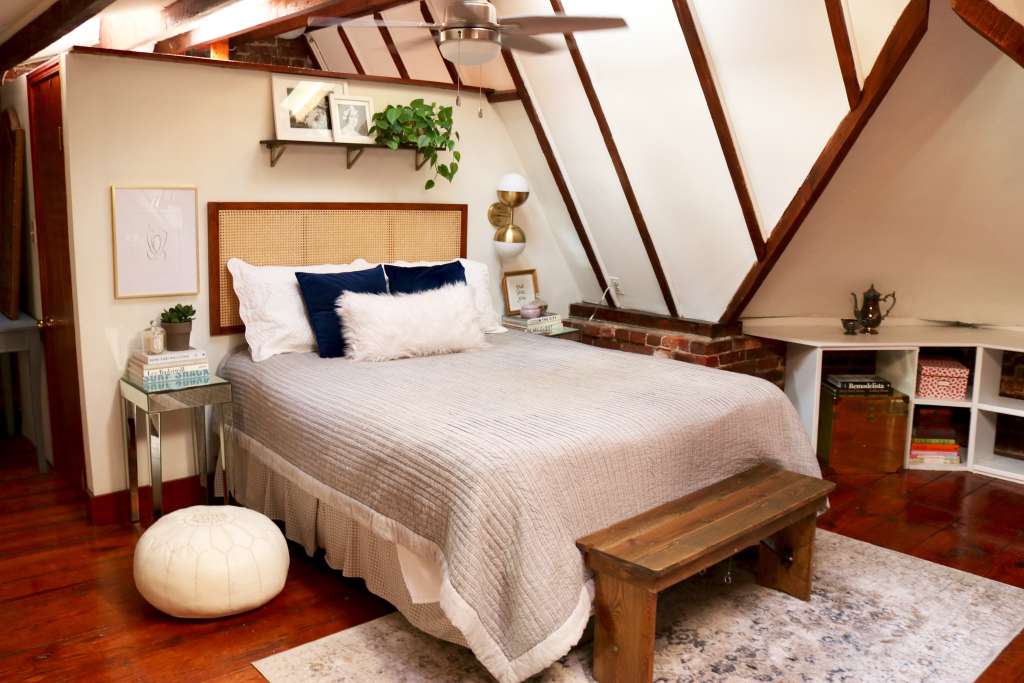 As someone who changes up their home decor probably more frequently than she should, I've spent just a little too much time shopping for furniture, kitchenware, accessories, and the like. I love aimlessly wandering the aisles of my favorite stores or browsing my go-to shops online just, you know, to get ideas and nothing else (totally kidding, I wish I had that much willpower!).
However, I'll admit that all of my decorating and redecorating has come a fair share of regret. While there are definitely pieces in my home that I know I'll cherish for years to come, I've certainly made other purchases that, after only a few short months, have started to feel silly or impractical. So, to help you avoid the same mistakes I've made, here are three categories of things that I wish I'd passed over in my decorating process.
1. Cheesy or Unoriginal Wall Art
I think almost everyone goes through a period where they're obsessed with fun phrases or mass-produced canvases—my first apartments were full of this kind of artwork (shoutout to the framed "like a boss" quote that hung over my desk in grad school!). But now that I'm in my late 20s, I'd rather spend a little more money and start building a collection of timeless, more adult-looking pieces by artists I love. Sure, it may be easier to drop $30 on a piece from a discount store and call it a day (and if you know me, you know I'm a sucker for a bargain, so it can be hard to say no!). However, I've learned—and still have to remind myself—that these kinds of pieces don't hold up as well over time and may start to seem too trendy, too quickly. Since art can be expensive and it may be difficult to determine your style, start out by browsing places like Etsy and Society 6, which feature pieces from a wide range of artists but won't break the bank. Finding artwork that you love may require a bit of searching, but I guarantee you'll end up selecting something that's more meaningful than what you'd spot at the mall.
2. Cheap Wine Glasses
Wine glasses are an essential in most apartments, whether you prefer a traditional or stemless style. While you'll certainly come across options that match every price range, the key here is to not buy glasses that are too cheap. Many of the versions that you'll find at big box stores are priced right but happen to be flimsy and will break easily as you rinse them. This has happened to me one too many times, and trust me, getting glass everywhere and realizing that you'll have to find an alternative receptacle to hold your Pinot is no fun at all! In addition to my stash of durable (mainly stemless) options, I also have a large assortment of acrylic glasses in my cupboard. These guys have held up for years, feature colorful prints and patterns, and don't need to be babied when it's time for washing. There's just no point in paying $5.99 for a set of six glasses if you'll have to replace them each time you entertain.
3. Pieces That Are Too Nice
We know from the wine glass scenario above that inexpensive items can pose their own downsides. However, you'll also want to do some thinking before splurging on a designer piece or ordering that immaculate white sofa. In my former apartment, I had a beautiful Dalmatian-printed chair that always garnered compliments from friends. I'd fortunately gotten it like-new on Craigslist and saved a ton of money off the steep sticker price, but it wasn't cheap cheap. While the piece was sassy, stylish, and perfect for a bachelorette pad, it just wasn't practical as a living room seating option. I loved looking at it, sure, but it the thought of someone actually. sitting. on. it., particularly if that person had a beverage in their hand? Way too terrifying! If my past self knew what I know now, I would have opted for a bolder, busier pattern that would hide stains, or gotten a solid, dark-colored chair and jazzed it up with a throw pillow. (Though truth be told, I think I'll always have an item or two in my home that's pretty but not the most functional—hello, peacock chairs! The key is just to place these kinds of items out of high traffic, guest-friendly areas).
What home purchases have caused you regret, and what are some of the items you know you'll keep forever?