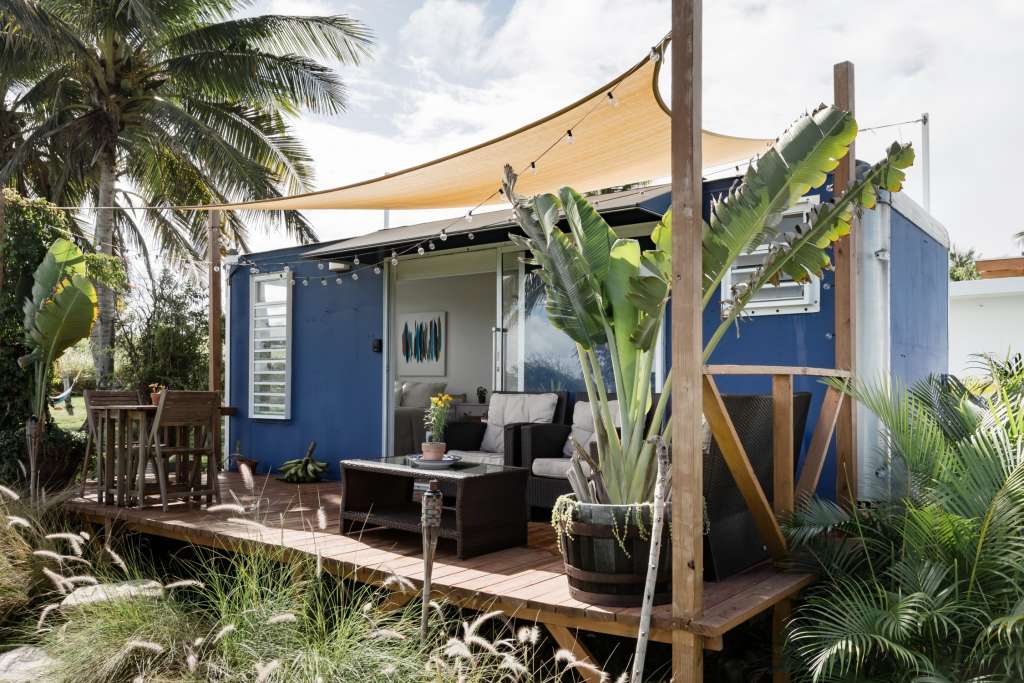 Tiny homes are most often described as charming or cute. But luxurious? Not typically. Breaking form, though, are some tiny home rentals proving luxe doesn't describe only spacious digs.
These seven tiny homes are opulent in their own way—and are available to play host to your next vacation. And though stunning, they manage to keep the nightly rates low: All are under $100 a night. Here's where you can find a little slice of luxury on a budget:
This pastoral retreat is nearby Bergerac, a medieval town in southwestern France known for its vineyards, caviar tastings, and truffle market. The famed Bordeaux wine region is only 1.5 hours away. Equal parts rustic and luxe, this tiny home in the countryside comes with modern amenities, like WiFi and electric heating, plus several lounge chairs outside for relaxing.
Luxurious bonus: Bring a bottle of vino back from the wineries. There's an outdoor table ideal for dining al fresco in the French countryside.
A black metal spiral staircase ascending to the loft and the thoughtful modern farmhouse decor throughout make this Tennessee tiny home stand out. Guests here can pluck herbs from a vertical garden on the mini-deck. The rental is 15 minutes from downtown Franklin and just 30 minutes from Nashville's famed honky-tonks and hot chicken eateries.
Luxurious bonus: A stocked coffee bar for adults and a small area stocked with books, games, and toys for kids.
Forget an oceanfront hotel. Your next vacation could be on the water… as in floating on a river. You will have to sacrifice some modern amenities like hot water and electricity, but the tradeoff is worth it as the "River Den" boasts a rooftop deck for sunrise yoga or nighttime stargazing. The tiny home is docked on the Gatineau River in a charming Quebec village, close to restaurants and bars.
Luxurious bonus: A swimming ladder that nudges you to take a dip. Also, there's an outdoor retailer next door that rents bikes, kayaks, paddle boards, and canoes.
Related: 7 Things Real Estate Agents Wish You Knew
Disney lovers, perk up your mouse ears: There's a tiny home next to a lake that's the perfect place to unwind after a day amid theme park crowds. With a modern and sleek interior, this tiny home can accommodate five people. It also comes with a barbecue for cookouts.
Luxurious bonus: A paddle board, tandem kayak, and two fishing poles will help you make the most out of a lake vacation.
Welcome to the jungle! After walking along a secret path, you'll arrive at this shipping container that's been transformed into a luxurious cabin. Inside is zen-inducing decor, with crisp whites and pops of ocean blues (and air conditioning). The rental is close to La Cueva del Indio (a jaw-dropping cave with petroglyphs) as well as the Arecibo Lighthouse.
Luxurious bonus: The hammock. Sway back and forth like a palm tree.
Related: The Salary You'd Need to Buy the "Brady Bunch" House
An ideal basecamp for national park excursions, this tiny home with luxe cabin vibes is only 20 miles from the south entrance of Yosemite National. It's also across from a golf course. A private patio includes a fireplace and grill.
Luxurious bonus: Guests have access to an outdoor seasonal garden and the sunflowers are a nice touch.
While this eco-friendly home may be tiny, the property itself is sprawling. A green meadow overlooks postcard-perfect Boka Bay and the Adriatic Sea. Enjoy a cup of coffee on the patio before exploring the craggy coast and the walled city (and shopping the local markets!)
Luxurious bonus: A dartboard outside will inspire some friendly competition.
Are you convinced these tiny homes deserve five stars?