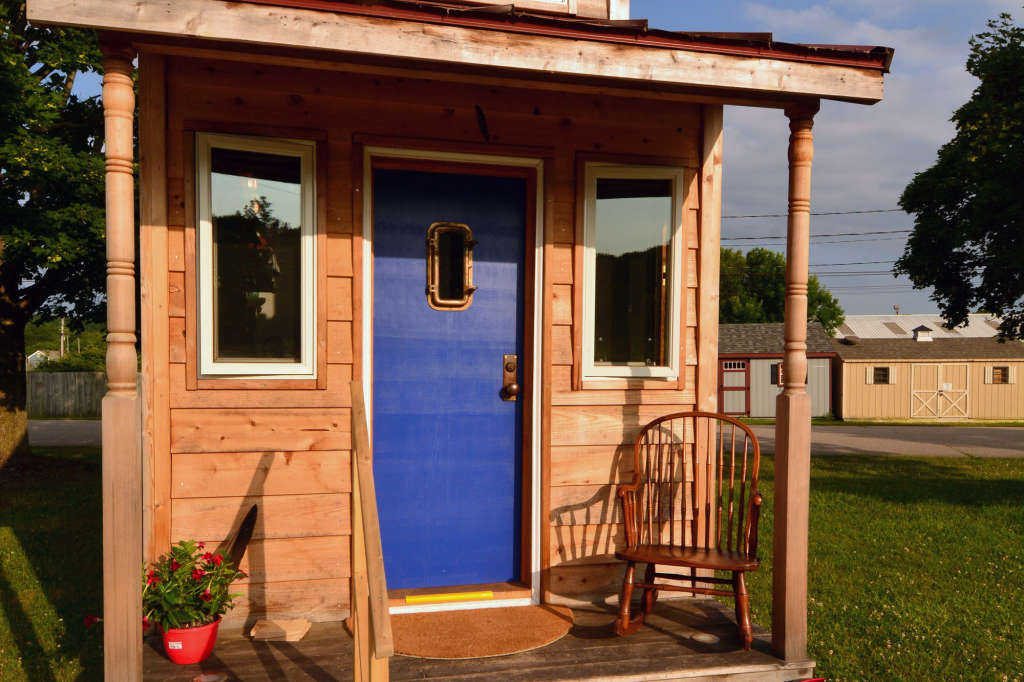 Name: Chris Schapdick and my daughter
Location: Livingston Manor, New York (The Catskills)
Size: 150 square feet
Years lived in: 2 years, owned
My tiny house was created from a strong desire to get away from the bustle of New York City and to have a place for my daughter and I to escape to on the weekends. We spend as much time as possible at the house year round. The process of building it turned out to be so fulfilling and rewarding that I opted to exit my advertising technology career in favor of building tiny houses for others. My company, Tiny Industrial, was created and that's what I've been doing ever since.
I now split my time between New Jersey, Brooklyn, and the Catskills where the house resides on a 3.5 acre piece of land in Sullivan County, NY. This tiny house is 150 square feet total and features two bedrooms. It has a fully functional kitchen with cooktop, sink, and fridge. There is also a full bathroom with shower. My daughter's bedroom is at the back of the house below the main sleeping loft. It's all fully insulated and cozy warm even in the harshest winter weather. It's the place that feels most like home to me. Building it myself is likely a big component of that.
Describe your home's style in 5 words or less: Catskill Tiny House Country Escape
What is your favorite room and why? There really is only one main room so that's the one that's my favorite. The whole space always feels really inviting and warm. When we build and design for ourselves it becomes an extension of who we are and that's really comforting. The high ceiling and abundance of windows create a very open feeling space and there is no notion of feeling cramped or claustrophobic.
When I build tiny houses for other people I always aim to get as much input as possible from them on how they would like something to look since it's ultimately their space. I want them to have that same feeling that I get when I'm in my tiny house.
What's the last thing you bought (or found!) for your home? I recently bought a framed Warhol Campbell's soup can print. My daughter and I had both done our own (very different) renditions of the Warhol piece and now all three works are displayed in a neat row on the wall of the tiny house. I love how it was a project for my daughter and I and how our different personalities manifested themselves in what we created with the Warhol version in the middle as the anchor.
Any advice for creating a home you love? Don't compromise. Have your home be an extension of you, who you are, and what you value. Also keep the design consistent and stick with a theme. In such a small space everything has to have a purpose, so it forces you to like what you put in there since there is no room for things that don't matter to you.
To help people with the process, I have written a book that is coming out in 2019 on the topic of tiny houses. It explores all the various aspects you need to think about if you are considering this kind of lifestyle for yourself: The Joy of Tiny House Living: Everything You Need to Know Before Taking the Plunge.
Thanks, Chris!
• Interested in sharing your home with Apartment Therapy? Contact the editors through our House Tour & House Call Submission Form.
Apartment Therapy supports our readers with carefully chosen product recommendations to improve life at home. You support us through our independently chosen links, many of which earn us a commission.