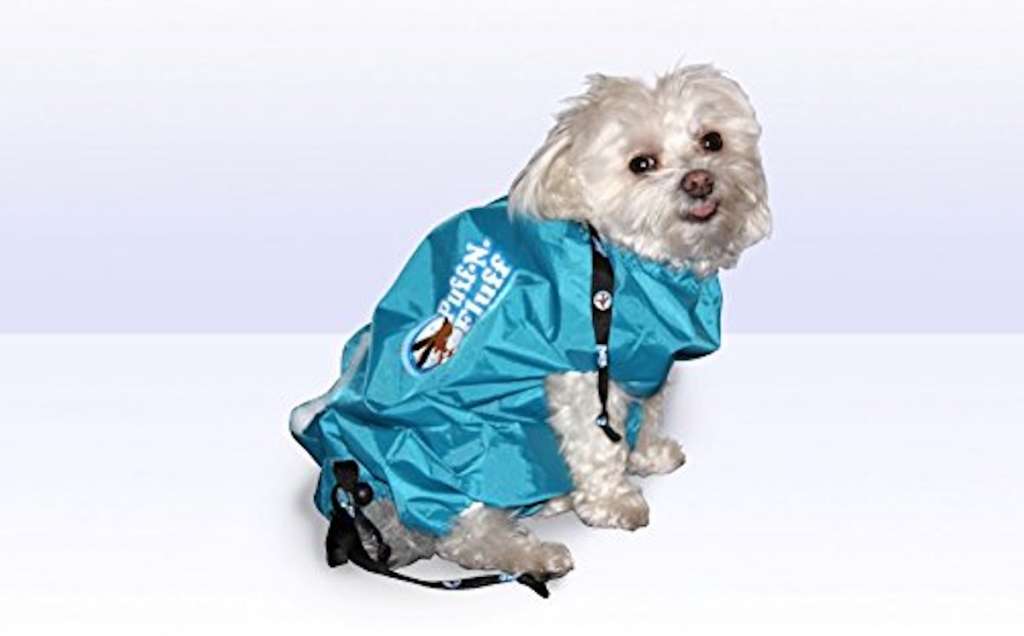 Is there anything that smells worse than a wet dog? Probably, but it is not a smell that you want to linger in your house. After a bath, every dog has a moment of intense "zoomies" where they sprint around the house and get their wet dog smell on just about everything. As much as we love to watch our dogs run around and act a little crazy, there is a way to avoid this smell getting on your couch, bed, and carpet.
Now, your dog obviously can get wet from more than just a bath. If you get caught in the rain on a walk with your dog, that can be the worst wet dog of them all. Thanks to the Puff-N-Fluff dog dryer, you now don't ever have to worry about a wet dog smell again.
The dog dryer was actually invented by a 3rd-grade student. Marissa Streng thought up the product for a project during her school's Invention Convention. Her pug, Mojo, strongly disliked being wet, so she thought of a way to dry Mojo off to avoid discomfort for her dog and to keep wet spots off of her parents' furniture. It took her many tries, but she was finally able to come up with the concept of her dog "stepping into a tube filled with warm air" and decided to name the product the Puff-N-Fluff.
The drying coat is made using a rectangular piece of material that has four elastic leg holes. After placing your dog's legs through the four holes, the sides of the coat are fastened by a hook and loop. Then you will pull the drawstrings to close the gaps around your dog's head and tail. Any blow dryer can be attached to the flex-hose on the coat to let the warm air circulate and dry your dog.
The Puff-N-Fluff is great for:
Reducing wet dog odor.
Quickly drying your dog after a bath.
Drying your dog after a rainy day walk.
Warming your dog from cold winter walks.
Helping to relieve the fearfulness of a blow dryer.
Quick drying a dog's undercoat from the wet grass.
Removing icicles from your dog's fur in the winter.
Drying your dog after they jumped into a pool.
This drying coat can help with the stress that dogs associate with bath time. Many dogs are terrified of the blow dryer, which is why it is tough for dog owners to dry their dogs off. One Amazon reviewer wrote:
Gave this as a Christmas gift to my friend who has two little Yorkies. They LOVED it. Both usually get really scared during the entire bath process and the hair dryer scares them. BUT with the Puff-n-Fluff they felt cozy and warm; one of them even laid down while she had it on. They were both dry within minutes! Great product worth buying!
The Puff-N-Fluff dog dryer comes in four different sizes. The extra small size for dogs between 7-15 pounds is $39.95, the small size for dogs between 15 and 29 pounds is $34.95, the medium size for dogs between 30 and 49 pounds is $49.95, and the large size for dogs between 50 and 95 pounds is $69.95. You can purchase the Puff-N-Fluff on Amazon or the company's website.
Apartment Therapy supports our readers with carefully chosen product recommendations to improve life at home. You support us through our independently chosen links, many of which earn us a commission.