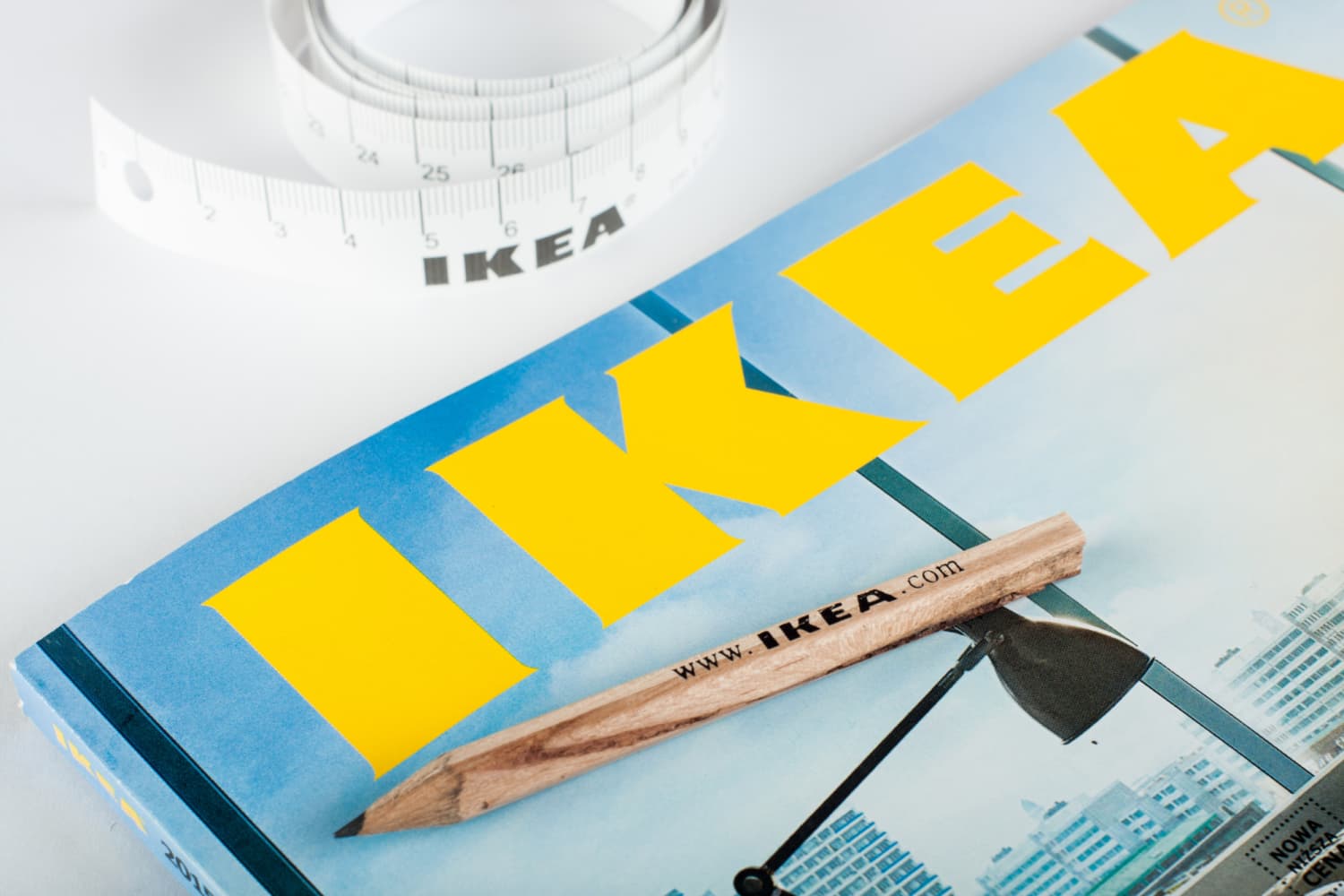 Who among us hasn't spent hours hunched over an IKEA instruction booklet, arguing with their partner over what goes where? It's basically a right of passage, whether you rent or own a home. Then again, there are those of us who are handier than others, and can not only master complicated IKEA set-ups like a pro, but also take things to the next level with creative IKEA hacks. Those people are the true heroes, who deserve to be celebrated for their achievements. And thanks to the glories of Reddit, they are.
Quickly scroll through the subreddit IKEA hacks, and you'll find spacious computer desks, fashioned out of tabletops and a stack of drawers; shelving units converted into TV stands; and even a homemade litter box that can be hidden from view. (Genius!) Each one is more impressive than the next; but lucky for you, we've rounded up some of the best—that might just inspire you to tackle your own.
This dresser hack deserves a serious slow clap. According to the Reddit user who shared it, they fell in love with a pricier dresser on West Elm, and decided to hack their way to one (and save several hundred bucks in the process). The remodel involved cutting the existing legs, filling pre-drilled hardware holes, sanding and staining the wood, and topping things off with a coat of polyurethane and some new hardware that seriously upgrade the look. All told, it took about a week's worth of work—but it clearly paid off.
2. Fritids Bench/Cat Litter Box Hack
How clever is this? The FRITIDS Bench is already a pretty convenient piece, since it doubles as a comfy bench and a sleek storage space. But this Reddit user decided to use it as a creative way to hide a litter box from view, by cutting a discrete kitty door in the side for his cat to slip in and out of when he does his business. Besides being a super simple hack that anyone can do, it's also a genius way to quarantine stinky litter box odors in between cleanings.
This spacious computer desk offers plenty of leg space and is perfect for setting up in a home office for two. (Plus, you'd never know it didn't originally come this way!) To make it, Reddit user Shaxinater bought a KARLBY countertop ($229) in oak wood, an ALEX drawer unit ($99), and some HILVER legs ($25), and voila—instant work station.
I don't know about you, but I'm loving this HEMNES dresser upgrade, which Reddit user bdcari19 zhuzhed up with some Sherwin-Williams Rosemary paint, new hardware, and leather pulls they made themselves from scrap materials. There was some additional prep work involved, like sanding down the top to stain and seal the wood; but in the end, it was worth all the effort.
This table glow-up is pretty impressive, and definitely makes the DOCKSTA look way more expensive than it really is. The Reddit user says she was inspired by a Gold and Marble Leilani Tulip Dining Table, which cost $549. Instead, she was able to buy an IKEA DOCKSTA Table (which currently retails for $199), and with some metallic paint, a blow torch, and a whole lot of creativity.
6. Rolling Cart & Sewing Desk Hack
While the Reddit user didn't actually share which IKEA items they bought for this hack, it looks like they created the desk out of a white countertop like the VISKAN ($60) and the ALEX drawer unit ($89). As for the rolling sewing cart? Looks like another VISKAN counter on top of two EKET compartments ($55) with wheels added to the bottom so it can be easily moved around. (I'm willing to bet his wife was psyched.)
7. DUKTIG Play Kitchen Hack
The DUKTIG play kitchen ($79) is pretty adorable all on its own. But for one uncle on Reddit, he decided to kick things up a notch. First, he bought small wooden knobs that he sanded and spray-painted. Then he painted the cabinets, spray-painted some of the fixtures, like the sink, faucet, and hooks, and added a peel-and-stick backsplash. The finished product looks Pottery Barn-level good. (Honestly, I wish my adult-sized kitchen looked like this!)
G-E-N-I-U-S! One look at this industrial-chic home bar, and you'd never guess it was meant to be a laptop desk. But this clever Reddit user transformed it with a little imagination and minimal effort. After they affixed two slabs of oak hobby board to the bottom and top of the desk, the last step was screwing the wine glass holders in place and setting up the bar with their favorite bevvies. Honestly, it looks great.
How chic is this? And to think it all started with a plain wood cabinet made of pine. Reddit user MERMO used the IVAR cabinet ($70) and painted it blueberry with spray paint by Valspar ($7.99), and then spray-painted two sets of STELLARP leg sets ($10) metallic gold. Topping things off are the Antler Melody Tusk Knobs ($14) from Anthropologie, with gives the piece a polished look that looks way more expensive than it is.
A LEGO table you can build your creations on, while your friends all gather 'round? That's basically a kid's dream. But here's the part that parents will love: The bottom-half is a built-in storage unit, which makes clean-up time super easy. Reddit user indieditor used the TROFAST storage combination ($66.99) with the LINNMON tabletop ($39.99) to make it all happen, and then added LEGO boards as the play space area.