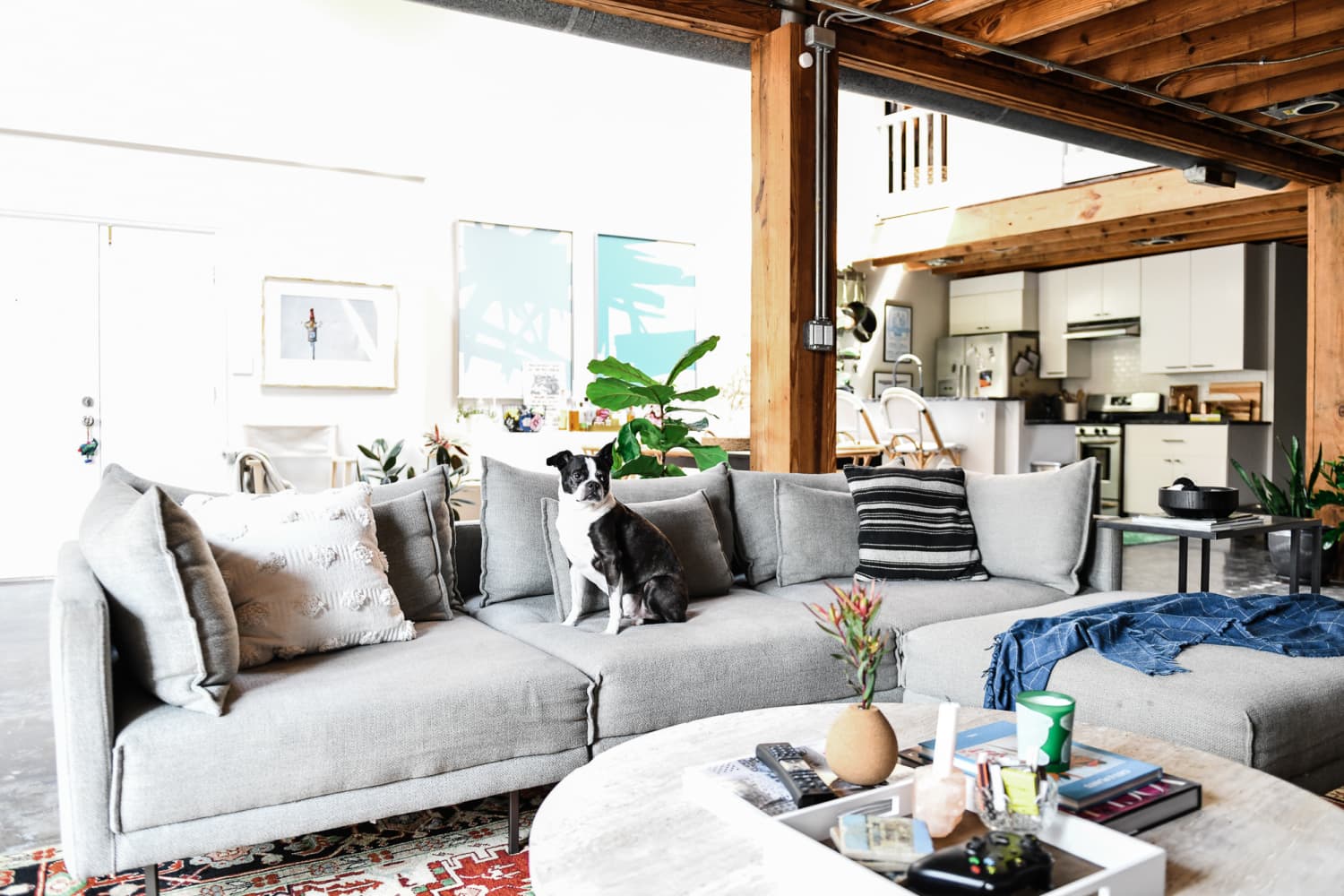 One thing that makes Apartment Therapy special is that about half of our editorial team works from their homes across the country (the other half is based in our NYC headquarters). I love popping into our Tuesday video call and seeing Tara's Boston place (and her cats), or Adrienne's NOLA home (and her dogs). It's great, of course, to create content about home while working from home, but in the last few weeks we've been talking about how sometimes where you live can be as important as the structure you live in itself.  So this month, we are exploring that idea a few different ways: looking at what it means to feel a sense of community, what being a "good neighbor" means today, and beyond.
In 2019, we've been working to bring you more Apartment Therapy editor and contributor house tours—and tomorrow you'll see Taryn's in Atlanta. Taryn is our lifestyle editor (which means she brings you all of our living and organizing and cleaning content, in addition to the January Cure), and lives in a former pickle factory loft in Atlanta. I asked her this morning what makes Atlanta feel like home: "It's the combination of Southern hospitality and a progressive and vibrant city that makes every pocket of Atlanta feel like a family BBQ," says Taryn, who is originally from Miami. "Every stranger is like a cousin ready to hand you a drink and ask how you've been." Come back tomorrow to check out her whole tour (and follow her on Instagram here).
Later in the month, we'll be launching our first-ever list of the coolest suburbs in America (19 for 2019, plus a few bonus categories). We had a lot of fun (and heated discussions) putting it together, and can't wait to hear what you think. The best part? Each one will have a city guide written by someone who actually lives there, for a little extra dose of hometown pride.
We'll also have pieces throughout the month about the struggle of not being able to live in the place that feels like home, advice for being a good neighbor, a special hometown makeover, and an exploration on what it means to be a "regular." And speaking of hometowns, our managing editor, Sarah Yang, will be moving back to hers—Pasadena, California—later this month. I'm sad to see her leave (this is one of those jobs that is based at our headquarters), but happy to see her live in the place that fulfills her most. You can follow along with her moving journey here.
Of course, May is also Mother's Day, Memorial Day, and the unofficial kickoff of summer. We'll have a little something to mark it all, and hopefully some tips or inspiration that touch an area of your life (come back Tuesday for a new series starring our "plant doctor" Hilton Carter).
One piece of housekeeping while we are here: beginning this week, we're shifting all of our reader accounts into a new, more secure, and more flexible platform, which will require you to login again with your username to create a new password. We will also be asking you to accept our updated terms of service, which is aimed at improving the quality of comments across both of our sites (you can check out our full explanation here). The time window for the transition is June 1, 2019. That means if you don't make the transition in this month, you will have to sign up again as if for the very first time. If you're reading this now, please make sure you login ASAP. If you have any issues, please contact us at help@apartmenttherapy.com. (And good news: the ability to save articles will return within the next two weeks with this change.)
Happy May! I'd love to hear in the comments what makes the place you live feel like home (if it does—and why not if it doesn't!).
Our letter from the editor series appears the first Monday of every month