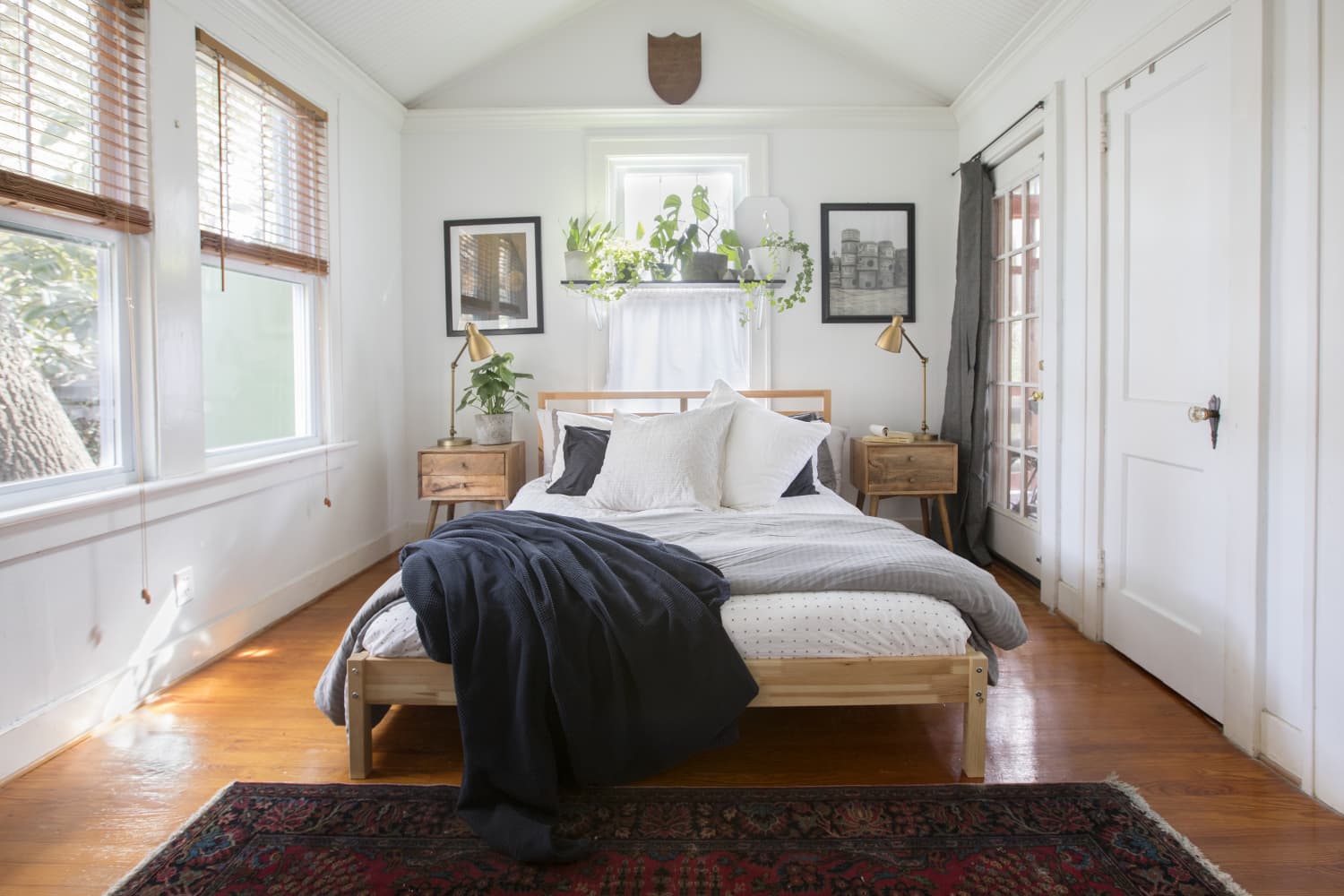 There are a million ways to decorate a bedroom, but there's something about clean, minimalist lines and classic shapes that we'll always love. Keeping things simple makes the place where you sleep feel calm, not cluttered. And personalizing it with favorite books, art, candles, and plants will make it feel truly yours, too. AllModern, Wayfair's mid-century modern little sister, is a great place for those kinds of pared-down but still design-forward pieces. If you've been waiting for an excuse to shop, their bedroom sale is currently going on, including furniture, lighting, and wall decor. Their best pieces rely on clean, modern silhouettes and crisp color palettes like black, white, and gold, meaning you can effortlessly update your room with just one item. Shop the entire sale, and see some of our favorites below.
Our own Emma Glubiak has this bed (and told us about it when we polled editors for their favorite Wayfair buys), and she's in good company: There are over 800 largely positive reviews from people who were impressed with the bed frame's luxe look at a low price. The rectangular headboard feels like classic Americana, but the gold gives it an extra bit of flair. Together, it can go anywhere, from a farmhouse-style bedroom awash in neutrals to a more glammed-up space. If you don't currently have a headboard, this will give you room a bold focal point.
Upholstered beds can easily run up to $1,000 (or more!) but this classic option is currently on sale for half that. The neutral, light gray color is perfect for all-white bedding and a pop of color from a blanket or throw pillows, or can be paired with richer-hued navy or a deep red. The headboard also begs for a bold statement piece hanging above it, like one oversized piece of art.
Less overhead light, more light at eye level—it's the perfect recipe for a calmer, cozier room. This simple lamp keeps things streamlined by having a shade that mimics the shape and color of the body, but that attention to detail keeps it from feeling boring. At under $30, you can get one for each nightstand or just one for a dresser or desk.
Round mirrors have lots of unexpected uses in a bedroom. Here, it takes the place of a statement piece above a bed (with the added benefit of opening the space up.) But it can also be placed above a dresser to make a modern-feeling vanity, or scattered in a gallery wall to give you a quick place to check your hair and makeup before running out the door.
Matching nightstands are another super polished way to complete a room, so let this offer on an extra 15 percent off with the purchase of two be a motivator for you. There are plenty of good options, but this textured, feminine take on MCM caught our eye in particular. Not only is it over 50 percent off, but it also comes with two roomy drawers perfect for stashing all those bedroom odds and ends you want to keep nearby, like chargers, socks, or anything you might want to keep private.
We independently select these products—if you buy from one of our links, we may earn a commission.