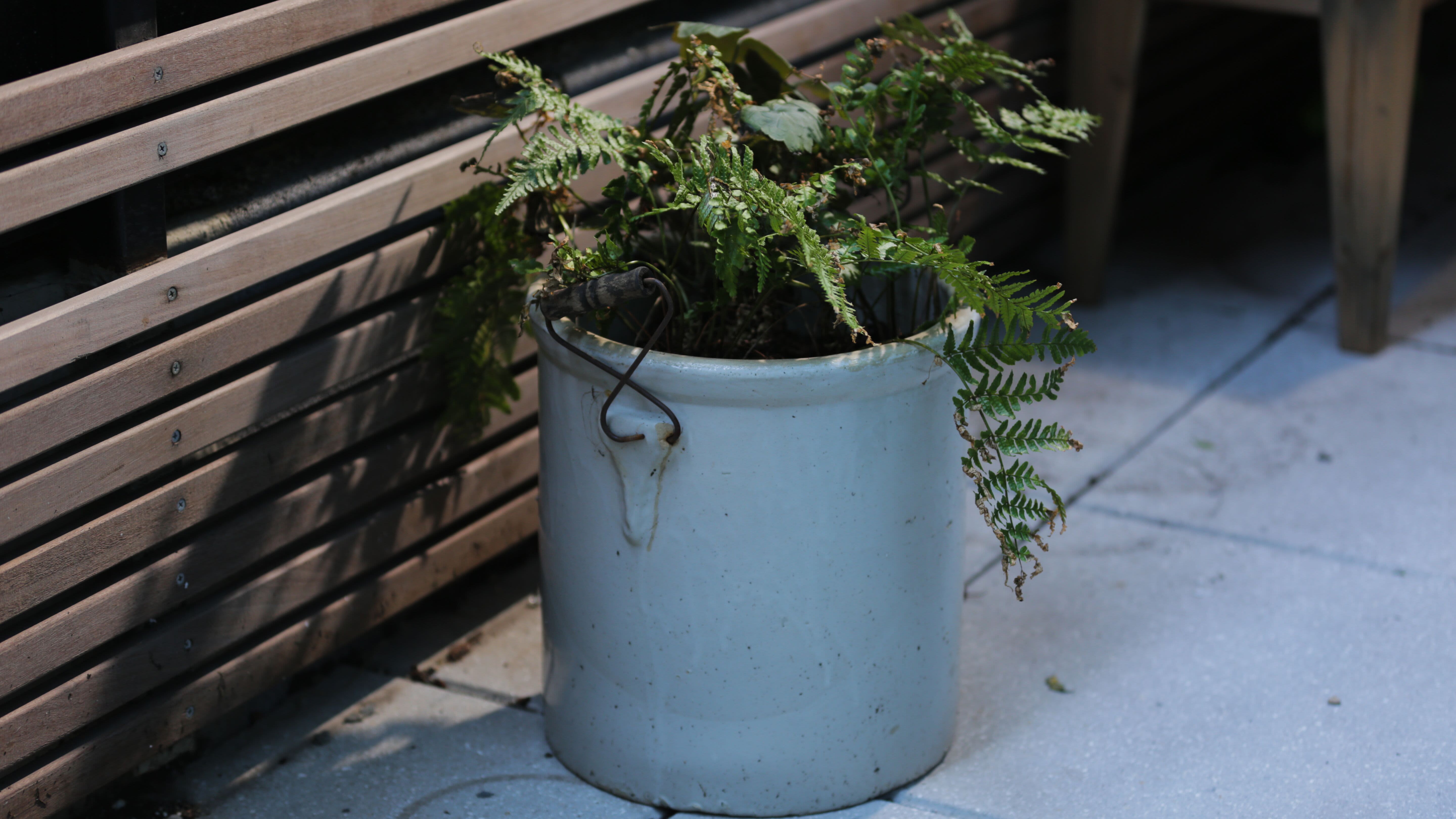 Every week, our resident "plant doctor" Hilton Carter, takes us behind the scenes into his own home jungle to answer questions about plant care and tips. But we thought it could be fun to, er, grow the series: sending him into real homes where the plants aren't always quite so healthy. Today we're launching House Calls with the Plant Doctor.
First up is Aaron Nachmann, who is our director of ad operations here at Apartment Therapy. He invited Hilton to his Crown Heights, Brooklyn, apartment for the first house call. The patient? A sad fern.
Aaron says he was worried that part of the reason his fern wasn't thriving was because he's caring for it a little too well—perhaps by overwatering. But Hilton says that ferns actually like a lot of water. In fact, the dry crisp leaves could be a sign of under-watering. Or it could be that the fern is getting too much direct sunlight. Here's his diagnosis for the patient:
Help Your Plant Find Its Light
Hilton moved the fern to a different spot on Aaron's balcony where the sun is blocked by some tree cover: "Here, sad fern will get better light," he says. "That's dappled light, indirect light, not so much of that direct sunlight as it was getting before."
Next, Hilton cleaned up the crispy edges and leaves of the fern using pruning shears (check out the technique in the video). "Spend some time getting in close and personal with your plants," he says, "so that you're not just treating it like it's just another piece of decoration but treating it more like it's a part of the family." He suggests talking to the plant, touching it, and even giving it a name.
Watch the full transformation from "sad fern" to "happy fern" in the video above. Once Hilton and Aaron finish up, they move on to an ant problem on his vine. "Plants outdoors are going to have some sort of bugs attached to them," Hilton says. "Ants aren't that big of a deal. But I'm going to show you a home remedy… for how you can get rid of them." Check out the solution in the house call video.
If you'd like to send a question to Hilton or apply for the series, reach out to us at plantdoctor@apartmenttherapy.com (make sure to include photos and all of the relevant details). Tune in on Tuesdays for more installments of House Calls with the Plant Doctor. And follow our plant account on Instagram (@iplanteven) for more plant care and tips.