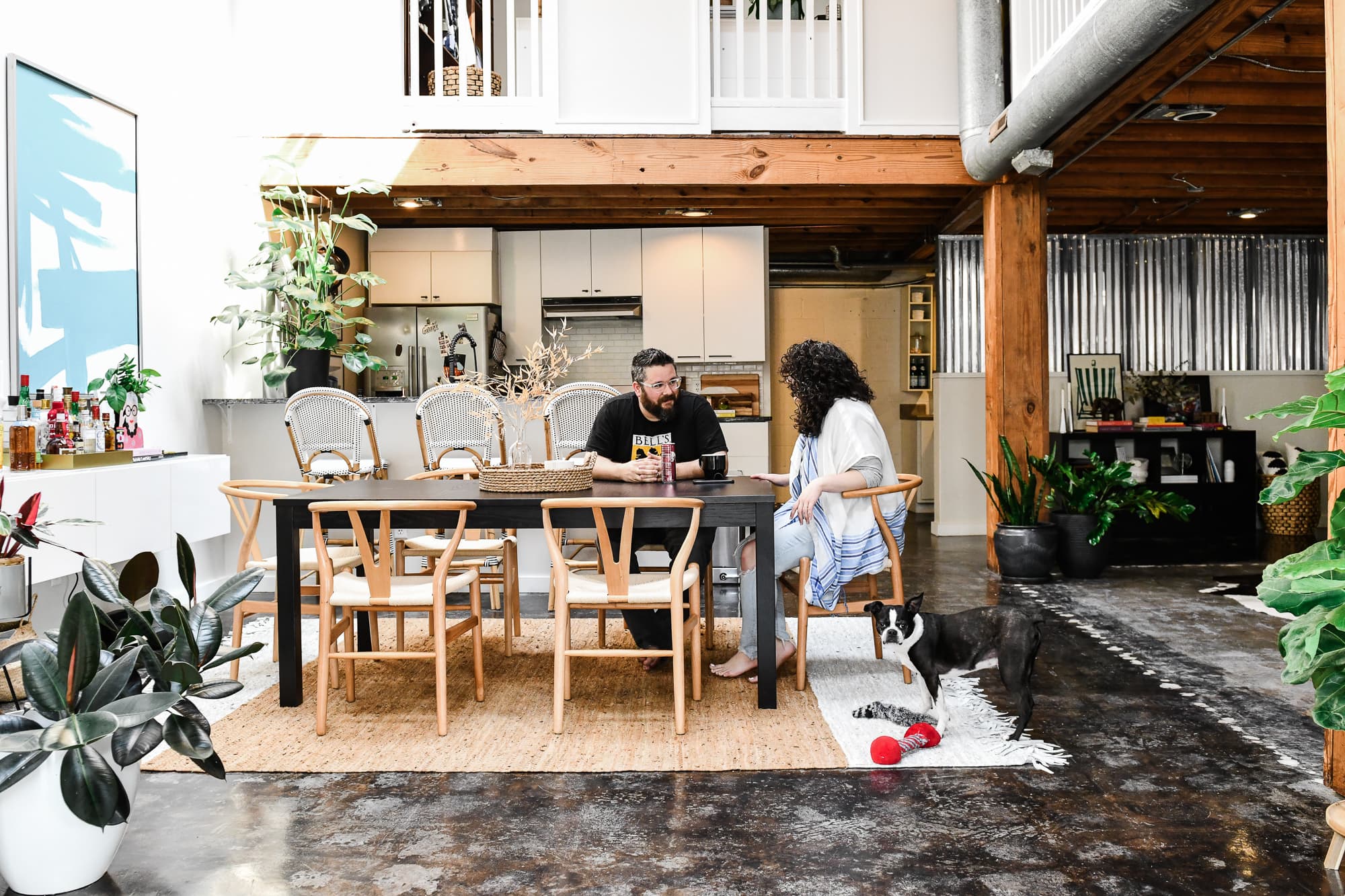 Name: Taryn Williford, J.R. Williford, and our Boston Terrier Bacon
Location: Candler Park — Atlanta, Georgia
Size: 2,003 square feet
Years lived in: 3 years, owned
Taryn Williford is Apartment Therapy's Lifestyle Editor, and you probably know her best from her pivotal role in leading our January Cure, our Spring Cleaning Challenge, her amazing Instagram account, or many other contributions to the site, where she guides readers through all the ways you can improve your home and life. The sleek, modern loft she shares with her husband J.R. and their dog Bacon is the perfect example of her style… and it's actually a home they bought entirely on accident.
"We were in a very 'one day, maybe soon,' kind of place when it came to buying our first home together. That stage when you're emailing each other random real estate listings on your lunch break. J.R. showed me the listing for this place one night on his phone at our friend's house, and I instantly said, 'That's it. There's an open house this weekend, let's go,'" Taryn says. "So we planned a Sunday of open house visits, still very much not ready to buy a home, and fell in love with the loft. We called the agent who was showing at the first house we went to (who we'd just met that day), and asked her to represent us to buy the loft. We called a couple banks on Monday, put in an offer on Tuesday, and were under contract by Wednesday. We had some money from family and pulled from a 401k and made it happen. It wasn't the most responsible way to buy a home, but it was the best impulse buy ever."
Taryn and J.R.'s home is located in Atlanta's Pickle Factory Lofts, where there are seven units total. But she reports no one in the building seems to know exactly how the lofts got their pickle moniker. "We offered up our home for the Candler Park Tour of Homes last fall, and we met this lovely volunteer who had been living in the neighborhood for 50 years, and when we told her about the pickle factory, she said she remembered seeing barrels in the windows."
Friends often comment about how open the home is, along with making note of the high ceilings; Taryn thinks there aren't a lot of homes quite like this space in the city. The architectural style is heavily industrial, and it's warmed up significantly by Taryn's cozy decor choices… as well as a ton of plants. "I used to be such a black thumb, but this place with the big, bright skylights has made it really easy to turn my black thumb green. (Honestly it's like a greenhouse in here sometimes.) Each plant is named after a musician. Here's a small sampling: the fiddle-leaf fig Phil Collins, Lady Gaga the monstera, my pink triostar stromanthe Janelle Monae, the Yucca plant Harry Belafonte, Madonna the prayer plant, my snake plant Taylor Swift. They're my family and I love them."
I wouldn't blame you if you were to pin a ton of photos of Taryn's home to your inspiration boards; nearly every angle is a perfectly executed vignette that at once seems sophisticated and incredibly comfortable. But most of all, it's one of those homes you can tell is well-loved and heavily enjoyed by its inhabitants. It's a vibe that comes from taking the time to decorate meaningfully… and not being afraid to let it evolve as you do.
"I always joke that my hobby is the loft. When I have a spare night to myself, I love thinking about the next project we're going to do, or putting together mood boards in Photoshop. And if I'm not planning, I'm photographing. Sometimes when I need a break from work, I just walk around and catch the light and try to find something beautiful to shoot and put on Instagram. My Instagram is literally like 99 percent pictures of loft. Any time we get a new piece, or move things around, I'm documenting it."
Apartment Therapy Survey:
My Style: Rock 'n Roll Bohemian Goth? It's an amalgamation of styles. We buy whatever we like. When I shop, I think I have a California Industrial vibe in mind. I love the look of the West Coast's relaxed spaces and their texture and worldly touches. But ultimately, we live in a landlocked loft, and so we like to embrace the warm urban rawness of industrial style. Plus I like a bit of drama—hence the black wall. So abstractly I want it to feel like music, California, and every dark and dingy dive bar ever.
Inspiration: The more interesting spaces that I look to for decorating inspiration are probably recording studios. I love the vibe of layered oriental rugs, leather furniture, and dark walls with lots of texture. Basically, if I could live inside the Electric Lady Studios, I would. The more boring answer is: A lot of other people's homes, mostly. Doing what I get to do for a living, I have collected—manually on Pinterest boards and bookmarks but also in my head—a lot of ideas from other lofts and urban spaces. I have had this Apartment Therapy house tour bookmarked in my browser as "THE BEST" since we published it.
Favorite Element: Just… the loftiness. How it's open and airy. The tall ceilings and skylights. It all adds a ton of charm, and makes this place feel much bigger than it is. (But also it's pretty damn big. We got lucky.) And there's plenty of room for Bacon to run and play fetch. I always said my dream home was a really massive studio apartment and I guess this is kind of it. I like that everyone in the loft is together, no matter where they are. J.R. finds the open space calming; when I asked him why he said, "It's like when you're in a traffic jam and it finally clears up."
Biggest Challenge: Architectural errors abound—like a misaligned light fixture or a doorway that you really just want to nudge a few inches to the left or right. But there are so many tiny things like that, it begins to feel like charm. It helps that the space is so raw to begin with. I don't worry about the part of the wall that betrays the shoddy patch underneath, because it's all just a little bit wrong in here. That's the best gift this home has given me: Peace with imperfection. I would say every frustrated perfectionist should find themselves a truly industrial loft. Don't get me wrong: We're fixing the things we can as we complete projects here and there. But just overall, I feel better about my ability to DIY things when I know that the results don't have to be perfect. It allows me to get past the perfection paralysis and experiment. No surprise this is my favorite place I've ever lived and decorated.
Also this has nothing to do with style, but it's extremely challenging to heat and cool. Our power bills haven't gotten out of hand, and the outside cinder block walls are pretty tight. But trying to get the downstairs or upstairs as hot or cool as you want them feels like a puzzle sometimes. The downstairs is usually too warm, which defies what I thought I understood about thermodynamics.
Proudest DIY: Probably the most impressive thing we did, in terms of process, are the "concrete" countertops in the Skullery. They were these ugly laminate material, but we knew that the Skullery was going to be waaaaaaaayyyyy down the list of rooms that we might properly renovate one day. So we did that DIY where you sand and coat the counters with a layer of Ardex Feather Finish. It only took like $40 and the better part of a weekend, and they came out great and look like imperfect yet solid concrete.
We also really love the semi-DIY furniture, like the coffee table and the small bookcase at the bottom of the stairs. They started with found materials (a curb find travertine top and an old ham crate that used to store J.R.'s grandfather's toy train collection), and we just added legs and made them into pieces we needed. It wasn't complicated or especially creative, but it was thrifty, and they're unique and we love them.
Biggest Indulgence: The Serena & Lily barstools. They were a lot of money, on the barstool scale. And truth be told, we barely sit there. We both just fell so in love with them, and decided that because they're so prominently visible from the entry and basically the whole place, that it was worth it. We skipped Christmas presents for each other that year and just splurged on the stools. Plus we balance it out with a ton of IKEA. Most of the time we shop, we're thinking "budget" and "durable." Nothing too precious.
Best Advice: I feel like my whole job is to give home advice, and you can read it all over Apartment Therapy. So I am going to ask J.R. and transcribe his answer here:
"If you want to live in a loft, be prepared to not have much privacy or storage, and to plan around those things. I think we do pretty well at periodically purging the stuff we don't need, like every six months or something, just getting rid of extra things, then selling it or donating them. The privacy aspect is tough. You [Taryn] sometimes work late, and we've done well with you having your office upstairs, so you can do your thing and I can chill down here. So even though it's open, we have our own spaces. Also headphones help."
STAIRWAY LANDING / OFFICE:
We independently select these products—if you buy from one of our links, we may earn a commission.