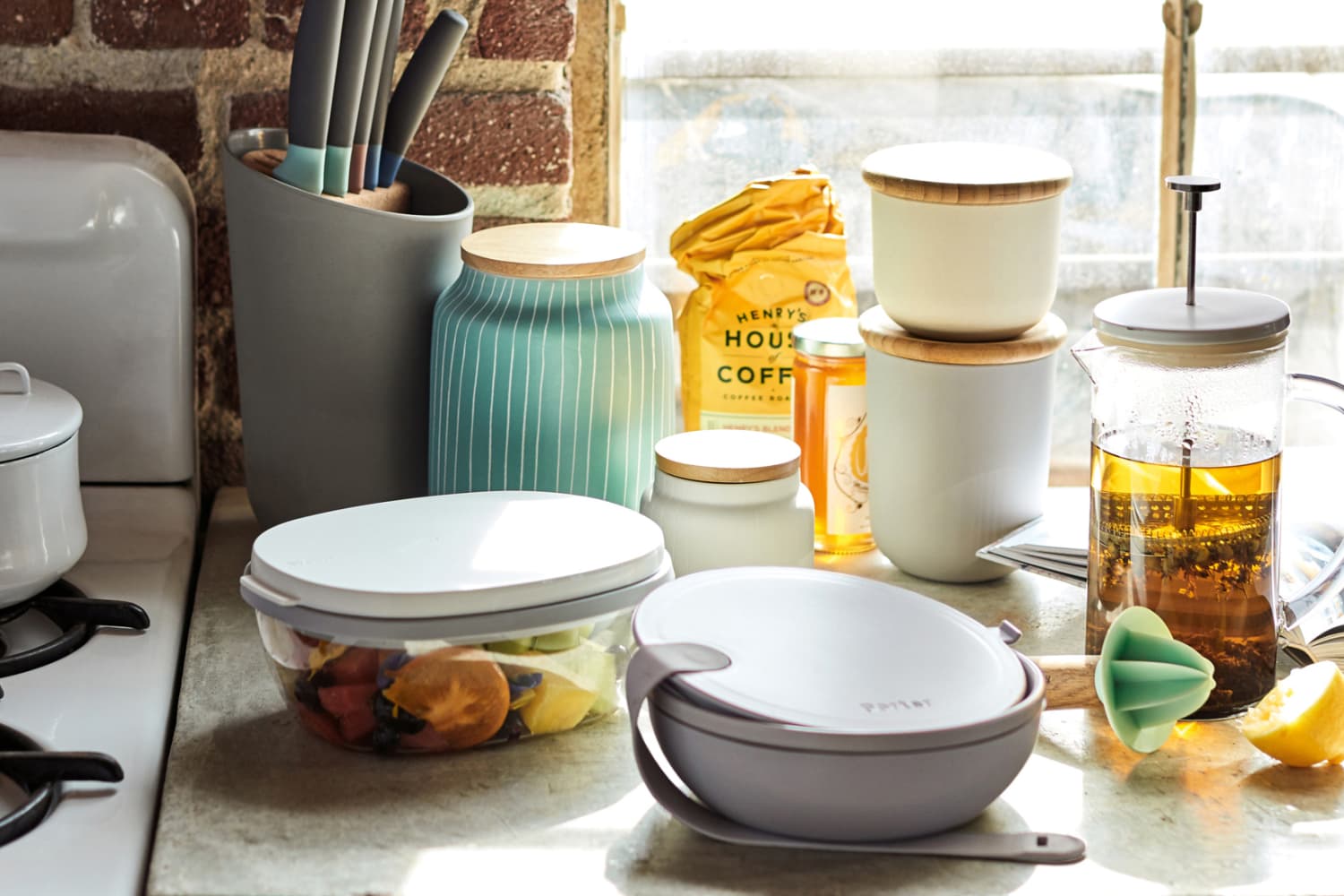 With single-use household goods like plastic bags and containers falling out of favor for their wastefulness, plenty of alternatives are popping up. While most of the plastic offenders aren't exactly pretty, many of the more environmentally-friendly options are, giving consumers even more incentive to ditch their disposable goods. Anthropologie recently added a variety of food storage products to their inventory, and we're obsessed—every item is reusable, functional, and actually good-looking. We rounded up some of our favorites below, and you can explore the entire range of food storage here.
This tote bag is perfect for hauling fruits, veggies, and other food goods from the grocery store or farmer's market. Roomy and durable but able to be folded away when not in use, you can easily carry it around in your everyday bag for impromptu shopping trips—no more plastic bags again. If you want some more options, Anthro also has produce-specific bags in both cotton and recycled mesh options.
Hate using one-use plastic cutlery when eating lunch during work but don't want to keep your own forks and knives at the office? This compact, easy to carry flatware is made of recyclable thermoplastic and fits together to make transport as smooth as possible. Keep this set in your drawer or carry it around in a pouch in your bag—you can even color coordinate with your storage containers.
For a more stylish (and roomy) lunch bag, check out this find from SoYoung. Made to resemble a classic brown paper bag, it comes with a removable insulated lining for easy cleaning, and an extra back pocket for cutlery or napkins. If you don't love the look of this style, you can also buy in two other patterned linen options. No matter what, you're saving a plastic bag, as well as money from packing your own food.
There's a lot you can do with these little lunch pots. Each comes with two separate compartments, and the lid is leak-proof so you can pack chili, soup, and other liquids without worrying. The top section can be used for nuts, dip, or small veggies—it's smaller than the bottom part but is perfect for storing snacks. If you're looking for something compact and versatile, this is the food storage for you.
The words "pretty" and "food storage" don't often go together—except when talking about these bowls. Made of BPA-free plastic with a silicone strap for extra security, these lightweight containers not only look lovely, but are also slim and easy to pack in your work bag. With five different muted colors to choose from, you can't go wrong—and, they even come in ceramic if you're committed to being plastic-free.
Those single-use plastic Ziploc bags are useful, but undeniably wasteful. Stasher bags are a reusable (and increasingly popular) option—made of silicone, they're airtight, washable, and actually kind of cute. Anthro sells them in four colors, and if you really love them you can also purchase the snack size or half gallon bag.
Perfect for coffee, tea, and soup, this travel mug is made out of a combination of ceramic, silicone, and BPA-free plastic. Bringing your own caffeinated drink to work or on an errand run is a good way to save money, and will help you cut back on using those single-use disposable coffee cups, which are notoriously difficult to recycle.
We independently select these products—if you buy from one of our links, we may earn a commission.