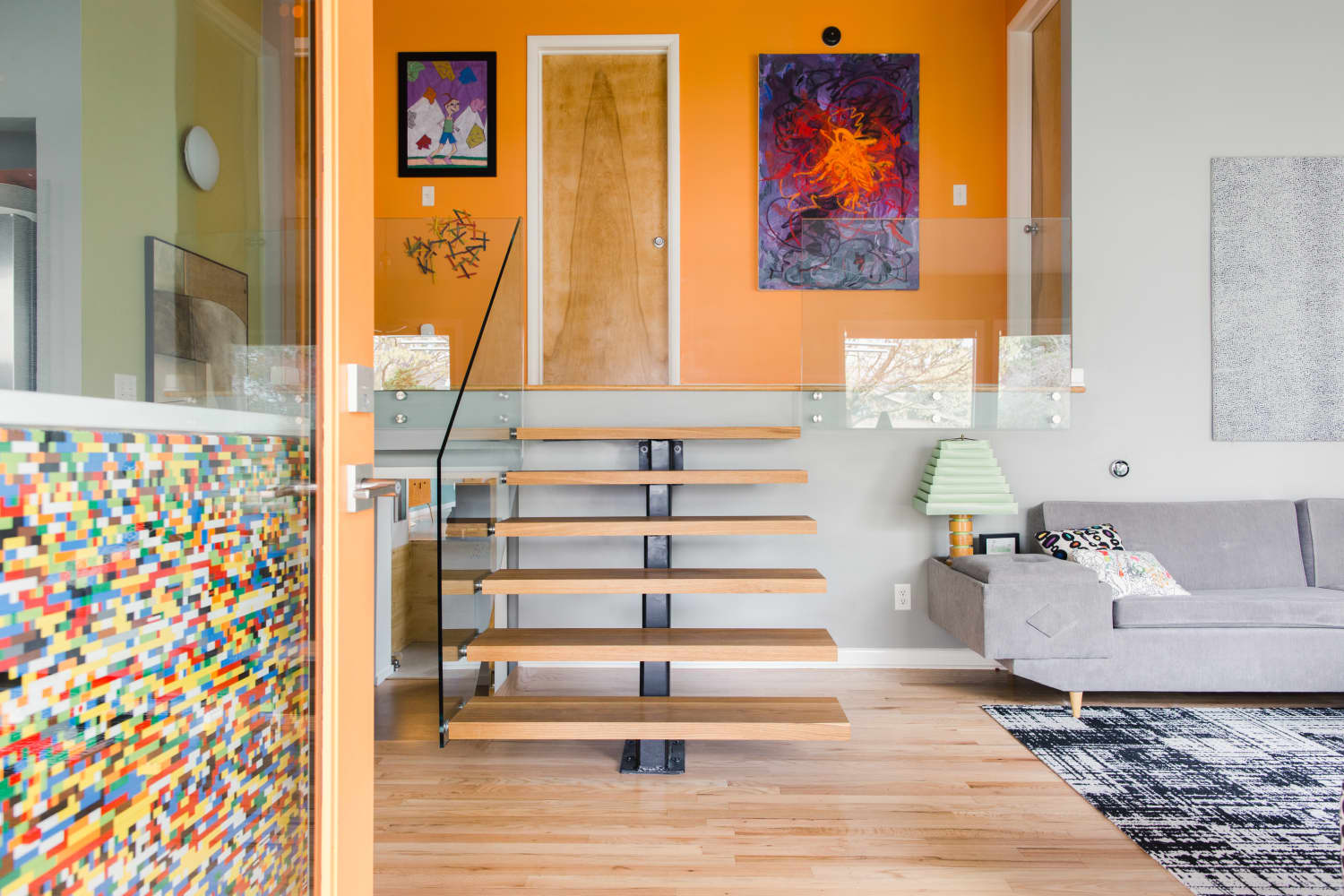 Name: Elin, Christian, Ebba, Soren, Grace, and cats
Location: Ann Arbor, Michigan
Size: 1,800 square feet
Years lived in: 9 years, owned
"We bought the house in December, 2009 and wrote down in a journal every single thing we wanted to do to improve the home. It was a satisfying day in 2016 to have crossed the last task off the list. The only problem now is that we seemed to have started another list. Is a home ever really 'done'?!" says Elin.
Elin and Christian's home has been an evolutionary project; renovations have happened as they've come up with good ideas and when they've had the budget. By shopping the antique malls and thrift shops, they've been able to not only add character and soul to their home, but also achieve great design without spending a fortune. They take pride in creating a mid-century modern vibe by mixing old and new.
In 2014, they built an addition to the 1950s house, combining the original architecture with a contemporary seamless transition. Not seen from the street, the addition becomes a pleasant surprise to visitors coming inside. Elin's love for design came in handy with this "pleasant" part.
"I love design—the love that comes straight from the soul. I seek out color, whimsy, geometry, and interesting form in everything I do, whether it be home furnishings, fashion, or visits to a museum. It took 40 years to figure out 'what I wanted to be when I grew up;' and opening my interior design firm, Exactly, in 2016 was one of the best, most natural, decisions of my life. It's been a fun, fast-paced life since then, and one that doesn't really even feel like work," Elin shares.
Apartment Therapy Survey:
Our Style: It would be an understatement to say that I like color! I feel that a home has soul when vintage and modern pieces are brought together and I aim to do this in just about every space. Clean lines, geometric shapes, and pops of color define the way I design. For this reason, I have a soft spot for all things mid-century modern.
Inspiration: Growing up with parents who collected antique American Folk Art, combined with years of dance training, I have appreciated form and beauty from a young age. Christian discovered his passion for architecture and design later in life and feels so at home in our surroundings. Together, our first trip to Palm Springs, California, created serious house envy! The mid-century modern mecca has offered to us unlimited perfect examples of elements we have brought to our home.
Favorite Element: We love the floating stairs, the heated concrete floor in the addition, the vintage Majestic Malm fireplace.
Biggest Challenge: To be content and not start all over again with a whole new look.
What Friends Say: "Oh my gosh, your house is so cool," whether it be a 10-year-old or a 70-year-old.
Biggest Embarrassment: The garage is our biggest eyesore at this point. We've tried to make it more palatable by painting the door orange to match the front door, but really it's just a temporary 'solution.' We have plans to tear it down and build a studio/garage.
Proudest DIY: The overall design and what we've done to meld mid-century and modern elements is what we are most proud of. Knocking out a wall to open up the existing home to the addition created a surprising but natural flow. It was by far the single best decision we made in the house.
Biggest Indulgence: Our floating staircase with glass railing was our biggest splurge and major ticket item. Seeing that our staircase can be seen from the outside and is the first element you encounter when opening the front door, we treated our staircase as a sculpture. Investing in art is important to us and our staircase is a piece of art.
Best Advice: Take your time, let things happen organically. Live in your space before you make big decisions. Consider the entire house, inside and out, before starting any project. What is the end goal—the overall look and feel? The big picture matters just as much as the details.
Dream Sources: Every and all thrift stores, antique markets and estate sales, Tom Gibbs Studio, Modwall Tile, Kerf Design, and Roche Bobois.
LIVING ROOM (front of house)
Mid-century Modern Couch (Reupholstered) — Antique Mall
Mid-century Modern Lamp (Green) — Antique Mall
Pillows — IKEA; Parisian market; Etsy
Mid-century Modern Table Lamp (combed turquoise) — Antique Mall
Original Art — Ebba Gurney, Dave Pottinger
Hollywood Regency Kagan Lucite Snail Coffee Table — Antique Dealer
Danish Modern Krenit Bowl — Resale Shop
Lauris Lonborg Kinetic Sculpture — ModMart Detroit
Mid-century Modern Lounge Chair (Turquoise) — Resale Shop
Mid-century Modern Arc Lamp — Antique Mall
Mid-century Modern-inspired TV Stand — Handmade
Charlie Harper Print (Original) — Antique Dealer
Three-Pendant Mid-century Modern Light — Original to house
Bullet Planter — Trash on the side of the road
Mid-century Modern Ottoman (Reupholstered Gray/Black/White) — Trash on the side of the road
Mid-century Modern Lounge Chair (Reupholstered Black/White) — Resale Shop
MASTER BEDROOM
IKEA Vintage Bedside Lamps — Antique Mall
Loryn Bed — Modway
Acrylic End Tables — eBay
Duvet Cover — West Elm
Throw Pillows — HomeGoods
Throw Blanket — HomeGoods
Tall Dresser — IKEA
Heywood Wakefield Dresser — Antique Mall
VIDJA Floor Lamp — IKEA
Dresser Table Lamp — Modern Home Store; Saugatuck, Michigan
KITCHEN
Ebon Gray Laminate Counter — Wilsonart
Birch Cabinet Doors — DIY
Mid-century Modern Vintage Overhead Light — Antique Mall
Dishwasher — Bosch
Kenmore Elite Refrigerator, Range, Microwave — Sears
Loose Lay Coin PVC Tile — Lowes
HALLWAYS
Original Art — Don Walters; Ruth Langs; Claire Ward
PAINT & COLORS
Living (front of house): Sherwin-Williams Ellie Gray; Valspar Olive Martini; Benjamin Moore Calypso Orange
Living (back of house): Valspar Linden; Chantilly Lace
Thanks, Elin and Christian!
We independently select these products—if you buy from one of our links, we may earn a commission.