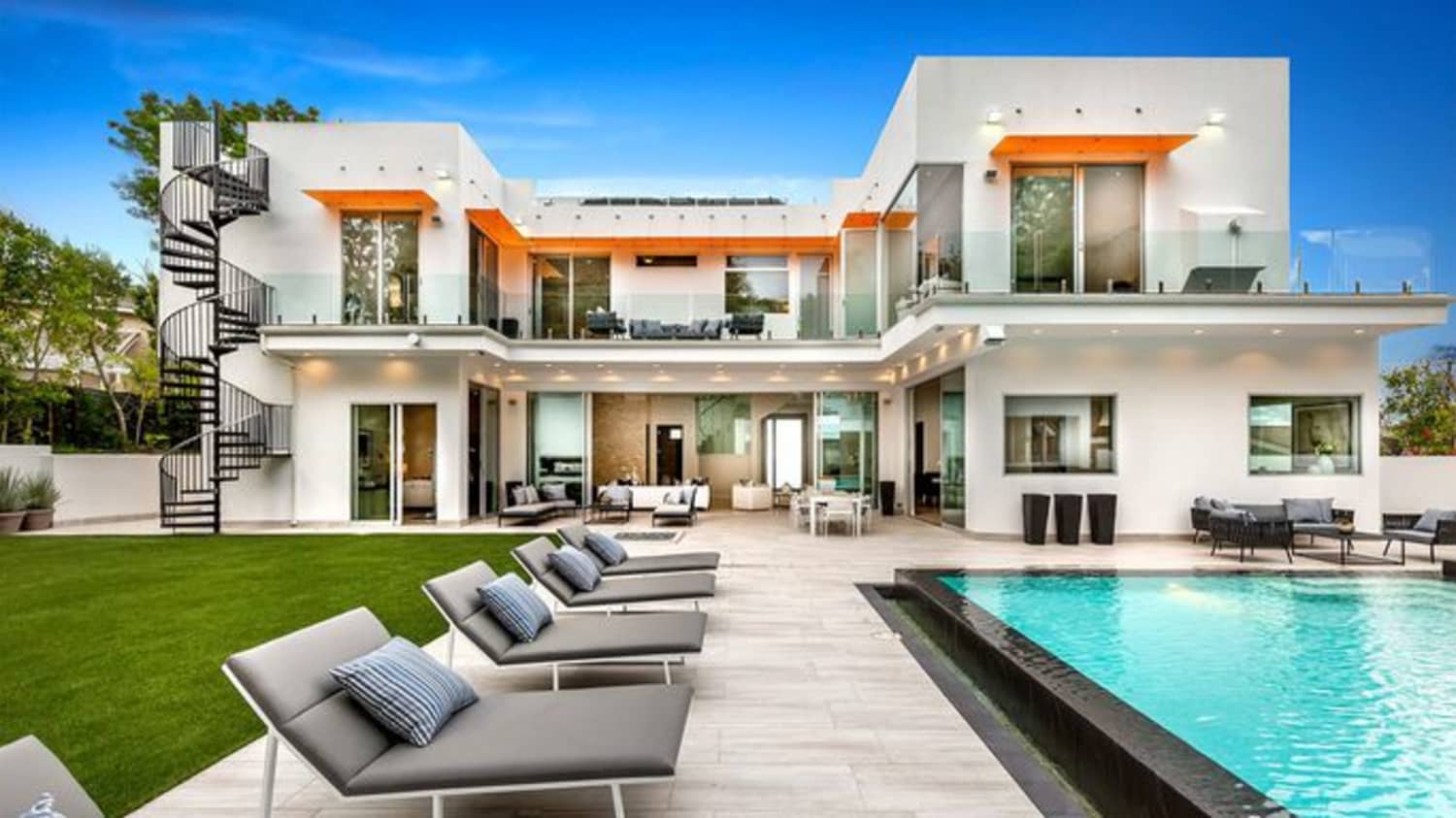 Are you still captivated by the contemporary abode Emma Stone danced her way through in search of stardom in "La La Land?" In the film, Stone and her roommates twirl their way up to this incredible mansion to attend an industry party, and every room is filled with dancing guests and flowing Champagne. Cue the musical number "Someone in the Crowd."
Located in Encino, California, this 8,500-square-foot party palace is officially on the market. In other words, you can have your own "La La Land" moment for a cool $6.45 million according to Realtor.com (dancers not included). There were so many sparkling distractions, it was hard to get a good look at all of the contemporary features inside and out. Now, we can sit back and soak up every dreamy detail. Even without the silver screen fame, this home is brimming with curb appeal.
There are rooftop decks and balconies galore with a chic spiral staircase for access. The vivid blue infinity pool was impossible to miss in the scene. It's a stunning focal point in the scene and in the home. You might recall the moment a well-dressed dancer jumped gracefully from the balcony into the water.
Inside, there are towering ceilings, walls of glass, and vast open spaces as well as a gold marble chef's kitchen with Viking appliances, and a home theater, plus an elevator to help residents and guests alike navigate the palatial residence.
We know it can host a raucous dance party, but it can also comfortably sleep quite the crowd, too. In total, there are six en suite bedrooms and nine bathrooms. Naturally the master suite reigns supreme. It has the best view in the house with an all-glass corner overlooking the pool. It also boasts an in-wall fireplace, a private balcony with city views, a massive walk-in closet, and a luxurious bathroom complete with an infinity tub and steam shower.
With all those impressive features going for it, it's no surprise the home has set the scene for many different productions. It has appeared in Olay beauty commercials, "NCIS L.A,"the upcoming movie "The Laundromat," and more.
Just like Stone's friend sings in the song, this could be the one you've waited for. For the rest of us who aren't in the market for this multimillion-dollar mansion, we can turn up the "La La Land" soundtrack and dance around wherever we currently call home.