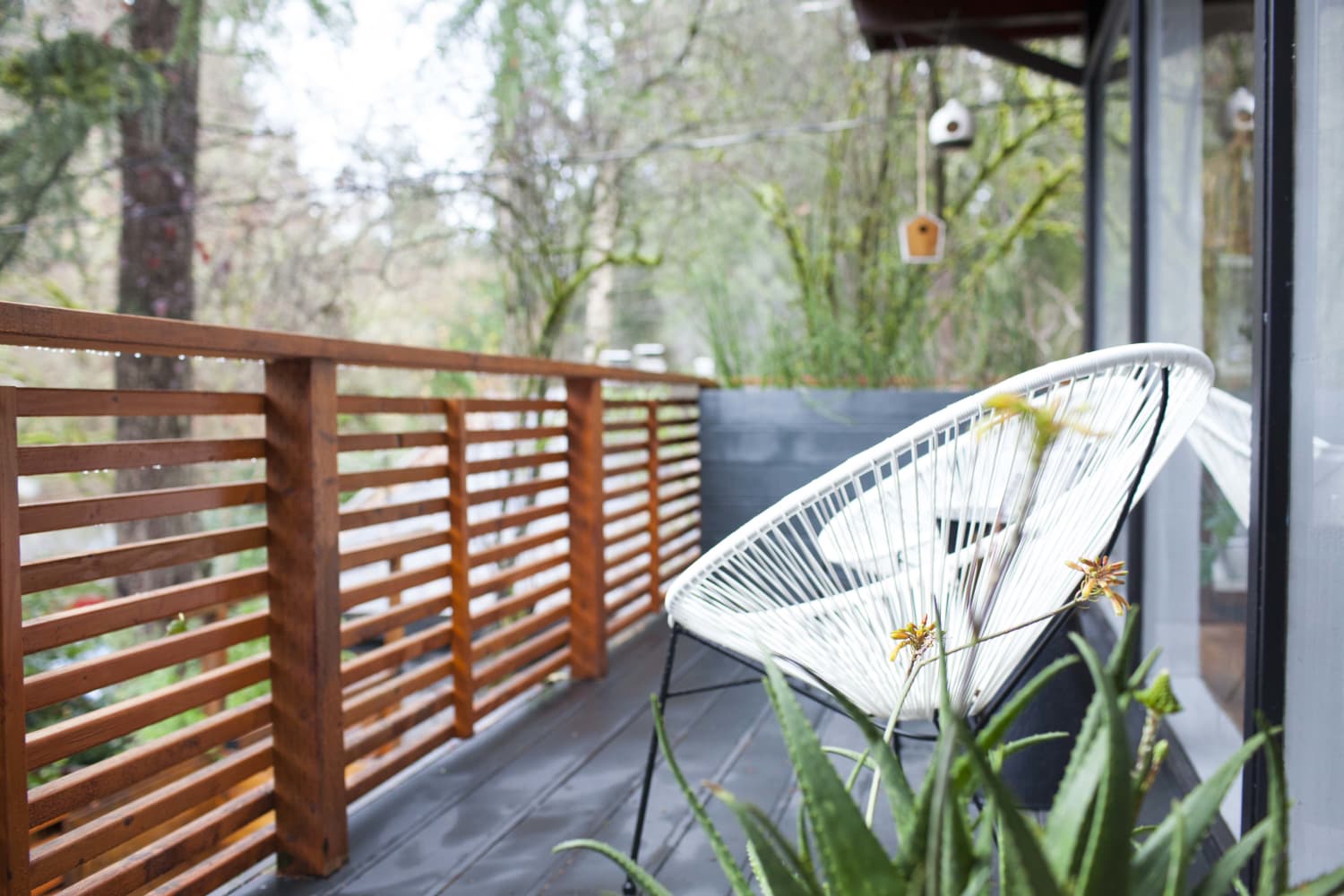 Summer will be here before you know it, which means it's time to schedule some beach trips, stock up on rosé, and get your outdoor space in tip-top condition.
We know what you're thinking: "What outdoor space?"
Whether you're living in a cramped apartment in a big city or a tiny house with an even smaller outdoor space to match, there's a good chance your place doesn't come with a sprawling backyard that's large enough to fit a pool, garden, outdoor pizza oven, and playground for the kids.
But just because you're limited to a corner of your condo's communal courtyard or the petite balcony in your apartment doesn't mean you need to schlep out to the nearest park (or mooch off your friend with the backyard) to soak up some summer sun.
So we asked a handful of design experts to share their best tips for decorating a small outdoor space. Go ahead, have a little scroll:
"No matter how small your outdoor area, you're going to want to create a sitting area or else you won't take full advantage of the space. Choose a petite table and loveseat or chairs that will instantly turn the little space you have into an outdoor retreat." —Kristen Ekeland, principal at Studio Gild
"One of our favorite tricks when it comes to decorating an outdoor space is to rely on plants to add color and life to the overall design. Make a selection of your favorite flowers, potted plants, and ferns to diversify the space and create that outdoor oasis you've always dreamed of!" —Caroline Grant and Dolores Suarez, co-founders of Dekar Design
"To create an oasis, try to cover the outdoor area in as much greenery as possible.  Jasmine or ivy on a wall—as well as topiaries or potted plants—are nice options to consider. A surrounding of greenery is not only beautiful but provides a relaxing environment." —Courtney Hill, interior designer
"When decorating your small outdoor space, lighting is a very important element. Wall lights are your best option as they create an elegant ambience without taking up space!" —Michael Amato, creative director of Urban Electric Co.
"If you plan on entertaining, pick up a bar cart/console table. It's multipurpose and mixed-use, as it's a great way to lay out food and drink, but as the night progresses, it can double as a spot for people to set their drinks down before they go inside and/or where you set up a portable music player." —David Dillon, creative director of Yardbird [
"When debating deep seating or dining, I tell clients you can eat on a couch, but you can't lie on dining chairs. Tucking a sectional into a corner is the best way to maximize on floor space. Look for furniture with light-colored cushions, skinny frames, and high skirts (I'm partial to our Luna and Colbycollections). That's a great way to maximize comfort with minimal space!" —David Dillon
"Make a small outdoor space seem so much bigger by painting it all white. You can even go for a monochromatic color scheme with all-white cushions, a white outdoor rug, and white metal pieces. I often add in mirrors and large-scale plants to create the illusion of a larger space." —Jade Joyner, co-founder and principal designer of Metal + Petal
"Use an area rug that fits the entire space to make it feel intentional and like an extension of your interiors." —Jade Joyner