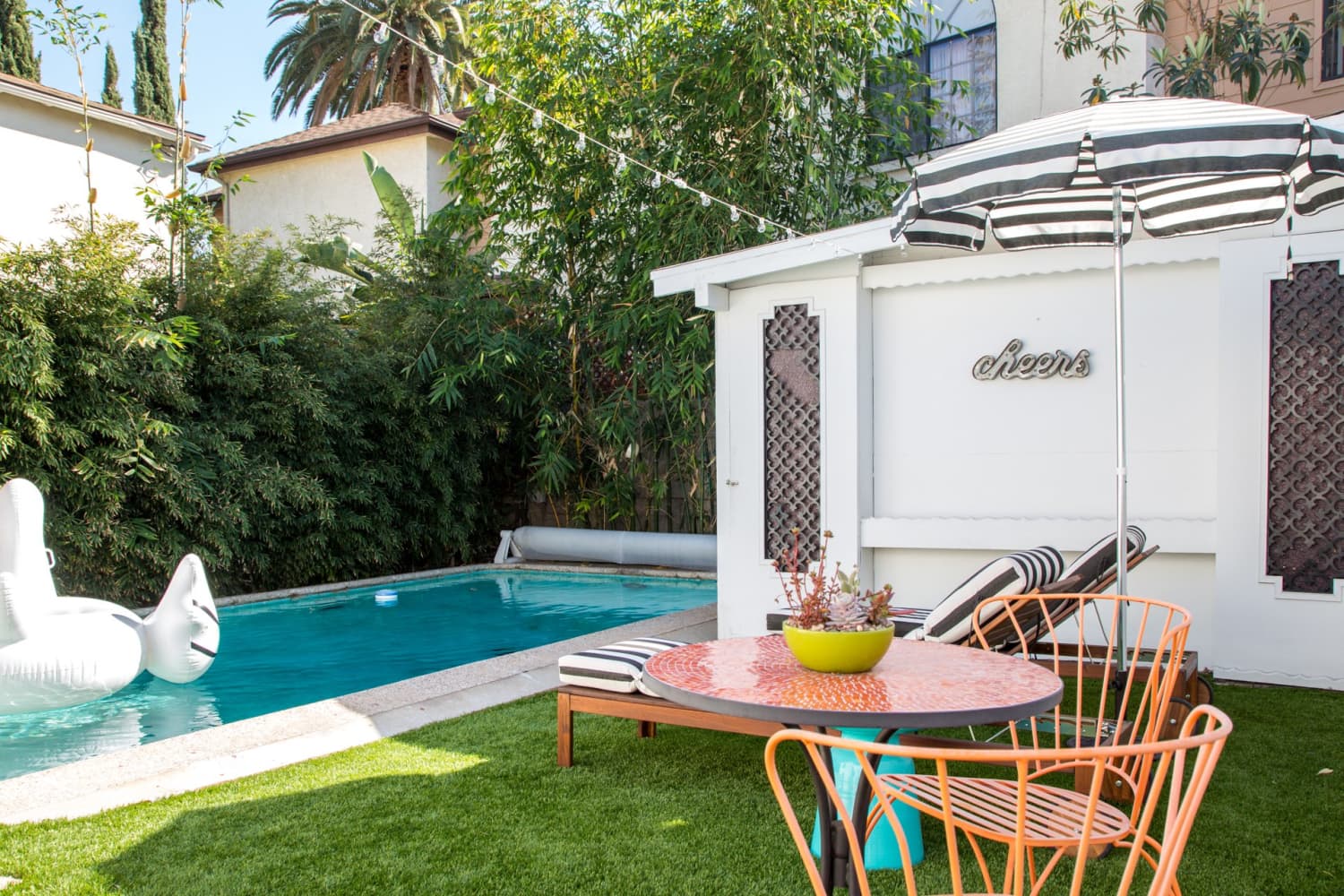 Apartment Therapy Weekend Projects is a guided program designed to help you get the happy, healthy home you've always wanted, one weekend at a time. Sign up now for email updates so you never miss a lesson.
It's time to go outside! The beginning of spring weather is a chance to get in sync with the new-start vibe nature gives us. Whether you love to take your morning brew out on the porch or warmer weather means weekend cookouts with the neighbors, being able to be outside signals the start of the year's change of season and our change of pace.
Outdoor space at home, no matter how humble or large, is sacred. It's your own tiny slice of peace, where the noise of life quiets and you're wrapped in the solace that comes from feeling like you're a small part of something bigger.
This Weekend: Do one thing for your outdoor space.
To get the most out of your little slice of heaven, your outdoor space might need a little refresh. Here are some small ways to dress up your backyard, front porch, deck, balcony, the fire escape, that one breezy and generously-silled window, or whatever outdoor space you call your own. Pick one or pick a few.
Don't underestimate the drastic difference a quick cleaning can make. A simple sweep can transform even a tired, neglected cement stoop into a perky spot ready to welcome you.
If you're looking to take the cleaning a bit further, pressure washing your decking or paved patio is even more transformative, making your outdoor space look new.
Dirt, dust, pollen, bird droppings—these are far from inviting when you want to sit outside. Use a spray cleaner and a small, stiff-bristled brush, a hose, or even the pressure washer on a low setting to make your furniture clean and ready for outdoor respites.
Nothing makes you want to look outside and go outside more than colorful, beckoning flowers. The color, texture, and sometimes even scent of these silent but cheery outdoor friends perk up any outdoor area like nothing else can. Be creative and include plant stands of different heights and hanging plants. If you're worried about caring for the plants, show your outdoor space some plant love with a few well-placed, realistic-looking fake ones.
If you've amassed planters and pots over the years, you may crave a switch from a collected look to one that's a bit more cohesive. Choose an outdoor-safe spray paint color or a few coordinating ones, and get "new" planters for a fraction of the cost of actually replacing them. (If you have plants in the planters already, try protecting them from paint by covering them with a plastic bag and taping it off from the inside of the planter. Remove it right after painting.)
Dirty railings and ironwork can make a space feel dingy even if they're not too obvious at first. Cleaning them makes the same place feel cared for and ready to care for you.
You can catch up with weekend projects right here. Share your progress with us and others by posting updates and photos on Instagram and Twitter with the hashtag #atweekendproject.
Remember: This is about improvement, not perfection. Each week you can either choose to work on the assignment we've sent you, or tackle another project you've been meaning to get to. It's also completely okay to skip a weekend if you're busy or not feeling the assignment.
We independently select these products—if you buy from one of our links, we may earn a commission.