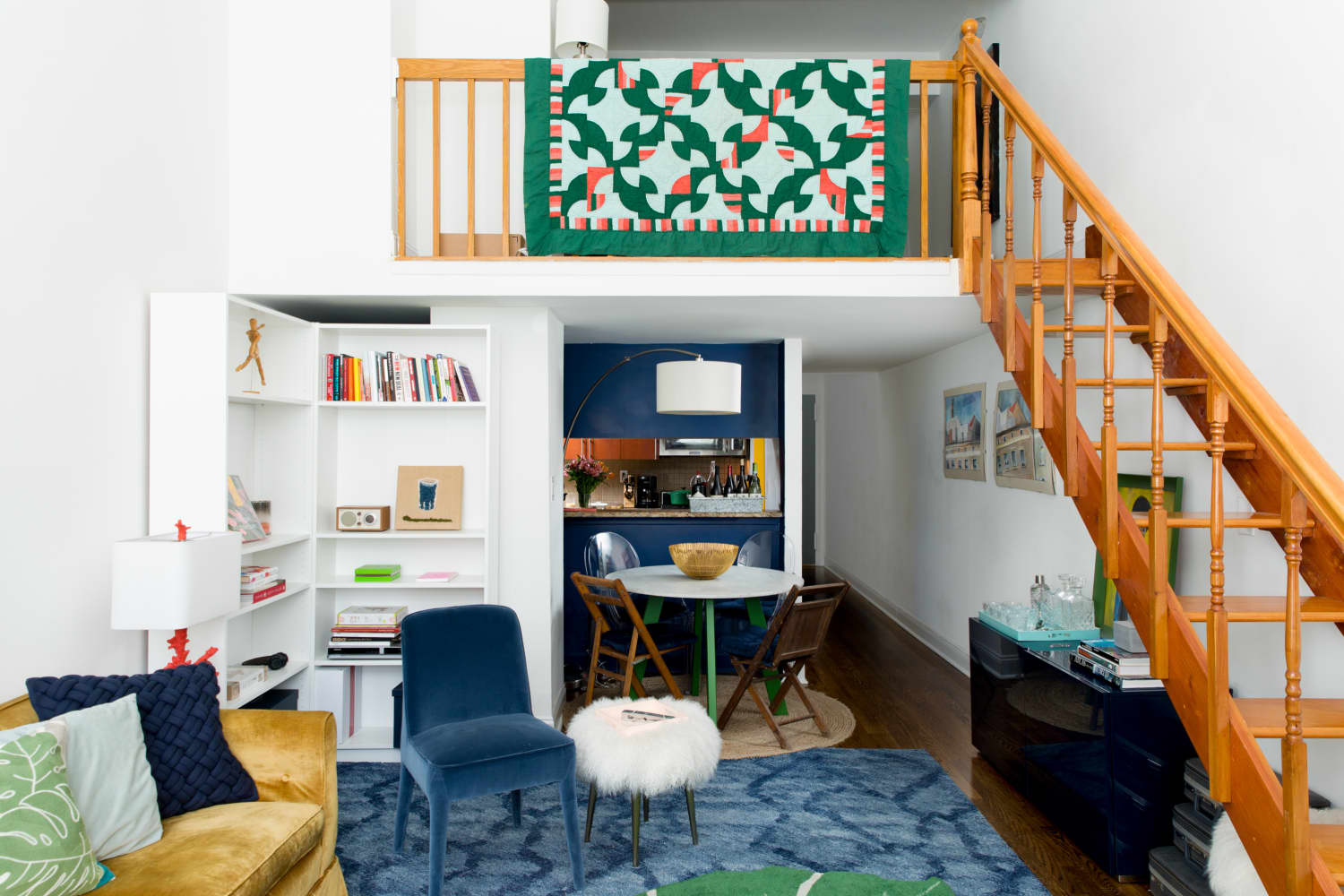 Name: Simone and Mimi McGurl, their cats Jimmie and EZ
Location: NoMad (Flatiron) — New York, New York
Size: 600 square feet
Years lived in: 1 year, renting (but 10 years in NYC)
Simone and Mimi had moved away to San Francisco for the winter a couple of years ago, with a plan to come back in the spring. After looking at hundreds of apartments online and many in person, she let her lease lapse and figured they'd find something after they took a pause on searching.
The next morning Simone received her daily StreetEasy digest and saw the high ceilings, big windows, and unique vibe of her now space, called, and immediately took it—without ever seeing it in person. After she and Mimi moved in, she had about three months before she started a new job as the Chief of Staff at The Trust for Public Land. She used that time to design the space.
Apartment Therapy Survey:
Our Style: I describe my style as "mid-century millennial craft" or "modern speakeasy." I love the bold colors of hotels I went to in Miami many moons ago. I wanted a space that reflects vivacity, a strong aesthetic point of view, and homemade objects from artisans, painters, and craft makers we know and love. Plus, you can never have enough velvet furniture or art books.
Inspiration: I grew up as an activist and community organizer in Albany, New York. I was involved as a leader on the board of our local feminist social justice foundation, Holding Our Own, and I found the storefront living room of the Women's building (think a free version of The Wing, in 1990s Albany, New York), an incredibly welcoming place and opportunity to build meaningful, generative, and joyous community. My aesthetic inspiration is primarily the work of artists like:
Favorite Element: The high ceilings have changed my life. With a small amount of square footage, the height of the space gives room for grandeur and a soft light that I love.
Biggest Challenge: The main floor living space has a 2×2 column that supports the loft on the far end of the living room. We initially planned to paint it. Then, we considered mirroring it. We ultimately decided to camouflage it with a bookcase and a velvet curtain. Doing so made a makeshift closet where we store bikes, yoga mats, and 15 folding chairs for dinner salons, which I co-host with my best friend and FLOX on a monthly basis.
What Friends Say: Modern, trendy, welcoming, bold, bright, well-textured, comfortable
Biggest Embarrassment: Leaving love notes for my partner on the chalkboard wall when other people come over.
Proudest DIY: The yellow door jam in the kitchen. I painted it and it helps ties the space with the aesthetic of the rest of the apartment.
Biggest Indulgence: We had lived in Harlem since I moved to NYC 10 years ago and we had an 800-square-foot two-bedroom. The apartment had a 10-person dining room table—and honestly, we used it twice because our friends all live in Brooklyn, Chelsea, and the West Village. Our move to NoMad was rooted in a desire to host and build community. So rather than investing in expensive furniture or custom window treatments I made a choice to focus on serveware, dishes, flatware, whiskey decanters, drinkware, and a deviled egg tray. Because no one ever turns away a deviled egg.
Best Advice: Community makes a house a home and you don't have to be a great chef to be a great host. If you have 15 friends, and they put in $15, you can have a dinner party for $225. Which equals roast chicken, feta, arugula, roasted tomatoes with garlic, and some farro. Plus, copious amounts of wine and sorbet with a mixed berry compote and dark chocolate shavings.
We independently select these products—if you buy from one of our links, we may earn a commission.