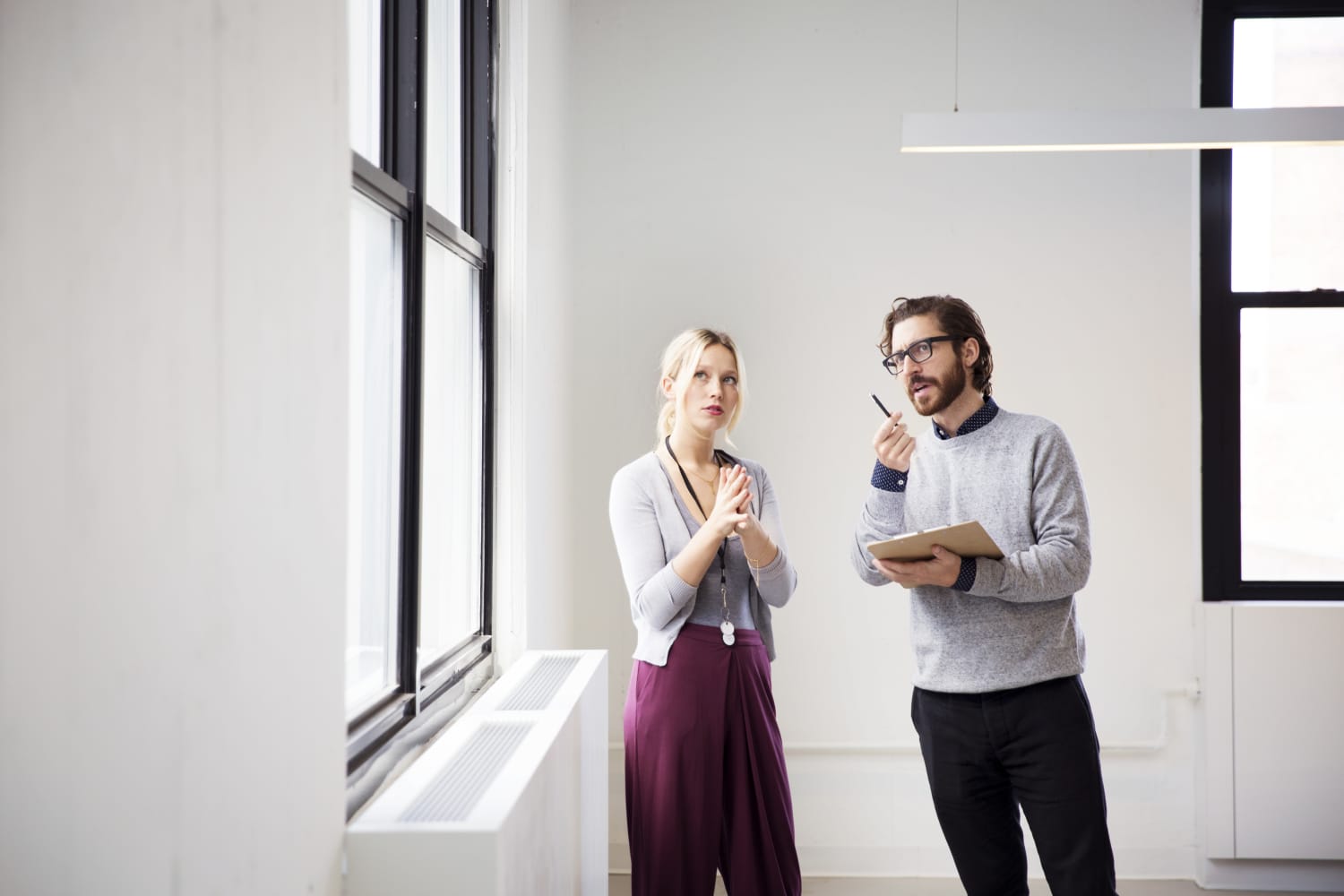 To the uninitiated, the home-buying process may feel like a never-ending cycle of hoops to jump through. But those hoops are there for a reason—there's a lot of money at stake and so many moving parts between buyer, seller, and lender. The more firewalls prior to closing, the less likely someone's getting stuck with a bad deal. One of these tedious, but necessary final steps is the home appraisal.
In the pre-closing process and curious about what will actually happen on appraisal day? Here's what experts say you can expect:
First of all, what is a home appraisal and what does it involve?

Let's say you're taking out a mortgage to pay for a home listed at $200K. So you plan to take out a $200K mortgage—and maybe a little more to cover closing costs—and expect to pay it all back over the next 30 years. But let's say that in year 10 of the mortgage, something happens and you can no longer make your mortgage payments. The bank forecloses the home and puts it back on the market to recoup the cost. But they find out that your $200K home was actually only worth $180K all along. Aw, boo! The bank has lost money!
Now this will not happen, because if there is one thing mortgage lenders know how to do, it's protect their investment. Instead of lending you money for a house in good faith, they're going to require an appraisal to confirm the true, unbiased value of the home. This way, they know exactly what the collateral they hold on the loan (your home) is worth.
While it may seem that appraisals overwhelmingly benefit the lender, they also do a good job protecting you from paying for an overpriced home.
And appraisals aren't just for homebuyers. Homeowners also use them when refinancing for the same reason: The lender needs to know the true value of the home before they lend out any cash.
So how do appraisers come up with this "true, unbiased value"? According to Realtor.com, an appraiser visits the home and determines its value based on factors like its condition (is the home safe to live in?), the total square footage and layout, and, if it's been renovated or has any unique features. According to SF Gate Home Guides, the appraiser will also look at how the space is used, and the amount of bedrooms and bathrooms and their sizes. Other variables include how much land is actually in use and the property lot size, whether or not there's a garage (a garage adds a lot of value to a home, especially if the seller lives somewhere with all four seasons) and if the home offers any public utilities. Major utilities, such as heating, plumbing, and electrical, are investigated as well.
External factors are also considered, according to Homelight. Appraisers will look at the home's surrounding area (whether it's in an urban, suburban, or rural surrounding), and its zoning classification.
The appraiser will also weigh the local real estate market's current health. According to Investopedia, the prices of nearby, comparable, recently-sold properties (a.k.a. "comps") are used in appraisals, too.
After the walk-through, the appraiser will complete a report—most commonly the Uniform Residential Appraisal Report—that collects all of this information in detail. The form goes directly from the appraiser to the lender, but you'll also receive a copy from your mortgage company (it's required by law that you receive one).
Who pays for the home appraisal?

Usually, the bank will supply their own lender—they want to make sure it's someone they trust, since it's their money on the line. But, according to Realtor.com, you, the buyer, are going to foot the bill. However, if a seller is really motivated to unload their home, they'll sometimes cover the appraisal, reducing your overall closing costs.
What does it mean when the appraisal doesn't match the seller's offer?

Appraisals can sometimes throw a wrench into the closing process. A common problem is if an appraisal comes in lower than the offer price.
Let's say your offer for $550,000 (the listing price) has been accepted by the seller. However, the appraisal comes in at $520,000. Your mortgage lender is now only going to give you $520,000 for the house, because that's what they're guaranteed to get if they have to put it back on the market.
Now why would there be any discrepancy between the asking price for the home and the home's true value? There are a handful of reasons, according to RealEstate.com:
If you're buying in a competitive market where home prices are inflated due to demand, you could have won out against several bidders simply because your offer was the highest.
Just like the wedding industry and prime-time TV, real estate has its own busy and quiet seasons. "If the market area is seasonal then an appraisal will reflect that because [it's] merely a reflection of the market," says Michael Vargas, co-founder of Vanderbilt Appraisal in New York City. "Some markets are busiest in the spring and lead to the highest values."
Outside of the calendar, other factors like area's economy may also inflate offer prices, Vargas says. For example, think about how the Silicon Valley has inflated Bay Area home prices in the past decade: Tech companies brought many workers with ample cash to the area. Real estate is a good investment, so there was an influx of potential buyers to the real estate market. However, there is only a finite number of available properties and space to put any new buildings/houses, so what's on the market becomes very precious (i.e., expensive). Whereas some markets have a price ceiling due to the number of buyers who can actually afford the going-prices of real estate, buyers in the Bay Area just keep getting more and more cash, so they can keep submitting higher and higher offers. Because of this, over-asking bids are the new norm in the area.
You might get stuck with an appraiser who isn't experienced enough or doesn't know the area very well. If this happens to you, there is recourse: First of all, have the evidence to back up your claim—that means data about your area from trusted sources, recent nearby sales, information from other agents who have pending sales in the area, etc. However, don't just challenge the low appraisal because you feel the house is worth more.
"You should have support for making the claim that you think the appraiser is not knowledgeable enough and not simply that you disagree with the value opinion," Vargas says.
4. A dearth of comparable properties

Some homes are certainly one-of-a-kind. Let's say you've put in an offer on the only Frank Lloyd Wright-styled home in a neighborhood full of ranches. While you like the property for its uniqueness, appraisers may not appreciate how this translates to "very few comps." Even though the appraiser is factoring historical data and the selling price and value of neighboring homes in their equation, there might not be enough additional information about the property to back up the offer price.
That said: There are definitely appraisers who know how to work with non-traditional properties.
"Experienced appraisers know how to handle unique properties and how value can be determined for special, unique characteristics of a house," Vargas says.
And keep in mind that while you might find value in a property's uniqueness, it might actually be a detriment (an idea called "functional obsolescence.")
What can you do if your appraisal is lower than expected?

If the home appraisal is lower than your offer, you have a few options:
1. You can ask the seller to bring down the price.
This most likely will be a no-go in a competitive market, but it's definitely the easiest solution for you—and also the seller if they're motivated to get the property off their hands.
2. Put down extra money to cover the difference between offer and appraisal
3. Appeal or issue a rebuttal to the appraisal
Only do this, Vargas says, if in fact it is determined to be flawed or inaccurate. You can also get another appraisal, again, on your dime.
You might lose a bit of money, but it might be the best option for you if all else fails.
And remember: A home appraisal is different from an inspection (which you should also have done). An appraiser is doing a walk-through to determine the value of the property, mainly for the lender, but also for you. An inspector is doing a thorough examination of the home in order to you assess any risks. Both take into account the condition of the home, but an inspector is there to make sure the buyer is aware of damages they will either need to fix or replace if they do end up buying it. Both walk-throughs are super important when buying a home—the appraisal and inspection report will help determine if you're making a wise purchase. Nobody wants to end up in a situation like "The Money Pit."
More great Real Estate reads: