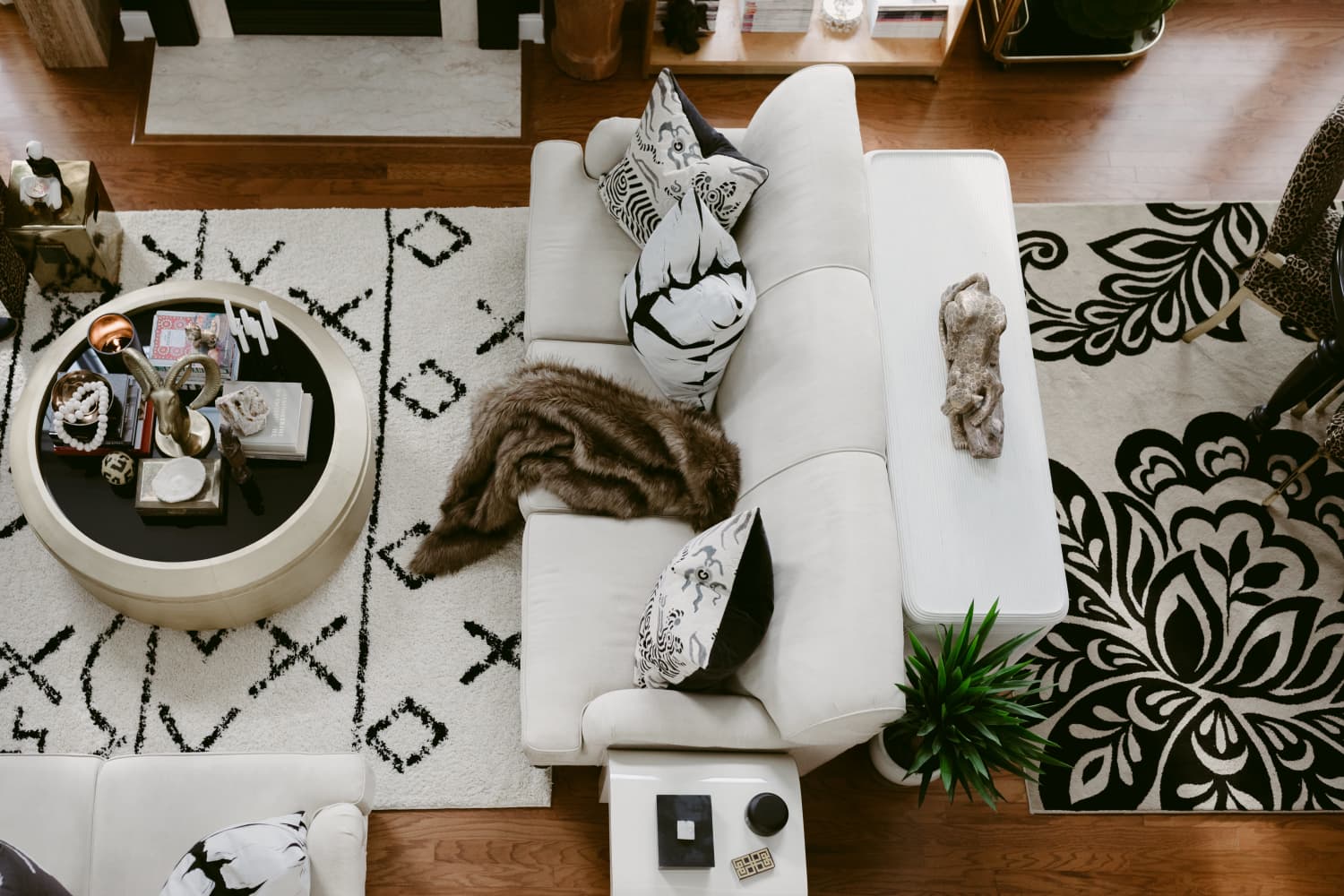 Rugs are a very overlooked necessity in any room: They can help a space go from a room with furniture to a true home. "We believe that the floor is just as much a canvas for art as the walls are and rugs can be an expression of that," explains Samantha Gallacher, co-owner of interior design firm IG Workshop and designer for her own collection, Art + Loom. An added bonus: Not only do rugs help with sound insulation but they also can help a space look larger.
But shopping for rugs with a tight budget can be difficult, because like most things in life, you usually get what you pay for. Also, most rooms aren't designed with a standard rug size in mind, so it can be difficult to find something to fit your space.
"My suggestion is to not cheap out on the rug," advises rug designer and owner of Lindström Rugs, Erik Lindström. "If you can find a way to buy a custom rug in the size, pattern and color of your choice, you will get a rug that looks like it is made for your room." He adds that if you do have the ability to afford a custom rug, you can probably have one made for less than you think—for around $50 per square foot—by either going with a less expensive material, lower knot count, or opting for a flat weave such as dhurrie, kilim, or soumak styles.
However, many of us aren't in the position to splurge on our forever floor covering just yet, so here are 10 tips to buying a less expensive alternative that doesn't look cheap.
Many people believe that choosing an expensive looking floor covering is fundamentally about the pattern and design of the rug, but Gallacher points out that it has more to do with the size. "A larger rug makes the room feel bigger, so when searching for a rug without breaking the budget think scale before name brand," she says.
Philadelphia-based interior designer Sabrina Piazza agrees. "Some people make the mistake of going too small and the rug ends up looking like a postage stamp centered in the room." She suggests using this rule of thumb when choosing the proper rug size: Make sure each piece of furniture in a seating area is anchored on the rug. "At least two front legs should be placed on the rug and I try to have about 3/4 of the piece sitting on top of the floor covering to look appropriate," she adds.
An alternative solution for this dilemma— and save some money—is to use two rugs side by side. "This can be achieved successfully with similar motifs at different scales, color, and using similar materials," Piazza adds.
2. Layer your way to luxe
Okay, so you can't afford the big rug that you really want quite yet, try getting your hands on a smaller sized version, which will likely cost a fraction of the price. "If you have an large room and don't want to spend a fortune you can buy an oversized jute or natural rug from a website like Overstock.com or IKEA, then layer a smaller, more refined rug on top in a targeted area, preferably the center so you get more bang for your buck," suggests Gallacher.
Hand-knotted rugs are tied one knot at a time on a loom, which you can imagine is pretty time-consuming. This is why they are so much more expensive than tufted rugs, which are still handcrafted but made by using a tufting gun instead.
However, Gallacher points out that the downside to tufted rugs is that they sit a bit thicker on the floor and tend to shed a little more. "To avoid this make sure your rug is made using New Zealand wool which can help prevent some of the shedding, and for the first six months be sure to vacuum pretty regularly," she suggests.
Most people would all love to have beautiful silk rugs in their house, but the luxurious fiber is not always practical or financially attainable. However, there are plenty of brands now making silk alternative fabrics such as viscose, rayon, or nylons, which can also get costly, but there are plenty of companies that offer affordable options. "Printed nylons are great ways to get on-trend rugs and very reasonable prices," Gallacher explains. For example, overdyed rugs are very on-trend, and wool/silk hand-knotted versions can be pricey, but that same design printed may only run a few hundred.
However, keep in mind that synthetic rugs can be more difficult to clean and will likely not last as long as more luxurious materials. If you do buy them, Lindström suggests using them in low-traffic areas—like bedrooms or formal living room—and keeping pets and kids at bay.
5. Bring the outdoors inside
Piazza points out a hot emerging trend in the interior design world: indoor/outdoor rugs. "These can be used as intended by anchoring exterior furnishings to their surrounding environment while creating more living space options, or they can also be a more affordable and durable option for an interior rug," she explains. Usually made of polypropylene or polyester, outdoor rugs are washable, stand up to weather, and a perfect pet-friendly option.
Stair runners can add a seriously refined and custom look to your living space, while also preventing slippage. However, it can be almost impossible to find the correct pre-fabricated option for your particular size and space, as well as pricey to customize to exact specs from a custom rug source. "A great workaround to get a quality material product in the proper size—usually found in lengths of 8 feet and sometimes 12 feet—is sourcing a favorite runner in the preferred width and purchasing in multiples for the full run of the stairs," suggests Piazza. "Just make sure the pattern is one that reads well in this type of vertical application and material is durable enough for heavier foot traffic."
She adds that some easy DIY methods are easier than you would think, involving nothing more than an industrial staple-gun and some rug pads. "Be sure to decide how the edge profile of each step will be treated (waterfall edge or more tailored bullnose return) so you don't forget to include that additional material required with the rise/run of each stair."
7. Take a walk on the wild side
Natural animal skins/hides are a unique way to give softness and texture to a space. "Usually irregularly shaped and smaller in scale, these can be used perfectly in an entry, hallway or other nook that doesn't require vast coverage," explains Piazza. For a larger space, she suggests pairing a cowhide with with a layer underneath—perhaps a neutral like natural seagrass, sisal, or jute—to give more bang for the buck.
Another great thing about hides is that each is totally unique and they are available in a variety of colors, sizes, and even patterns. And when it comes to cleaning, the process couldn't be any simpler: just hand-treat with mild soap and water.
One way to get a high-quality rug for less is by scouring local flea markets, estate sales, and secondhand shops. "A lot of the rugs you find in these places came from our grandparents' homes, and they had great rugs," explains Lindström. If you do find your dream rug at one of these places, you should probably invest in a good professional cleaning, which he recommends having done to all of your rugs once a year.
"If you don't clean your rug regularly, moths can get in and lay eggs and destroy your rug —especially if you are buying it secondhand," he says.
9. Investigate independent rug makers on Instagram
Social media is a great resource for finding awesome floor coverings, as many rug makers around the world are active on Instagram. "A little research can go a long way," suggests Lindström. While making a purchase this way can feel a little risky—especially if the vendor is overseas—you can usually tell if their website is legitimate just by looking at it. Also, make sure you have some sort of protection with payment, to avoid getting scammed.
10. Tie rug shopping into your travels
Thinking about taking a vacation? The best time to buy a rug is when you are traveling to places like India, Turkey, or Morocco, reveals Lindström—not only will you get a souvenir that will last a lifetime, but can sometimes get a high-quality rug for less. "You can save hundreds if not thousands of dollars if you buy your rugs overseas," he explains. "You will be paying at least 50 percent less than if you buy domestically. The markups in the United States are insane."
Instead of blindly searching for a rug, he suggests getting recommendations from people you trust or through a tour company. And be prepared for a whole different kind of experience. "The joy of buying a rug is annoying to some people," he says, which can involve "typing numbers on a calculator in someone's home while drinking a cup of tea. But it definitely makes for a great story."
Lastly, but certainly not least, buy ethically
Whether you decide to save or splurge on your floor coverings, try and do so in an ethical manner. Lindström urges the importance of always checking for a GoodWeave certification label, which will ensure that "no child, forced or bonded labor was used in the making" of it.