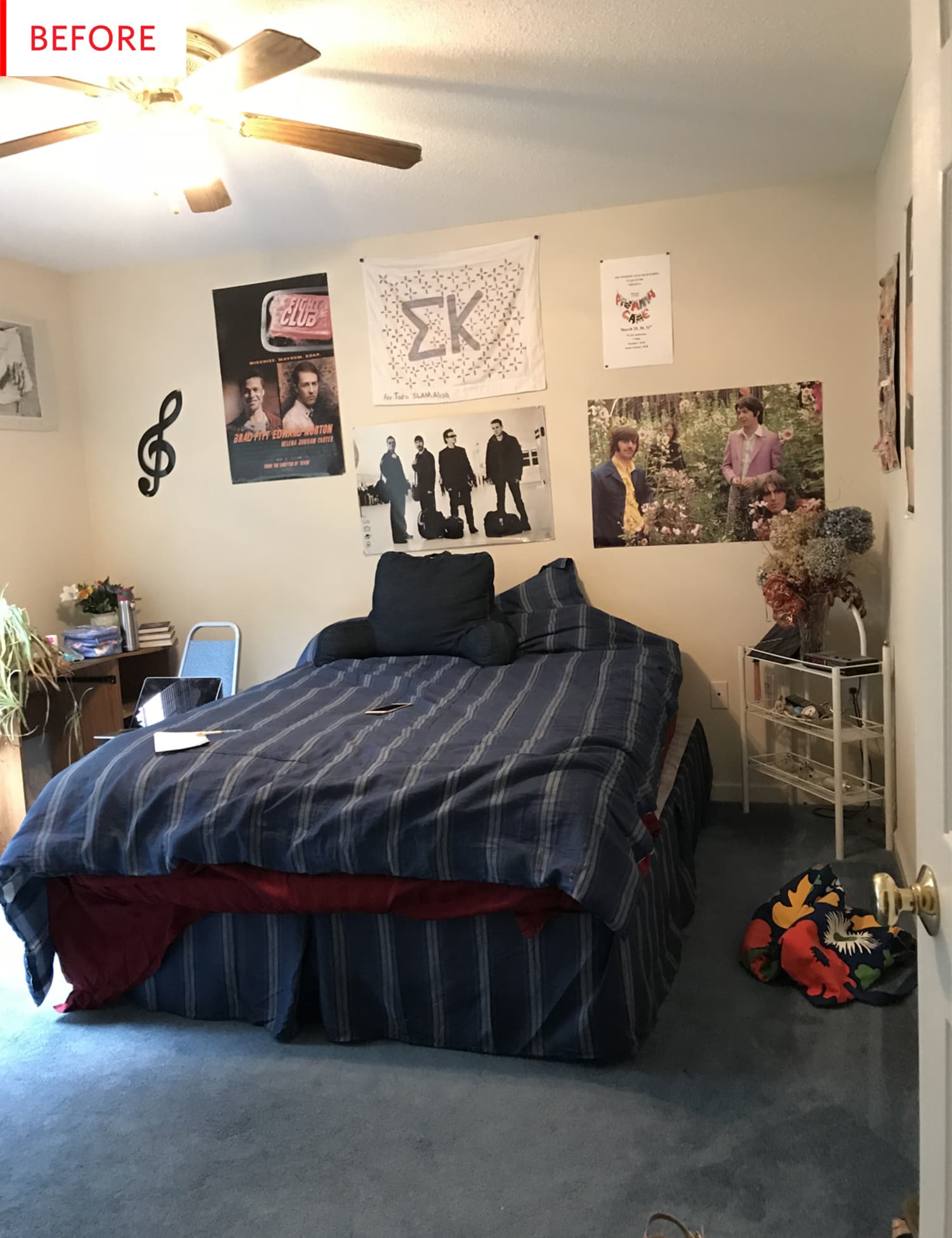 My mom is always happy to see me. But the last time I visited, she was also a little nervous; I was about to tear up the house and disrupt her space for several days while keeping the plan shrouded in secrecy—all for a surprise Mother's Day room makeover.
As I've gotten older, I find Mother's Day feels woefully inadequate. The person who raised you and sacrificed for you, for the better part of two decades (and beyond), deserves more than a text or card. I also realize how hard the day is for people who don't have family in their lives, whether they have strained relationships or have lost their parents. I know because my mom had cancer, and almost didn't make it.
My mom Donna loves puns, remembers the birthdays of everyone she's ever met, and is the most supportive of my brother and me. In 2013, she was diagnosed with stage IV vulvar squamous cell carcinoma, just a few months after my dad had passed away. But through rounds of chemo and radiation, surgeries, and infections, a dream team of doctors, my selfless close-knit family, a pharmacy's worth of pain meds, and her unwavering strength and positivity, she pulled through. She's been in remission since 2016.
Not that she's had it easy since, my mom has fed people for a living for most her life, and standing for a long time (or even sitting, for that matter) is no longer an option. Now she spends much of her time at home watching TV, but she's been reading a lot more lately, and that gave me an idea.
For her birthday in October, I gave her a subscription to Book of the Month, and between those and the books I've finished that I bring her, she's been building up a library, with no good place to put them. Because she spends so much time at home, I wanted to give her a new space to enjoy her hobbies that was also relaxing, and still functioned as a guest room (hey, I need a place to sleep when I visit).
My mom and stepdad moved into their house during my senior year of high school, so I mostly lived there during summers home from college. It became a dumping ground for whatever dorm decor I had moved on from (read: way too many Beatles posters). There were some remnants from high school, like the senior class musical flyer, a project I did for English class, and some poorly constructed pottery. Aside from a few nostalgic gifts from friends, it was a bland space that had the potential to be so much more.
While I lean toward an eclectic boho look in my own space, my mom is more New Traditional. Donna loves the ocean (and turtles—which you'll see throughout the room and the house) but doesn't go as often anymore, so I decided to bring the calming coastal vibes to her. I went with a color palette of blues and greens, with some white and mixed metals to balance it out. This stunning mural from Minted became my perfect sunrise focal point, and Clare's Headspace delivered a soothing hue on the rest of the walls.
The room is not quite 12 feet by 13 feet, but I wanted multiple seating options so that it could function as more than just a guest room. The Maxwell chair from Interior Define is big, 40 inches by 42 inches, and not exactly a typical foot-of-the-bed option for a smaller room. But it is so incredibly comfy, and since I was planning to take the bifold doors off the closet to create a desk nook, that extra two feet keeps the room from feeling crowded. I also really wanted to create the feeling of a library window seat, so I tucked two BILLY bookcases on either side of a tufted bench that I piled with pillows. IKEA's RANARP clamp lights are perfect for reading when the sun goes down.
When you're dealing with nearly 20-year-old wall-to-wall blue carpet, visually breaking it up with a rug is a necessity. I chose Loloi's Skye rug that brings in some ivory and light rust hues to mirror the pinks in the mural and in some of the pillows. For a queen bed, an 8×10 rug is a good size (check out our sizing guide for other floor plans).
And while this is a guest room and not my mom's bedroom, I still have to talk about the bed. I had the pleasure of sleeping on the Leesa mattress (our editor's pick!) with Parachute Home bedding after the makeover, and I might just have to visit more often—and isn't that really the best gift you can give your mom?
To see how my mom reacted when she saw her new library/guest room for the first time, check out the video above. But spoiler alert, she loves it. The day after I went home, she sent me this text:
"Just so you know, I'm in the bedroom and just jotted something down in my new journal. Now I'm going to go sit in my chair first to read and then maybe move to the bench!! So many options!! Lol."
So many options, indeed. Lol.
A big thank you to the companies that made this makeover possible by donating product or gift cards: Book of the Month, Clare, High Fashion Home, Home Depot, IKEA, Interior Define, Leesa, Minted, Parachute Home, Pottery Barn, Target, TJX/HomeGoods, and Urban Outfitters. My deepest gratitude to our super talented video crew, who saved the day on more than one occasion. Thanks to my mom and stepdad for letting the crew and me overrun the house, my brother for doing some heavy lifting, and to my amazing family for showing up and helping out—not just during this shoot, but always.
We independently select these products—if you buy from one of our links, we may earn a commission.