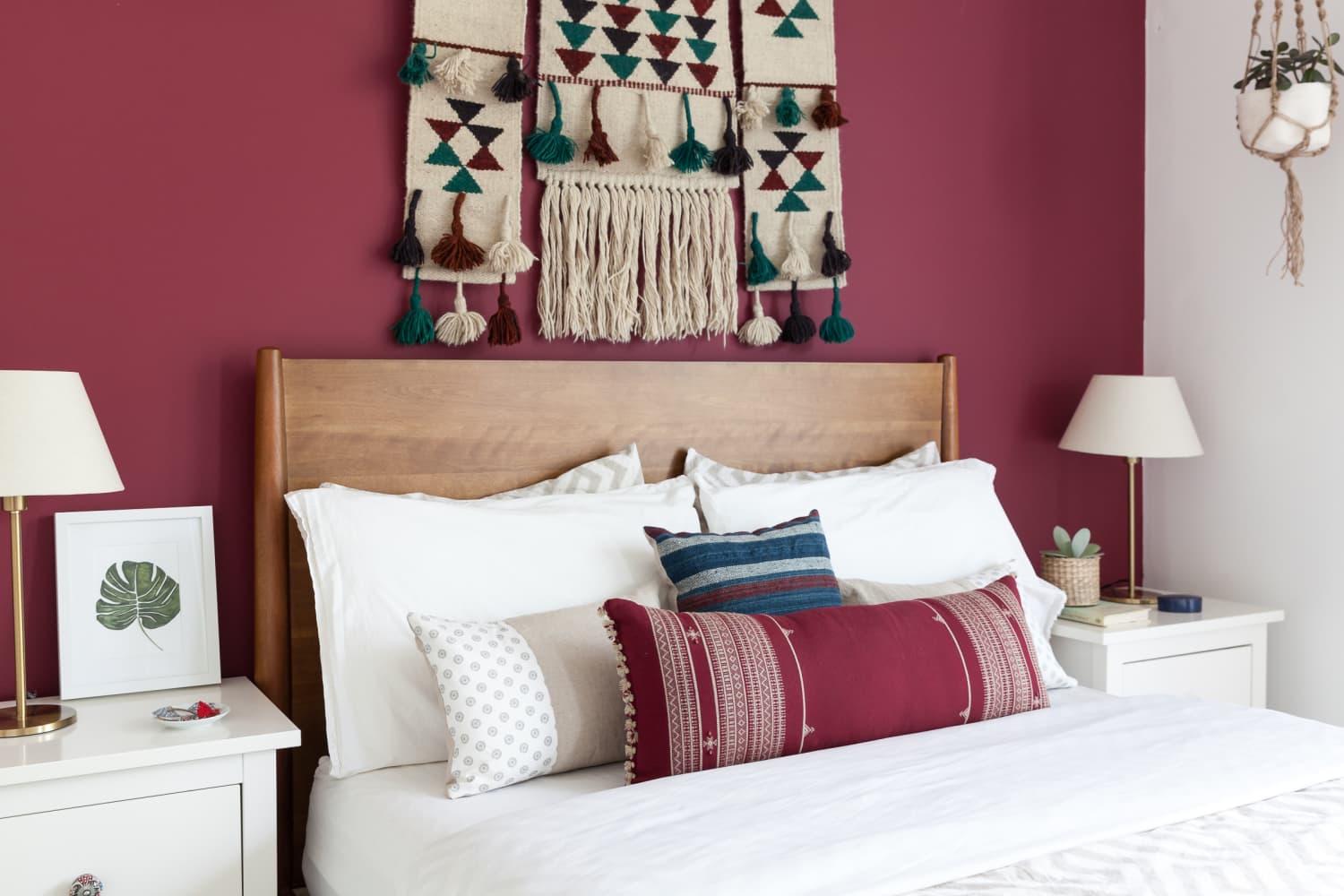 You can never truly own too many throw pillows, right? I mean, just scroll through these pillow-filled rooms and take a look at how comfortable and stylish they seem!
But for those who are short on space or prefer a more minimalist look, I maintain that purchasing a few great inserts and then swapping out covers from time to time is the best bet. Pillow covers are an easy way to add new energy to a room, whether you're looking to switch things up for the seasons or need to style around new, larger purchases, like an area rug or bedding.
I personally end up changing around my bedroom pillows every few months to reflect the latest trends or seasonal preferences; this past winter, I was all about velvet, and now I'm totally loving mudcloth. Simply swapping one set of pillow covers for another completely transformed my space within just a few minutes (and unused sets fit perfectly in a small drawer). The best part is that making these changes has been super affordable—it's just about shopping at the right places. Check out some of our recommendations below!
At just $12, this set of velvet pillows is perfect for someone who's looking to experiment with the trend. Tons of different shades are available, and the fabric is super soft.
A pillow monogrammed with your first or last initial makes a simple, classic statement. There are plenty of color options available on Etsy.
I have a hard time saying no to a good Dalmatian print. This pattern just goes with everything—plop one of these on a pink couch, in a black-and-white bedroom, you name it!
Celebrate your sign! Any avid horoscope reader needs to incorporate one of these pillow covers into their space. At $19, these also make great gifts.
We're fawning (get it?!) over these stylish covers that look like they'd be featured in a luxe designer home. We'll take one in every room, please!
Pom-pom pillow covers would look darling in a shabby chic living room, a nursery, or mixed in with patterned pieces. This two-pack is just $16.
This on-trend pattern is sure to make a statement. There's also a white on black option—order both to mix and match!
Summer is almost here, and that means we're loving anything palm leaf even more than usual! Bring a piece of Beverly Hills home with this vibrant set.
This mod set of four covers makes it easy to try out different trends. Spread them throughout your home to get the most bang for your buck!
We independently select these products—if you buy from one of our links, we may earn a commission.