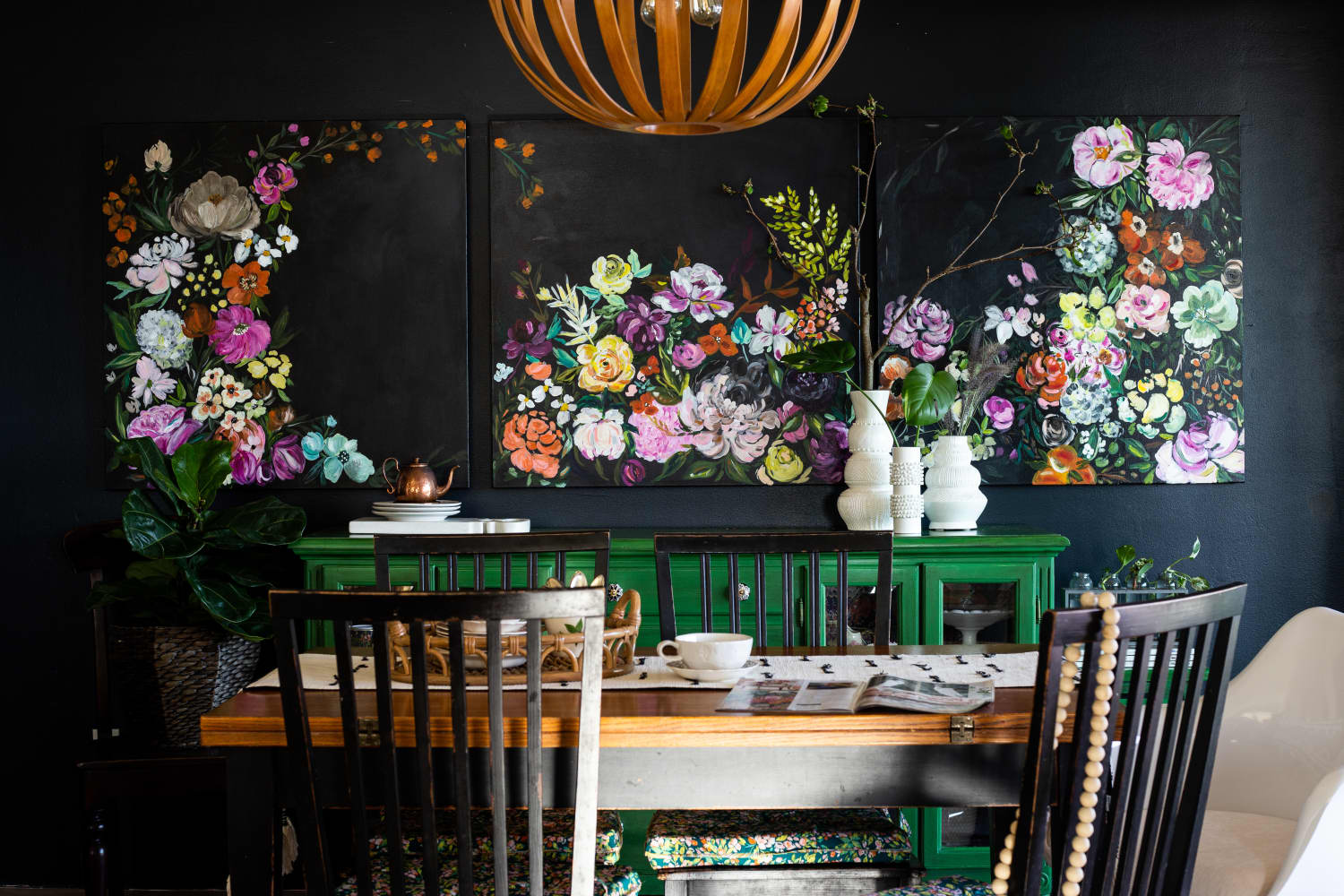 Name: Bari and Kevin Ackerman (grown daughters Anna and Emily live here only part time). Pets include Kevin's saltwater aquarium fish.
Location: Scottsdale, Arizona
Size: 3,400 square feet
Years Lived In: 8 years, owned
We moved to Arizona in December 2011 with our two daughters who were in 8th grade and sophomore year of high school at the time. Because we hadn't sold our house in California yet, we stayed with my parents for a bit. When the house sold in January, we began hunting. We knew the moment we saw this house that we wanted it to be ours. From the street you can see through the glass front door through to the wall of windows to the view in the back. The house was originally a custom home for the builder, but had since had two other owners. And frankly, it was a mess. But it had great bones. It was a short sale, and we put in a bid we truly weren't sure would be accepted by the bank. It took months but it was accpeted, and we couldn't have been happier.
We moved in the house in May 2012 having stayed with my parents way longer than we'd hoped. (We owe them!) We knew the mechanicals would need to be done first, so it took some time, but slowly and surely we have updated it. The kitchen was done in 2018 and all of the windows replaced at the same time. Those two things, along with removing a huge built-in entertainment center that blocked the view to the fireplace, have been pivotal in making the home ours.
Apartment Therapy Survey:
My Style: I am a textile and home product designer so my style somewhat revolves around that. I am crazy about florals, and our home is filled with them. I started calling myself a maximalist about 10 years ago. I think maximalism is more about layering color, pattern, and texture rather than about "stuff." I tend to curate out a lot of excess in the way of things but load up on the patterns and color. I talk a lot about this in my upcoming book about mixing and matching floral decor from Abrams Publishing (to be released early 2020). I design fabrics for Art Gallery Fabrics.
Inspiration: Flowers and nature are always my starting point. I also am very nostalgic, so history and ancestry are also an inspiration.
Favorite Element: Pattern. I think that patterns give life to a space. And when you start with a somewhat neutral base you can change in and out all the time.
Biggest Challenge: Creating cohesion in the decor from room to room. Our home has come together over the years. We didn't just buy furniture and fill it all up. It's been collected over 25 years, really. Times and taste change, but one way I've found to keep it all cohesive is through color. I tend [to gravitate] toward a lot of pink and green and some pops of yellow. The other way to stay cohesive is to buy traditional staple pieces and then change out things like lighting and textiles over the years.
Proudest DIY: Our laundry room. We re-did the room with about $1,000 dollars. We simply painted the cabinetry and its hardware, changed the sink to a farmhouse sink, and wallpapered the room. Demo was the hardest part.
Biggest Indulgence: The tile in our kitchen
Best Advice: If you love color and pattern but don't know where to start, start small. Keep your large items and walls neutral and layer on top with floral and geometric prints. Varying scale of prints helps create contrast.
We independently select these products—if you buy from one of our links, we may earn a commission.