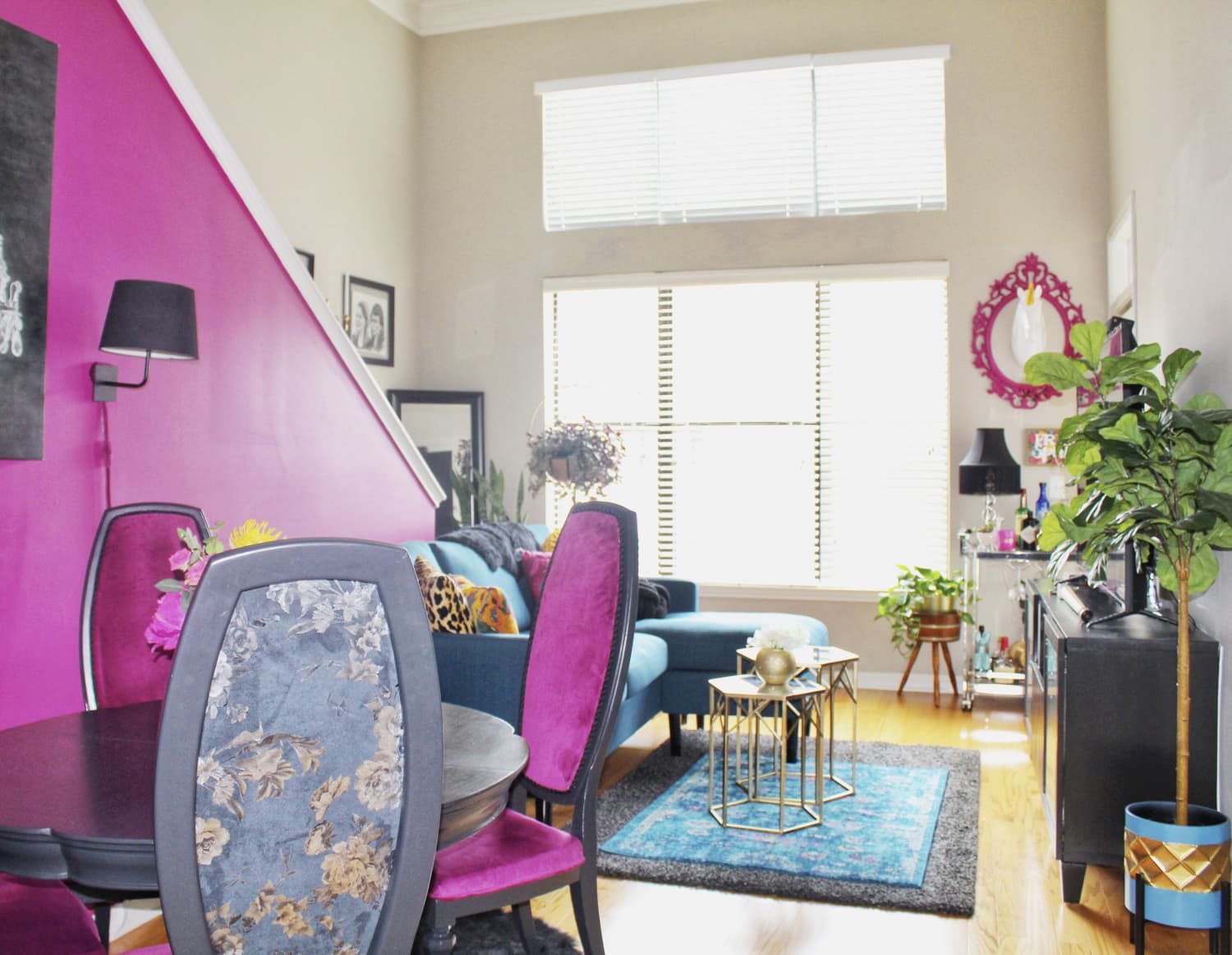 Name: Mariah Scott and my 15-year-old dog named Snickers
Location: West University — Houston, Texas
Size: 797 square feet
Years lived in: 3 years, renting
My apartment is located on the top floor in a mid-rise building in the loop of Houston, Texas. It took some time to get the space to feel the way it does now. The space has an awkward shape and is somewhat narrow. Finding the right size sofa played a huge part in how the space functions. I spent a great deal of time making sure the energy and the feng shui was just right.
After several months of moving around furniture I am very happy with the final result. With the art of feng shui it's very important to get rid of clutter and also to remove things from the space that you do not love. For those reasons, I sold a lot of my old furniture that was purchased from big box stores that lacked soul and I incorporated more vintage, classic pieces. One-of-a-kind treasures that I connected with that I found at thrift and antique stores. You should have seen me and my mom carrying the huge and heavy bed down the long hallways of my building. I am still not sure how we managed to move it in my room. The thing about vintage furniture is, it is solid wood. Super solid and made so well.
I wanted my space to tell a story of who I am. I love vintage times and the era of glam and I also enjoy the modern vibes as well. So I tried to capture the balance of new and old. I wanted it to feel warm and creative. I incorporated colors that make me smile, like fuchsia and small pops of mustard. Black is used a lot throughout my space to ground all the colors and to add depth. I live here with my 15-year-old Chiweenie named Snickers. I've had him since he was a puppy. He is a grumpy old man who has been with me every step of the way.
Describe your home's style in 5 words or less: Eclectic, vintage, boutique, glam vibes.
What is your favorite room and why? My favorite room is my dining area. My dining table was the first big project I have ever done. I totally transformed it. I saw the table at one of my favorite thrift shops in Houston. Unfortunately, the manager there knows me by name and lets me in the back of the store when they get in new items. Yeah it's that bad. I'm sorta addicted to thrifting. I love looking at things and finding hidden treasures.
Anyhoo, so I saw the table and chairs and I immediately fell in love with the high backs and the pedestal style of the table and I had to have it. It was such a steal but knew it needed a lot of work. I really didn't have a plan when I painted it or reupholstered the chairs.
I literally went to the fabric store, walked around, and let the fabric talk to me. Yes, fabric talks. I saw some beautiful fuchsia velvet and then the faux black and metallic floral for the backs of the chair. I knew then I found the perfect complement for my dining area. I sanded and painted the table and chairs inside my apartment, which I wouldn't recommend to anyone. Then I reupholstered the chairs using my handy staple gun. It was a challenge indeed. My mom assisted me as we stripped off the old fabric. The table is a gem. After researching we discovered it is from 1926 and is manufactured by the same company that made furniture for Lucille Ball.
The fuchsia wall in my dining area is one of my favorite things. It matches the chairs perfectly. It wasn't even done on purpose. So weird how it all worked out. Anytime I walk into my apartment I can't help but get lost in its vibrant yet relaxing color. It was a bold choice but I am so happy with how it came out. There isn't a lot of light in the eating area so me and my mom found some wall sconces at the thrift store and we hung them on the wall using Velcro strips, and covered the cords with leftover fabric so they would become more invisible on the wall. I love eating in that room. I feel fancy and knowing that I created it with my own hands makes it even more special.
Any advice for creating a home you love? My advice for creating a home you love would be to first part with everything you don't love. Get rid of it. I believe that you should fill your environment with things that make you happy. Maybe no one else will understand it but at the end of the day it's your house and you should cater to what you like not what other people think. Live for you.
I would also encourage you to look at things differently. Find uses for items you are in love with. For instance you might have a coffee cup you love but never drink out of. Find another use for it to add it back in your life, maybe plant a succulent in it or use it as a pencil holder on your desk. Think outside the box.
Fill your space with pieces of nature. Plants really make a difference with the way a room can feel. Plus, they add healthy air quality to your living environment. Even if you lack a green thumb, there are tons out there that require little maintenance. One plant can instantly tranform your home.
My last word of advice to love your home is to play around with arranging your furniture. Sometimes you don't need to purchase anything at all. A little refresh and instant love can come from moving a couch from against the wall or maybe changing out light bulbs for a brighter look. Simple things can create big impact.