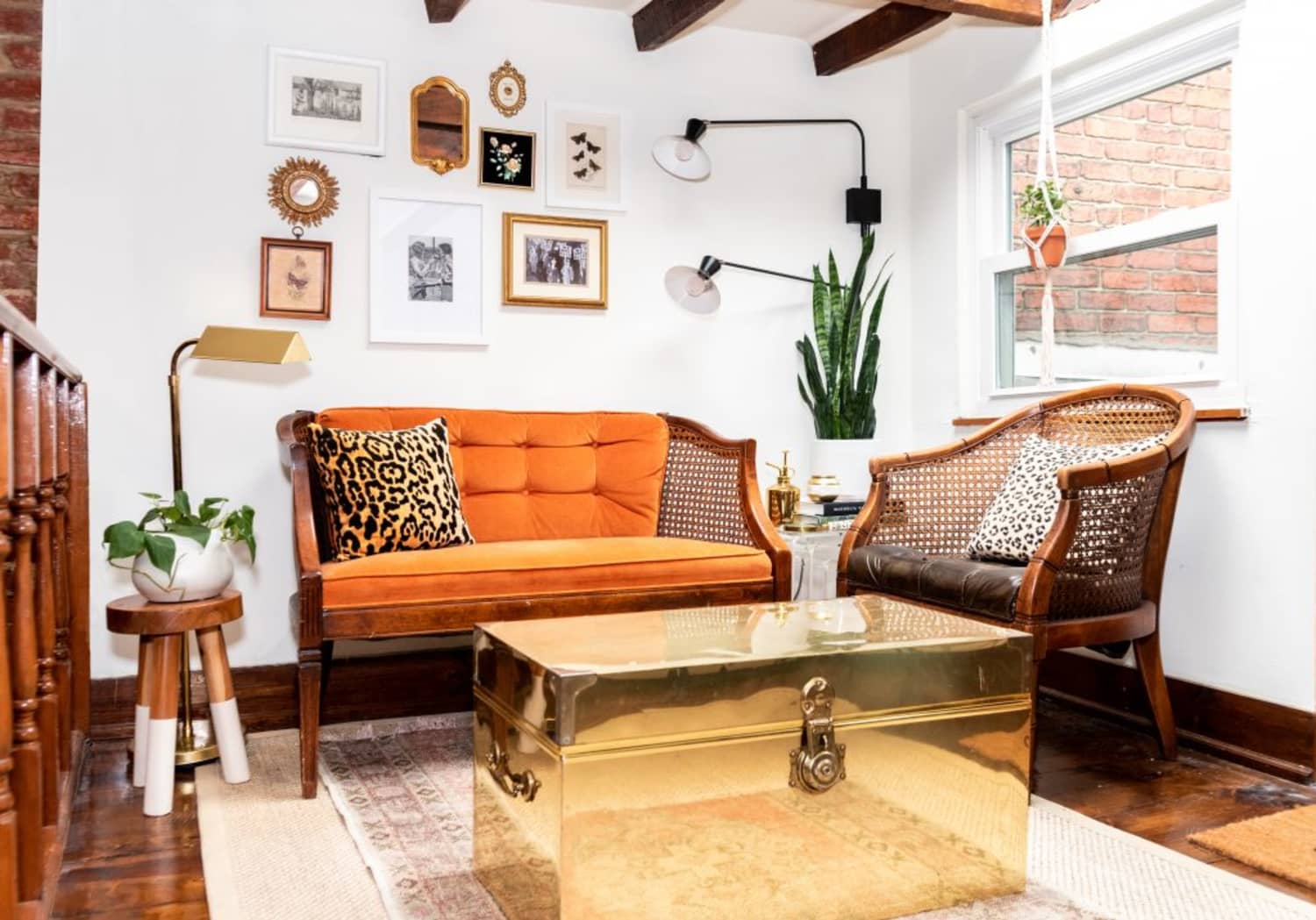 Within the past year and a half, I've become an even more active thrift shopper, having found some amazing scores on Craigslist, Facebook Marketplace, and even at the local Goodwill. While searching through someone else's old stuff with the hope of finding treasure can certainly require some time and patience, it's so worth it—especially when it comes to lamps.
Purchasing brand new or even vintage lighting can certainly be expensive, but I've found some amazing lamps over the past few months while thrifting. Believe it or not, all of them have cost under $20 a pop.
First up was the small pharmacy lamp that I scored for free (that's right, zero dollars) on Facebook Marketplace early this spring. It belonged to a young woman about my age whose father no longer had a need for it, and I guess she didn't want it either… so off to my home it went! While it's shorter than most pharmacy lamps, it works next to my small cane settee and has garnered tons of compliments from visitors.
It seemed like once I scored the Facebook freebie, pharmacy style lamps started popping up everywhere. Late one Sunday afternoon, I stopped into a Goodwill store I frequent fairly often, only to leave with a black pharmacy-style lamp that cost just $16. A few weeks later, I returned and found a tall brass style for $13. And yes, I'm running out of places to put all of these light fixtures at the moment, but the brass one in particular was too perfect to leave behind! Styles like this one frequently retail for hundreds of dollars, so it's bound to have amazing resale value, too. (Prefer to shop online? This $80 Target version is still a great budget buy!).
While floor lamps seem to be less common at thrift stores, lamp bases are almost always in stock. Even if you're in the market for a matching set, it's still worth taking a stroll down the lighting aisle of your local Goodwill. I often see pairs of bases in wonderful condition; you'll likely just need to purchase shades separately. So while thrift stores are known for having their fair share of oddball items, it's entirely possible to score a dynamic duo.
The best part about thrift shopping—for lighting or anything else—is that there's truly something for everyone. At any given time, a wide range of styles are represented, which is ideal if you're like me and enjoy mixing different trends and patterns. Whether you prefer sleek mid-century pieces or colorful, chinoiserie finds, you're bound to come home with something great.
We independently select these products—if you buy from one of our links, we may earn a commission.