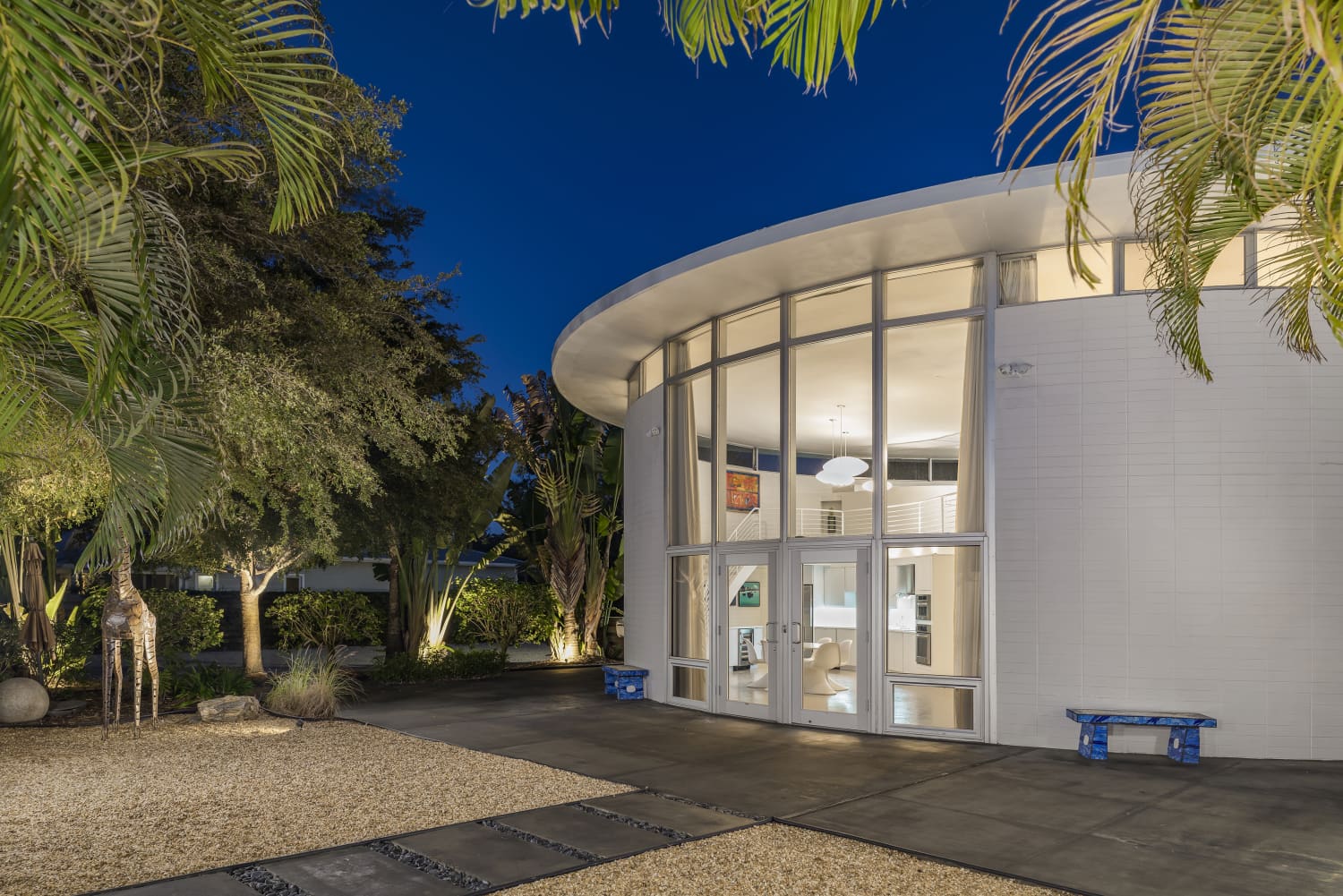 We'd hang around the Round House any day. The two-bed, two-and-a-half bath property in Sarasota, Florida is an iconic piece of mid-century modern history. And this could be your chance, too: The Leech Art Studio, known as "The Round House," is back on the market for $975,000.
Jack West and Elizabeth Boylston Waters first designed the 2,714-square-foot property as an art studio for American painters Dorothy and Hilton Leech back in 1960. Since then, it's been updated to embrace modern amenities while still celebrating its vibrant mid-century origins. Located on a private, three-lot compound, the property includes the main house, a heated pool, several terraces, and sprawling tropical gardens. A cylindrical white brick exterior streams in natural light, thanks to the clerestory windows and strong custom glass doors—all of which overlook the lush gardens outside. Step up to the entrance, where a wall of glass windows boldly welcomes guests inside.
Inside, it's set on two levels. The ground floor has a large living room with high ceilings, as well as a custom built-in kitchen and dining area. There's also an art gallery. The stunning master bedroom comes with a spacious master bath and separate powder room, too. The open staircase cascades upward beautifully to the second floor, which overlooks the first floor's stunning setup. The second floor is also where you'll find the second bedroom area, as well as the unique, cylindrical enclosed bathroom.
The Round House is a strong example of the Sarasota School of Architecture, a post-war modern design movement. But it also broke the mold for the time, when most homes sought to embrace the indoor/outdoor flow. According to the Sarasota Herald-Tribune, it was on the market just a year ago. But we're guessing some lucky buyer will snap it up again in no time.