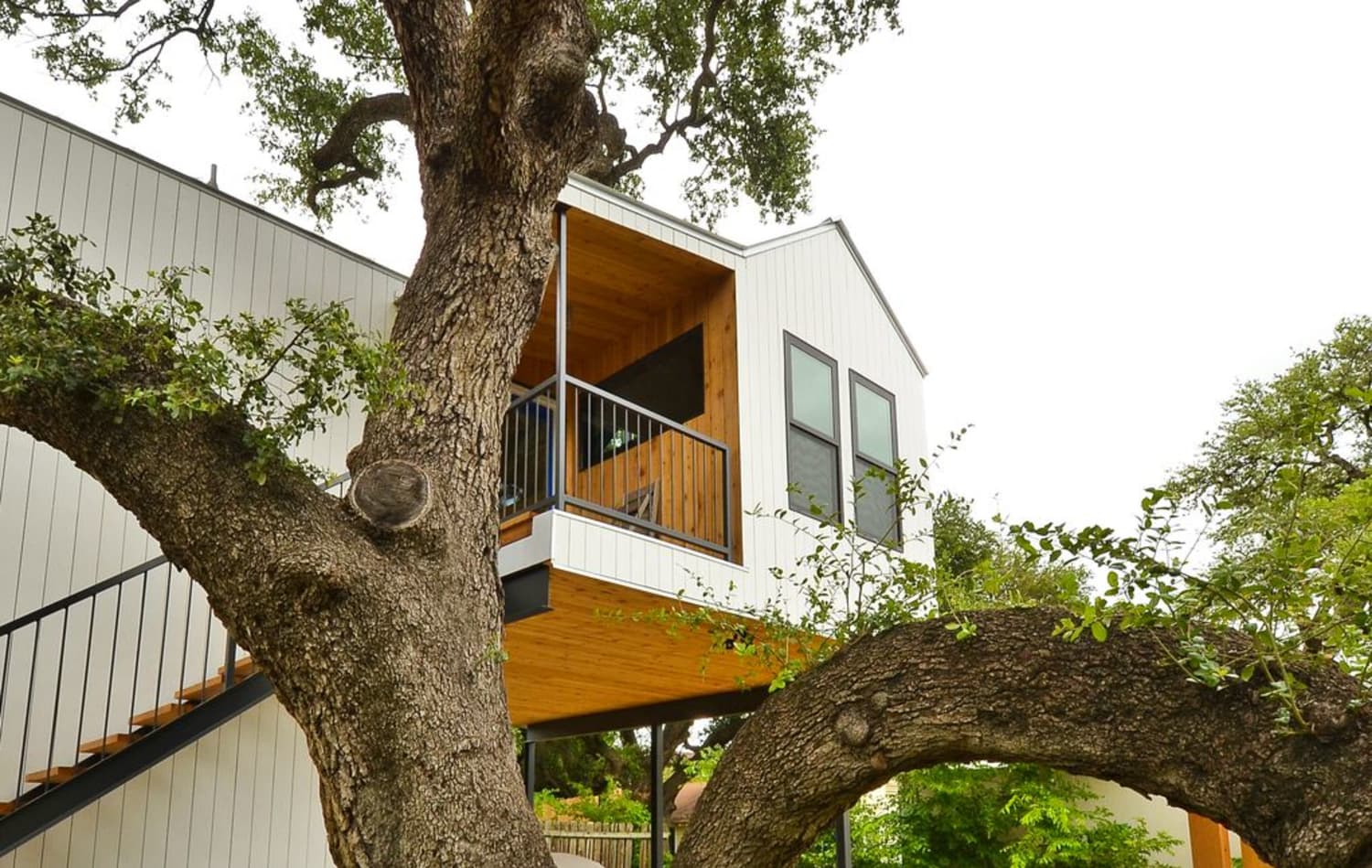 Tiny homes may be small on space, but that doesn't mean they can't be big on amenities and style. Another perk? The corresponding tiny price.
If you're not quite ready to take the plunge and live in a tiny home full-time, how about renting one out for a getaway? It can be a great way to try out downsizing for a few days. Even if the tiny home lifestyle ultimately isn't for you, it can be perfect for a vacation. According to a 2015 USA Today article, the standard hotel room size is 330 square feet and shrinking. That means you'll actually get more room renting a tiny home! They're not much more expensive, either. Here, check out some of the most affordable tiny homes available to rent, from around the world.
This charming treetop-perched studio is the perfect place to call home while you take in Austin's barbecue, live music, and tons of green spaces. And it's available to rent for an oh-so reasonable average of $102 per night.
This light, airy tiny home still fits a queen-size bed. It also (somehow) finds space for modern amenities like stainless steel appliances and a flat screen TV.
Looking to take a relaxing nature-filled weekend with friends. This tiny cottage is the perfect hideaway for only an average of $90/night. for a relaxing nature-filled weekend with friends. It's located minutes from Flathead Lake and is near many hiking trails, lakes, and Glacier Park National Park. The cottage has a small deck overlooking an expansive wooded area as well as a grill.
While Windeck, Germany, get its name from a ruined castle—nothing is derelict about this quaint town. It offers a beautiful forest complete with a waterfall and ruins ideal for hiking and biking.
Interested in spending time in Windeck? Check out this whimsical tiny home, modeled after French circus wagons. Warm up by its indoor fireplace or bask in the light from its sun porch. It sleeps up to three guests and is available for an average of $88/night.
History buffs will love visitingLynchburg, Virginia, home of the American Civil War Museum and Thomas Jefferson's private retreat Poplar Forest. Stay in this modern 270-square-foot home priced at an average of $66/night. It has all the amenities you'd need for an extended stay, like a washer and dryer and a 4K TV.
Located under an hour's drive from the base of Rocky Mountain National Park, this wooden tiny house on wheels in Loveland, Colorado, is rustic simplicity at its finest. You'll get plenty of privacy for your (average of) $58 per night: The home sits on the back of a main property with just a few neighbors.
This artsy tiny home is close to Portland's popular restaurant scene, shopping, and the Alberta Arts District. At an average of $49/night, this adorable hideaway is perfect for a romantic holiday for two that won't break the bank.
When you're this close to the ocean, the whole beach is your living room. Who needs more space—especially when you're paying just $39/night? This colorful cabin is just outside the coastal resort town of La Pedrera, Uruguay. It has plenty of quirky touches—like recipes to try out written on the walls—and the views cannot be beat.
More great Real Estate reads: