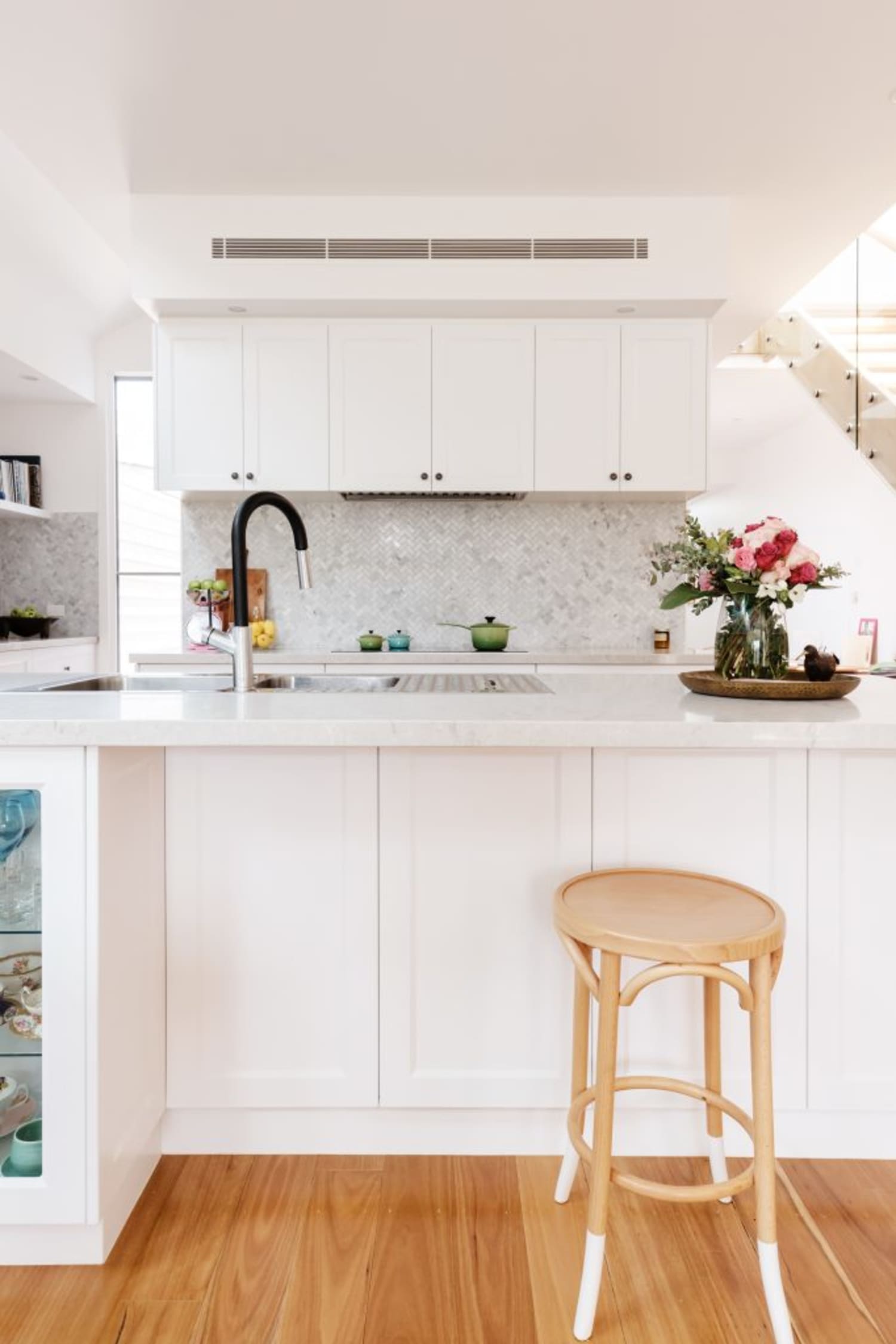 Ah, Reddit. You can always be trusted for unfiltered opinions (and a lot of snark). When Redditor tomandjerry0 posted a question about the home trends we'll regret in 20 years in the ever-popular r/HomeImprovement subreddit, some 2,400 posts came in fast and furious.
Setting aside the topic of PEX, some consistent themes and hot topics emerged. (Shiplap, for one, still had enough defenders that it didn't quite make the list).
Another DIY that should be a DIY-don't? Pallet wood walls. Dremd07 posted, "The freaking pallet wood walls. It will be the equivalent of wood paneling of the 70s. And a huge pain in the ass to remove." To which Szos replied, "I'm guilty of putting up a pallet wall and I like the look. But I knew tastes change, so when I put it up I installed all the wood onto a 1/2″ plywood backer sheet, so removing it will be fairly easy."
For AmateurSparky, the glut of barn doors will feel dated any minute now. Mbuckbee adds, "It's the indiscriminate use of them that drives me nuts."
Opheliac12 was upvoted repeatedly for writing, "Open floating shelves instead of normal kitchen cabinets." hiphopudontstop replied, "God. I've hated this since day one. Do they not have to wash every dish before putting food on it because of the dust? And where do I hide my bread machine/juicer/canning stuff?"
SurroundedByAHoles chimed in: "Those only work if you have gorgeous matching everything. Otherwise, you're defeating the purpose of cabinets, which is to hide clutter."
Your smart thermostats and doorbells might not feel as smart when the technology shifts.
buddySideshow predicts, "I'd put a wager on Smart Home technology becoming something you need to remove in the years to come because of software/hardware obsolescence and no support availability. What is fully integrated and connected today will be partially usable at best in 10 years and probably useless in 20 years (I'm thinking about smart phone apps that control your heating and lighting)." And CastleHobbit agrees. "I came here to say exactly this… Look at the intercom systems from the '70s & '80s in homes now…"
Anything by Joanna Gaines
Ouch. But not exactly wrong. The "Fixer Upper" pendulum is bound to swing the other way shortly. Stay_Curious85 calls out, "Anything people copied from the Joanna Gaines style. Refurbished barn doors, pallet wood, beaten up 'antiques.' It works for mid/west Texas. It doesn't really work for downtown LA."
On a purely practical note, RockyVplusRockyII says this bathroom trend has got to go. "Walk-in showers that have no door. Nothing keeps the heat in. Unless you're in the water you're freezing. I've seen a lot of high end homes do this recently and it's ignorant. Enclose that shower space, people!"
Live. Love. Laugh. will see its end, soon enough. Other quotes that will feel dated, shortly? Per PositiveOkra:
And especially if it's written on scrap wood.
For Buildadoor it's white on white on white kitchens. "People rip out solid wood cabinets to put in white melamine ones. Good luck having those last 20 years!" And the real travesty, most Redditors agreed, is painting real wood cabinets white.
The anti-white stance isn't just limited to kitchens, however. As planet_rose predicts, "I'd bet the next color scheme trend will be 'warming up your house with color.'"
Gray Everything—Especially Flooring
For KatKatKatKat88, it's "Gray tone wood look vinyl plank flooring." (To which citric_acid_trip says, "Ok now I'm feeling personally attacked… 😂"). But the pervasiveness of gray—gray walls, gray floors, gray tiles, gray paint—is an overall downer to many.
The tyranny of open-concept plans—especially as a remodel to an older home—has plenty of both rabid fans and even more rabid detractors. OmnibusToken minces no words: "Open concept. Noisy, visually clutter[ed], no privacy, really f*cking stupid for cold climates. I don't want to live in the equivalent of a barn or a mess hall, thanks." lirgecaps likens it to "the sunken living room of the future."
Perhaps the only possible answer to tomandjerry0's question, though, comes from DavidABedsore, who writes, "Everything is regrettable in 20 years."