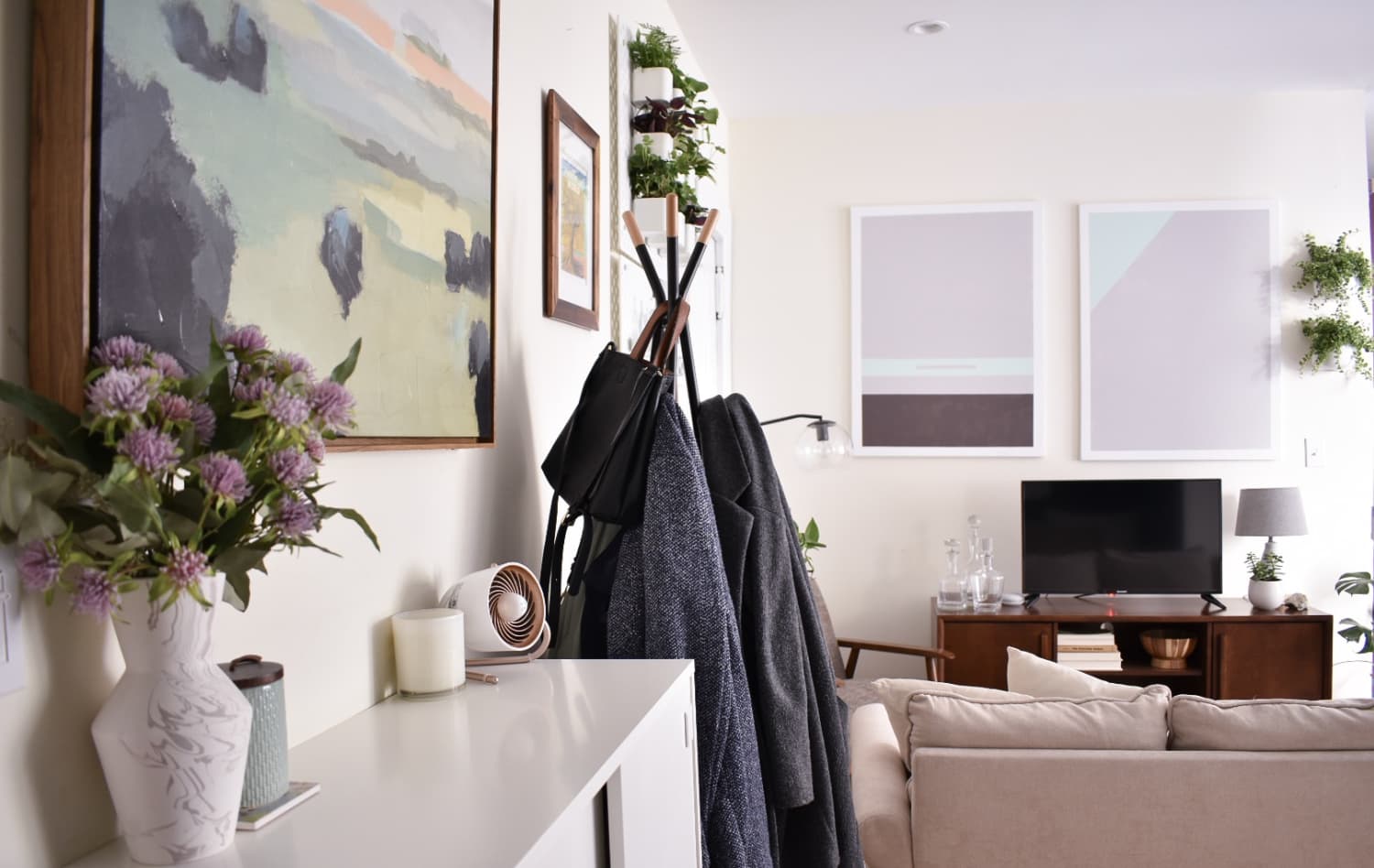 Name: Kylie Repasy
Location: Harlem — New York, New York
Size: 310 square feet
Years lived in: 9 months, renting
Since 2008 I've lived with 27 different roommates in four different cities. From "forced triple" dorm rooms to Tanzanian homestays, these spaces house so many of my most treasured memories and nurtured environments that cultivated some of my strongest friendships. Despite countless plumbing issues, occasional break-ins, and the use of questionable "left behind" furniture, I am so grateful to have had 10 years to grow into my adult self alongside others—the natural extension of a childhood spent with three siblings and a large, and close-knit, extended family.
Two years ago I thought it had all come to an end. My long distance boyfriend proposed, we had plans to get back to living in the same city, and I thought I'd be looking for a space to design and call our own. But then, unfortunately, our engagement fell apart and I had to figure out what my new life was going to look like and what to do when my lease was up. In the end, and despite it being a precarious financial decision, I decided I needed to use this time to explore a new stage of adulthood. And so I signed a lease for a studio apartment that would house three: Me, Myself, and I.
My apartment is more than just the place I sleep. It's been my year-long design project, a welcome distraction, and it's also reminded me that I am whole and that I am capable- things you sometimes forget in the midst of heartbreak. I went to every apartment viewing and broker meeting on my own. I built every piece of furniture on my own. I painted the walls on my own. I fixed my sink on my own. After spending months trying to find a wall feature I liked, I ended up planning and creating two art pieces on my own. I moved my *high quality* couch out of the building when it broke… on my own. And I moved the new *slightly higher quality* one in… on my own. I've hung every shelf on my own; every picture and painting on my own. I made every design decision on my own. And I turn my rent in—usually on time—on my own!
It's funny sometimes how life works out. That even though I never felt more alone, I needed to be alone. Being alone allowed me the time to create a space that would make me want to read and write and learn new things. When I come home after extremely long days, I feel proud and inspired. I feel grateful for my family and friends who let me create this space alone because I think they knew I needed to.
I especially feel grateful for my mom. Even though our preferred design styles couldn't be more different, she's my greatest design inspiration. TLC was always playing in the house; I practically grew up on "Trading Spaces." It wasn't strange that when driving somewhere, she would often stop the car and have me or one of my siblings grab something someone was throwing out… because she saw a use for it. When she wanted to change something in the house, she found an innovative and affordable way to do it. A lot of the time this meant she figured out how to do it herself. I admire my mom's ingenuity and creativity and appreciate the lessons she taught my sisters and I on how to be self-sufficient and self-reliant (read: how to do something when you want it done NOW and on your own terms). So while my mom might not be the reason I chose the paint color I did, she's the reason I didn't think twice about painting the wall on my own. I think that's about as great a design inspiration you can find.
I call my design style "Bibliophily Meets Feminism." There are books and breasts everywhere. I'm an academic and an avid reader, so that makes sense. I also just think books are aesthetically pleasing and are an easy way to add color and dimension to shelves, walls, corners, and windowsills. I was raised by strong women, work alongside strong women, and aspire to be an example of a strong woman, so that piece makes sense, too. Also, the female form is magic. It's both indescribably beautiful and perfectly utilitarian—a contradiction I find fascinating and worth highlighting whenever I can.
In more design-speak terms, I'm drawn to mid-century modern furniture pieces, pops of color, and plants. My apartment doesn't get much light, but that hasn't stopped me from filling every corner with plants. I'm happiest when outside is alive and green and having my own little urban jungle keeps me happy through the winter months when NYC is anything but. It also reminds me of my grandparents' plant-filled home, which naturally evokes memories of my late grandma, a fierce woman whom I admire and miss dearly.
310 square feet is small. There's no way around that. As a result, most of my furniture doubles as storage. With very little superfluous space, everything I bring into my apartment needs to have a place and serve a purpose. As a result, I've had to learn how to be less impulsive, how to sit and ruminate a bit before making a final decision. While these decisions might have been simple, usually involving a new plant or planter, it's a practice in clarity and focus that's extended beyond just my design approach.
In so many ways, my apartment has become my greatest form of therapy. It was exactly what I needed to remind me of my wholeness. It's a living, breathing, never-ending design project that consistently encourages and inspires creativity. It bears witness to my mistakes, of which there are many, but it doesn't judge. It's forced me to reconsider how I operate on so many different planes—something that's not always easy, but always important.
What is your favorite room and why? My studio is all one room, so this question is a funny one. But if I had to pick my favorite "space," I would say my "dining area" near the window. That wasn't always my answer, though. You see, this window overlooks the garbage alley. Not really a pretty sight and my super is a big fan of sorting recyclables at the break of dawn. I'm on the second floor… my window is usually open… clanking glasses are loud… but this year has been a practice in optimism and I've started to view this space in a different 'light' (pun intended). So, for the following reasons, this area is my favorite:
What's the last thing you bought (or found!) for your home? SKADIS pegboard set from IKEA! It was actually an Apartment Therapy feature, coupled with my desire to pack as many plants as possible into my apartment, that spurred this purchase. I bought them so that I could create a "living wall" filled with plants that would also be big enough to cover all the holes I put into the wall trying to hang floating shelves a few months ago. They're actually perfect in this space and I'm super happy to be able to ignore all the patchwork I'll have to complete when I move out.
Which fictional character would be most at home in your place? At the top of the list would have to be Annie Easton from Hulu's "Shrill," played by Aidy Bryant. Simply put, I place Aidy Bryant on a pedestal slightly lower than lady-God and think anything she touches turns to gold. She's my style icon and the fact that her style permeates all aspects of Shrill–from Annie's clothes to her sunny, colorful, plant-filled home–made Annie Easton the natural choice. To delve deeper, though, there are a few moments in the show that are terrifyingly, and refreshingly, relatable. I admire anyone who's able to balance "I'm a strong woman, I've got this" confidence with "I don't know what the hell I'm doing" humility. My apartment has become a safe space for that type of self-exploration, leading me to believe that Annie would feel right at home in mine.
Any advice for creating a home you love? Take your time! I rushed a lot of decisions and ended up buying way too many rugs, for example, because I couldn't settle on one that achieved what I was looking for. If I had taken the time to really map out my vision, I would've saved a lot of time and frustration.
We independently select these products—if you buy from one of our links, we may earn a commission.