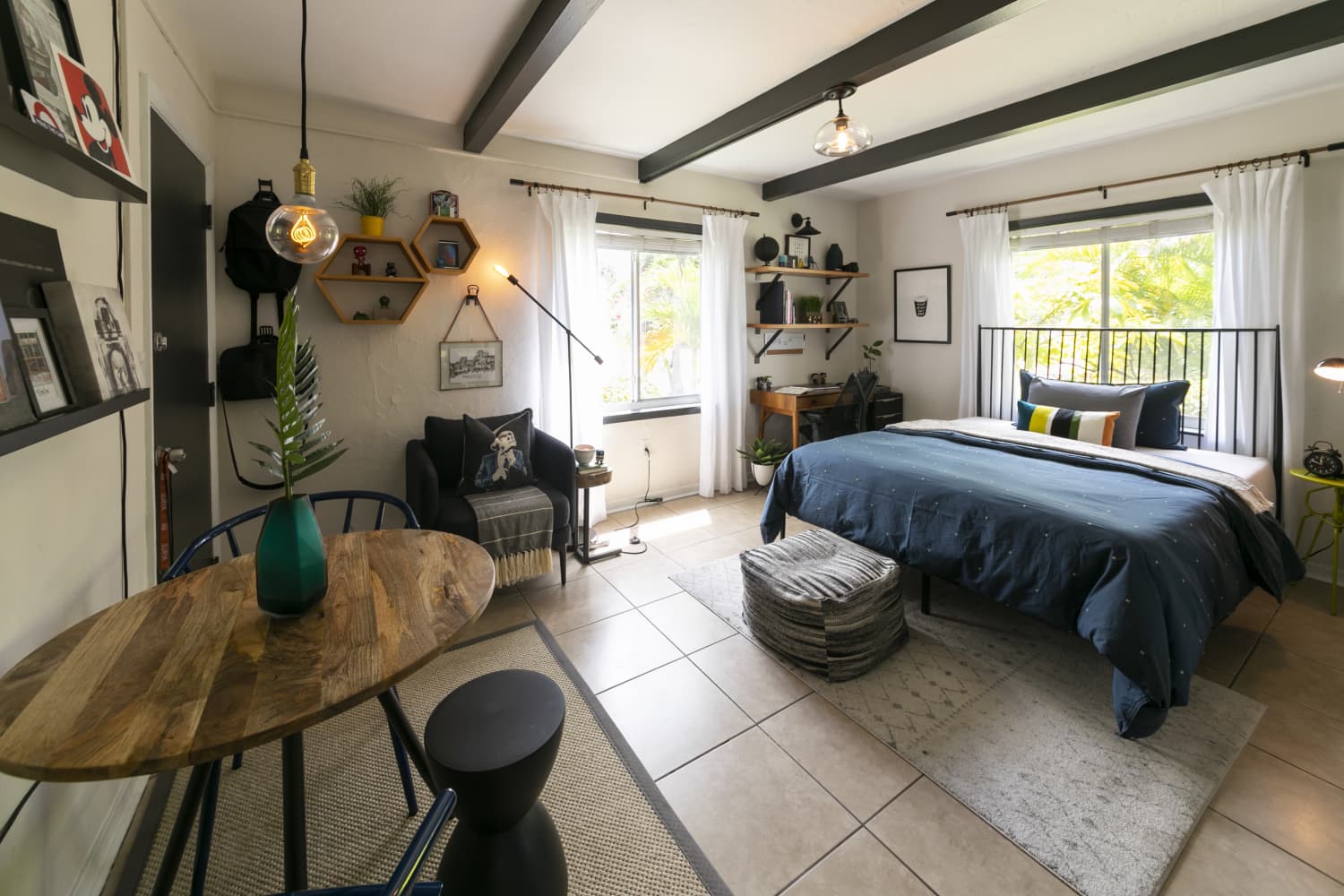 Name: Francis Domínguez
Location: MiMo District — Miami, Florida
Size: 305 square feet (+35 square feet of outdoor area).
Years Lived In: 9 months, renting
A few months after my previous house tour and before and after went live on Apartment Therapy, I was contacted by a person who owned a small, two-story corner lot building, located in the popular and hip MiMo (Miami Modern) District, asking me if I would interested in seeing a unit that was about to become vacant.
He told me he was pleasantly surprised with the remodel work I did in my rental unit at the time, and was wondering if I was open to the idea of becoming his tenant and doing the same (remodel work) with this studio.
At the beginning I was kind of reluctant; I was comfortable with my current place and had no plans to move any time soon. In addition to completing the remodel, I had just started my own architectural and interior design boutique firm, and already had everything set up at home.
I did a quick drive by the building and simply fell in love with it and the location. I loved the fact that it was in a corner lot and that it had a front and back yard, I also liked the fact that it only had four units, which made it look more like a house than an apartment building. And of course, I was more than happy and excited to do another renovation and coming up with new design ideas that would help use every square inch of this tiny studio, which only has 305 square feet!
This studio is smaller than my previous one, but it has outdoor spaces that makes up for this, one of these being the space off my kitchen, where I installed some string lights and placed a small bistro set, making it a perfect location for me to have coffee, entertain friends, and also where I can meet with clients.
Apartment Therapy Survey:
My Style: A mix of transitional, mid-century modern with eclectic touches.
Inspiration: I draw all my inspiration from traveling, architecture and interior design books, and from my favorite IG pages!
Favorite Element: My favorite architecture element is the three beams in the main space, which I opted to paint in a dark gray color to make them pop! My favorite furniture element is the blue cabinet with glass doors because here I display different items, which I rotate once in a while.
Biggest Challenge: The small space overall, which I overcame by coming up with a well thought floor plan and by using scale appropriate furniture.
Proudest DIY: My proudest DIY is the vinyl flooring in the buffalo check pattern I did in the kitchen to cover the dark and dirty looking porcelain tiles.
Biggest Indulgence: My office chair (Sayl Task Chair) from Herman Miller. Given that I work from home, I needed a comfortable, yet stylish office chair that goes with the rest of my decor.
Best Advice: Creating the space where you live should be a pleasant experience, so don't stress over the little things, and take your time if needed (and possible) when it comes to taking on projects and purchasing furniture, art and accessories.
What's your best home secret? My all-time organizing tip and also to keep away clutter is is the following: ask yourself, do I really need this? When was the last time I even used this? Will I even use this in the near future? If the answer to all of these is no, I can say you don't need it! So get rid of it, and this could be the first step to living organized and clutter free!
We independently select these products—if you buy from one of our links, we may earn a commission.