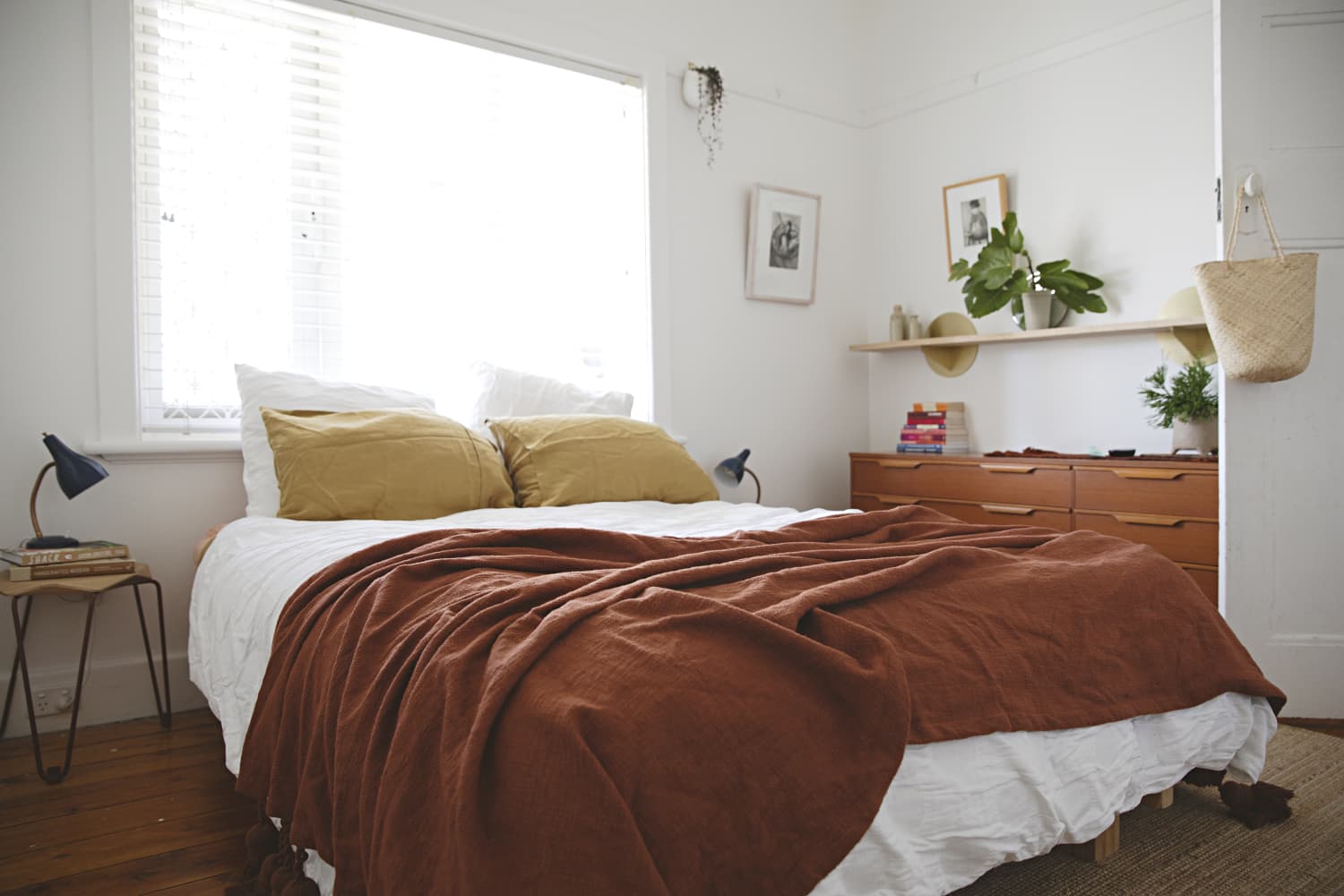 Name: Dan and Prue and 2 young children
Location: Coburg, Melbourne, Australia
Size: Around 1,075 square feet
Years lived in: 10 years, owned
Dan and Prue's home is a work in progress. They purchased the house 10 years ago and have renovated over time slowly—room by room—when they have had the spare time. Impressive, as many parents know there isn't a lot of spare time to work on big projects when there are two young children around!
Along with taking on the renovation slowly, they also did it on a tiny budget. Dan has completed most of the work himself, actually; he runs a successful furniture business with his brother called Tuckbox Design (all the products are designed and made by them in Melbourne.) He definitely has handy skills when it comes to home renovation! Both Prue and Dan also prefer like to repurpose and re-use things where possible, along with supporting local small businesses and artists—much of the artwork found in their home is created by friends.
Apartment Therapy Survey:
Our Style: It reflects where we're at in our lives at the moment—a work in progress. It's a little bit fun, messy, chaotic, and with two young kids, quite sandy after park plays. It's a bit eclectic with an obvious leaning toward sustainability and patient repurposing. We're definitely not minimalist, although that's very appealing, mentally.
Inspiration: We both grew up in Queensland, where it's much sunnier, warmer, and more tropical, so we carry a bit of that desire to open the house up to connect to the outdoors as much as we can. We've put bigger windows in to catch summer breezes and light. Overall I'd say we're fans of traditional and contemporary Japanese design—contrast, shadows, timber, playing with light, and that deeply calming feeling that comes from those spaces. We can't afford to be precious about our home when there's a good chance a scooter or balance bike will get ridden through it.
Favorite Element: Storage is a game-changer. There was none at all in the home, and we've been creating it slowly and it's been so delightful. But also the sunshine—how it comes into the front in the morning and glows honey gold light through the back of the house in the afternoon.
Biggest Challenge: Nothing's straight. The house is coming up to 100 years old, and it's a weatherboard, sitting on clay. It creaks, cracks, moves through the seasons and the walls, floor, and ceilings are all having their own little journey. It takes up time and the list is endless.
What Friends Say: They get a kick out of whatever the latest project is. Art's always a good conversation starter, as are the plans for our dreamed-of extension. Our mates are very supportive, to the point where they help us paint walls and put in ceilings. They're as much a part of it as we are.
Biggest Embarrassment: Guest space. We have none, and hand our own bed over to guests rather than make them sleep on the floor. The floor is not comfortable. We really need a guest room.
Proudest DIY: Everything you see, we've done on a tiny, tiny budget. We've sourced from marketplaces, recycled, made do, and problem solved. It helps that Dan can also make, wire, and plumb, plus in his day job he designs furniture.
Biggest Indulgence: It used to be interesting artwork, but fixing up a house on on a small budget makes everything that isn't critical seem indulgent. We have just had a scarily hot summer, and bought ceiling fans. That seemed very indulgent. Anything decorative feels indulgent—the fireplace surround, bedside tables, brass shelves… indulgent! The same doesn't apply to the children's rooms. That's their safe zones.
Best Advice: "Bit by Bit" and "Your home is a sanctuary"— or it needs to be, particularly at the end of days that often feel brutal, so get rid of 'stuff' that feels like it's pointless, or not useful. Fix the things that make life hard or irritating, and have really great speakers to play music on.
Dream Sources: Mr Kitly, Michael Zavros, Ebony Truscott, Christopher Boots, Angela Harry and Marimekko for joyful kitchenware in that extension!
We independently select these products—if you buy from one of our links, we may earn a commission.