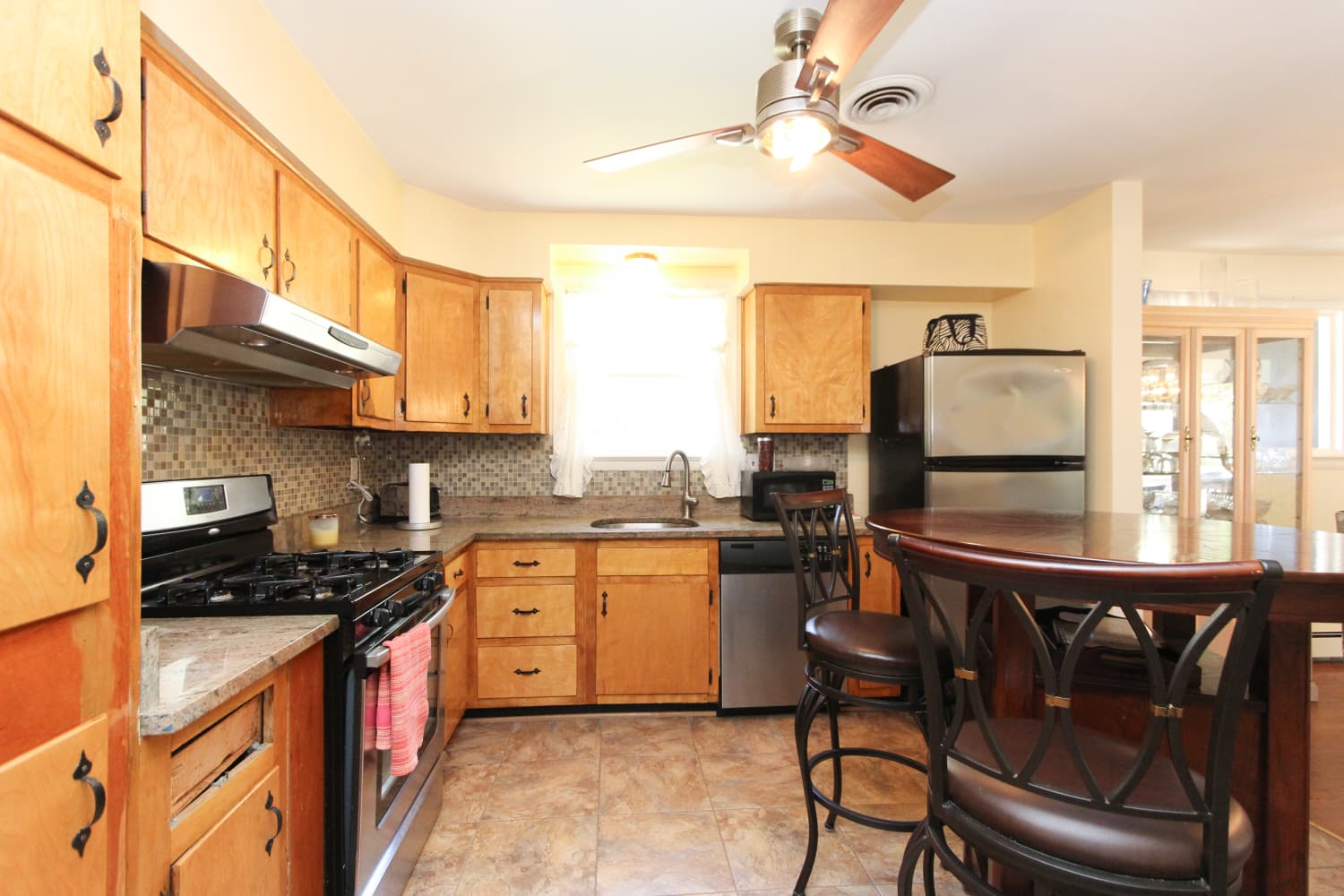 Sunday was Mother's Day and hopefully, you remembered to call your mom. Film and television actress Taraji P. Henson took things one step further and treated her stepmom Angie to a complete renovation of her Washington D.C.-area home. With a little help from the folks at Houzz, she transformed Angie's old, crumbling kitchen, and opened up her cramped living room, which is now airy and full of light.
Taraji was 16 when she met Angie for the first time. "I just loved her right away," she says. "She just made my daddy a better man." Eventually Angie and Taraji's dad fulfilled their dreams of being homeowners by buying a house in Maryland, close to Washington, D.C. Angie loves to cook, and the home because a gathering spot for friends and family. "That was just the place where everybody gathered, and it's always been that cause it's just that feeling. It's very nurturing."
After Taraji's dad passed away in 2006, Angie continued to live in the house. Eventually, it began to show the passing of years — like the time the kitchen literally started to fall apart in Taraji's hands. "When I went home this past time, I went in the kitchen and pulled out the drawer and it just disintegrated in my hands, fell apart in like two or three pieces. And I was like, we gotta do something."
Clearly, a change was in order. Taraji turned to the folks at Houzz, specifically to Stephanie Gamble, a designer who helped her transform the house in a way that Angie would love. The first order of business? Pulling down the wall that separated the kitchen and living room, which made both spaces feel dark and cramped. Angie had already begun to open up the kitchen by pulling down a wall between the kitchen and dining room, and the renovation finished that work, as well as extending the hardwood floors from the rest of the house into the kitchen.
In the living room, the fireplace was refaced, for a more modern look, and what was once a small window that didn't let in much light got replaced with a sliding glass door. The rustic wood coffee table, which was made by Angie's dad, has pride of place in the center of the room.
The overhaul of Angie's kitchen was especially important. Says Taraji: "She loves to cook. We always entertain in the kitchen." The new, more open kitchen has a 6-foot island, which provides lots of extra counter space. The old soffit was removed, so the glass cabinets go all the way to the ceiling. The refrigerator was moved over a bit, to allow for more space in the kitchen, and the new professional-grade stove has six burners, enough for even the biggest family gathering. Angie is a fan: "I love cooking, so I'm in love with the kitchen. I'm really in love with the kitchen."
Says Taraji: "I feel incredible being able to do this. My dad always said, 'If you have been blessed, then it is your duty to go out into the world and be a blessing.'" She wanted to do something nice for a woman who always did such a good job taking care of other people. I think it's fair to say that she succeeded.
Want to see more of the transformation? Check out the full video from My Houzz.