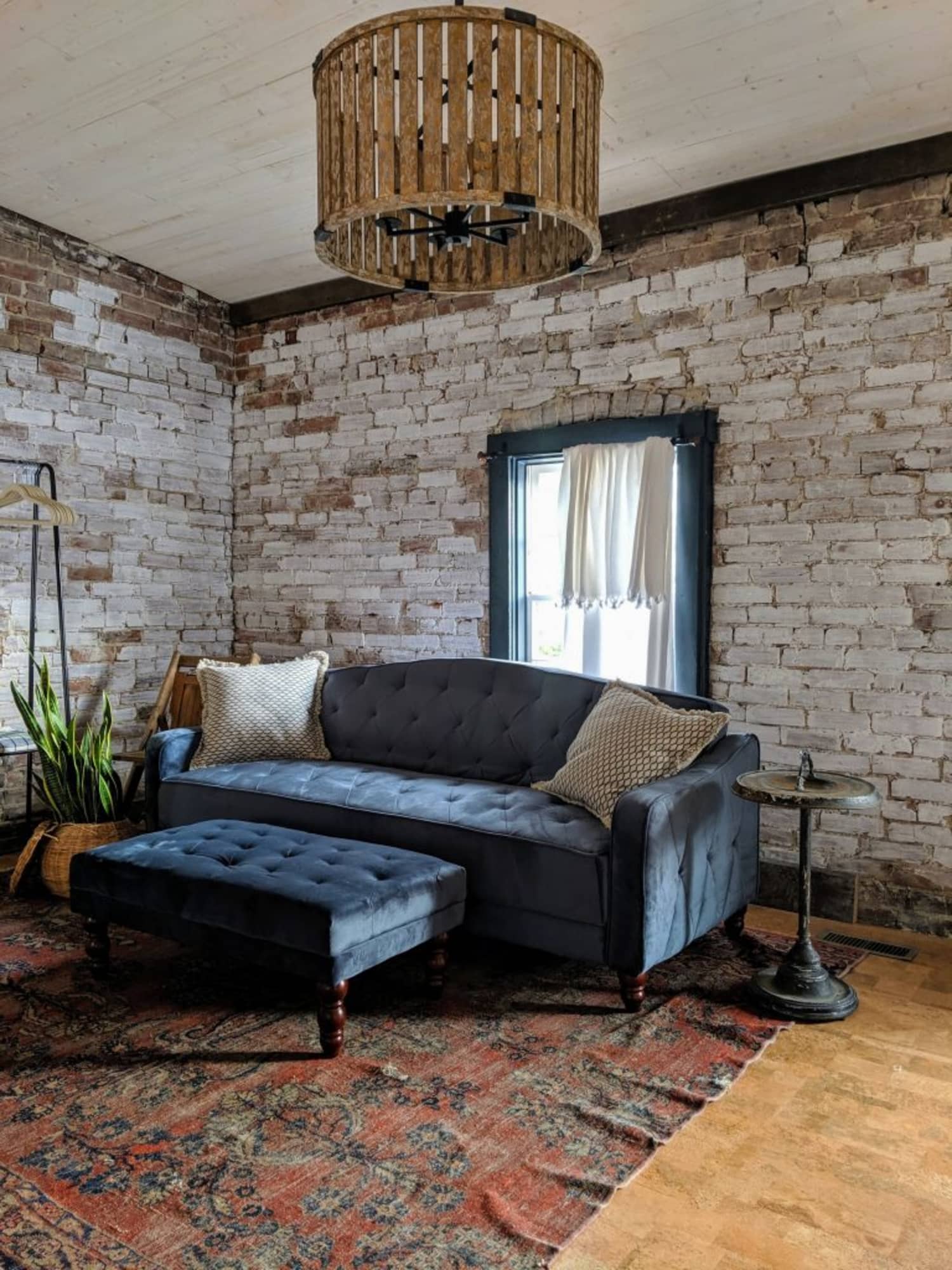 If you've been pining for that distressed, vintage look, read on—and don't fret. It's totally DIY-able and costs next to nothing… as long as you've got plenty of time.
When my husband and I uncovered the original brick in the apartment over the former stable behind our Victorian, I knew I wanted to go with a random, weathered white look for our newest Airbnb. The bricks were in terrible shape and needed a lot of repair, so white would play up those imperfections and brighten up the small space. One exposed red brick wall can be striking, but keeping the entire studio dark red would be too much.
Inspired by the look of a rough old wall at the new Castle & Key Distillery in central Kentucky, I went down the rabbit hole of whitewashing brick online to find the best approach to get our walls looking like that. I knew I didn't want paint, because that wouldn't let the brick show through or play up the natural variations that make the look so rustic. The solution? The old school (like, way old school) practice of limewashing.
People use the terms whitewashing and limewashing interchangeably, but only limewashing actually uses powdered limestone. Our area is rich in limestone—it's what makes Kentucky bourbon so good!—so it made perfect sense, but limestone deposits are readily available in many parts of the world. Its prevalence has made it a common tool since antiquity, even as far back as ancient Egyptian times.
And it's not just a cosmetic enhancement. Limewash actually protects the brick, preventing weather damage and resisting fungal growth and insect damage. Unlike paint, it won't peel, and another big bonus for limewash is that it's a natural, green product that costs a fraction of paint.
Of course, there are downsides. It's a significant undertaking; you'll need several coats to get to a really white look (and you have to wait two to four days between, so this is definitely not a weekend project!). It erodes eventually, so every few years your surface will need another coating. And limewash can rub off when you touch it, so you have to be careful what you put right up against a white wall.
But in my book, nothing can top the look. My husband, who took on this project, was careful to apply varying numbers of coats (or no coats at all) to randomly staggered bricks, which gave it a lot of texture and visual interest.
Be very careful handling the lime. My husband made the mistake of touching it without gloves and couldn't use his fingerprint on his phone for more than a week.
Start by cleaning the brick thoroughly. Vila says to use a hose or pressure washer, but we couldn't do that inside, so it was a process of sponges and water buckets, which required frequent changing. And that was after a preliminary cleaning of the old plaster debris clinging to the walls using a drill with a wire brush attachment. (Again, not a weekend project!)
When the brick is clean and you're ready to go, mix up the solution while wearing all your safety gear. The goal is a consistency like whole milk, which is about 80 percent water and 20 percent lime. If you're doing smaller batches, stir it thoroughly in a five-gallon bucket. For larger batches using the whole 50-pound bag, use a large plastic trash and transfer the solution as needed to smaller buckets or a roller pan.
Use the roller or brush to apply the lime solution to four- or five-foot areas, working from the top and down one side. Keep stirring as you go—the lime will settle at the bottom of the container. The consistency can take some tweaking; too thin and it dribbles down the wall, too thick and it's just goopy. It doesn't look great going on, but as it dries and with each subsequent coat you get that white look.
Wait two to four days between each coat. You can store any unused solution in a bucket with a tight-fitting lid, as long as you stir it when you re-open. And just keep going until you like the opacity.
We followed the limewash with several coats of spray-on Sure Klean Weather Seal. I'm not sure if it was necessary, because the lime serves as a barrier, too, but I didn't want the mortar to shed. This gave the brick a matte finish, but other products like DRYLOK are available with a bit more sheen if that's your thing.
After all the work you should have a wall that looks old and weathered… and only you have to know that it was your artistic touch, a few dollars of material, and a whole lot of elbow grease that made it that way!