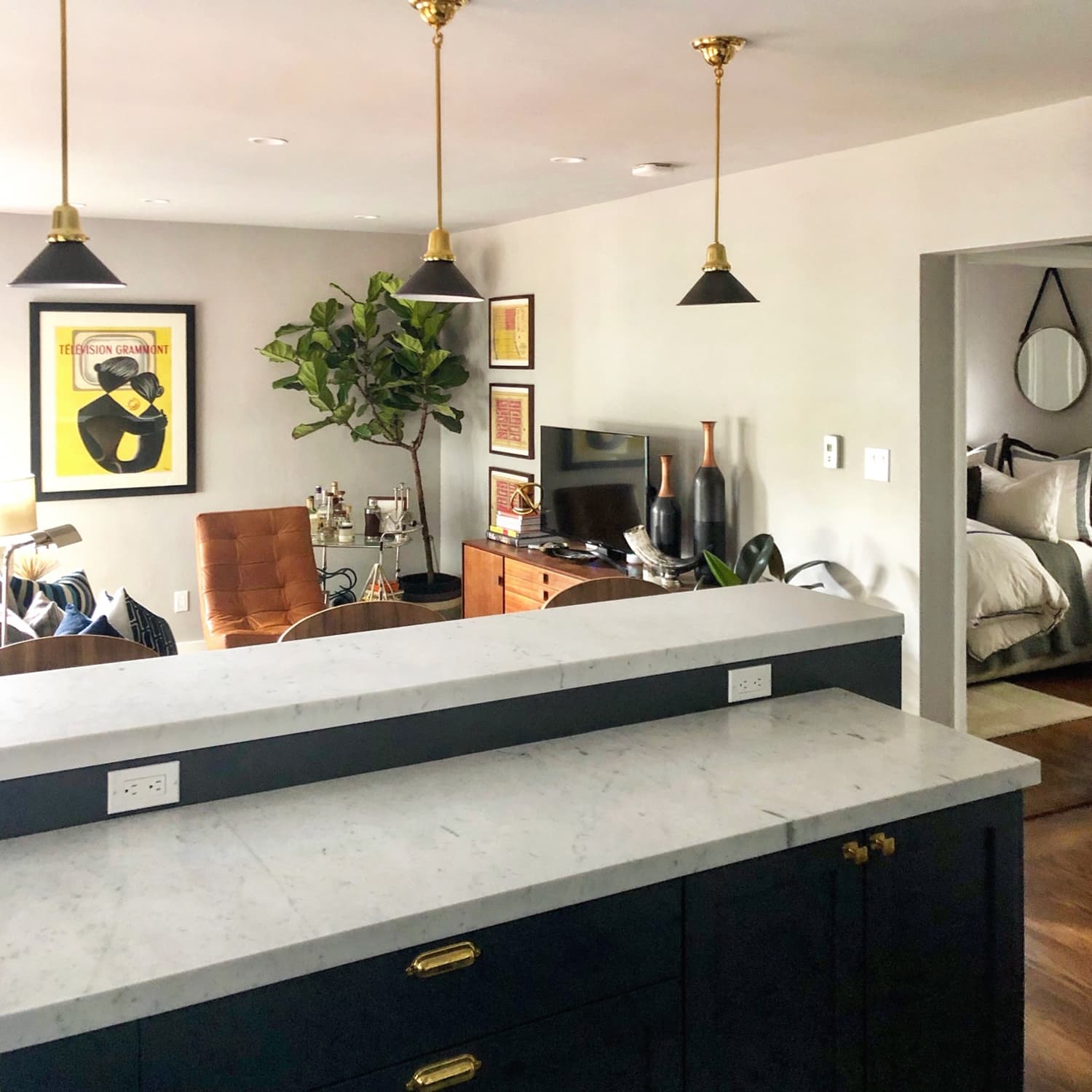 Name: Matt Rudkin
Location: Twin Peaks — San Francisco, California
Size: 500 square feet
Years lived in: 9 months, owned
A starving artist trapped inside the body of a helplessly responsible adult, I pride myself on never becoming the stereotypical accountant. I come equipped with a calculator in one hand, but a color wheel in the other, and I'm known to always have a fabric or paint swatch in my bag. An ex-New Yorker of 10 years, I took the plunge and moved to San Francisco in 2015 to pursue an amazing career opportunity in a city that was always on my bucket list.
Three years after moving to SF, and after spending six-plus months unsuccessfully bidding on homes for sale, I finally found my diamond in the rough—emphasis on rough, though. This apartment had a kitchen untouched from the 1960s, a bathroom that would make your skin crawl, and lots of neglect. It was perfectly awful, and it was my opportunity to live out my own HGTV show and remodel. It took about five months, an amazing architect and contractor, and a lot of patience, but I'm pleased to report that the home you see today has almost nothing left of what was there a year ago. We left the really good bones in place, but the rest of the home is the culmination of searching for just the right piece, accent, or flair. I worked harder on this apartment than I probably did [at] my full-time job, but the end result is something that really showcases who I am as a person and speaks to my design and aesthetic.
Describe your home's style in 5 words or less: Gentleman chic meets cozy traditional
What is your favorite room and why? It's a toss-up between the bathroom and kitchen, but I think the bathroom wins. It's a small space—the smallest in the apartment, but it's also the most dramatic. What the room lacks in size, it more than makes up for in design and character. To maximize the space, all the walls are covered in a mosaic hex tile made from freshwater river shells. The floors are dramatically darker, and to keep the space as open feeling as possible, the tub was removed and replaced with a glass walk-in shower. I've heard people describe the tiled walls as being synonymous with "the inside of a jewelry box" or "like a mermaid's tail;" at the end of the day, it's the most dramatic transformation in the apartment, and my own little in-home spa!
If you could magically change something about your home, what would it be? I'd kill to rotate the entire apartment 90 degrees. A lot of the apartment has interior views, but if you stand on your tippy toes on the deck, you can catch some amazing views of Downtown San Francisco and out to the East Bay.
What's the last thing you bought (or found!) for your home? I've caved to the fiddle-leaf fig tree trend! I insist on only having live plants in the apartment, so I'm not sure how long the tree will survive my gray thumb.
Any advice for creating a home you love? Catalogs and pretty blogs are a great way to get inspired, but at the end of the day, you're designing a home for yourself—and more importantly, one to live in. Strive for practical over picture-perfect, and chances are, your space will look even better.