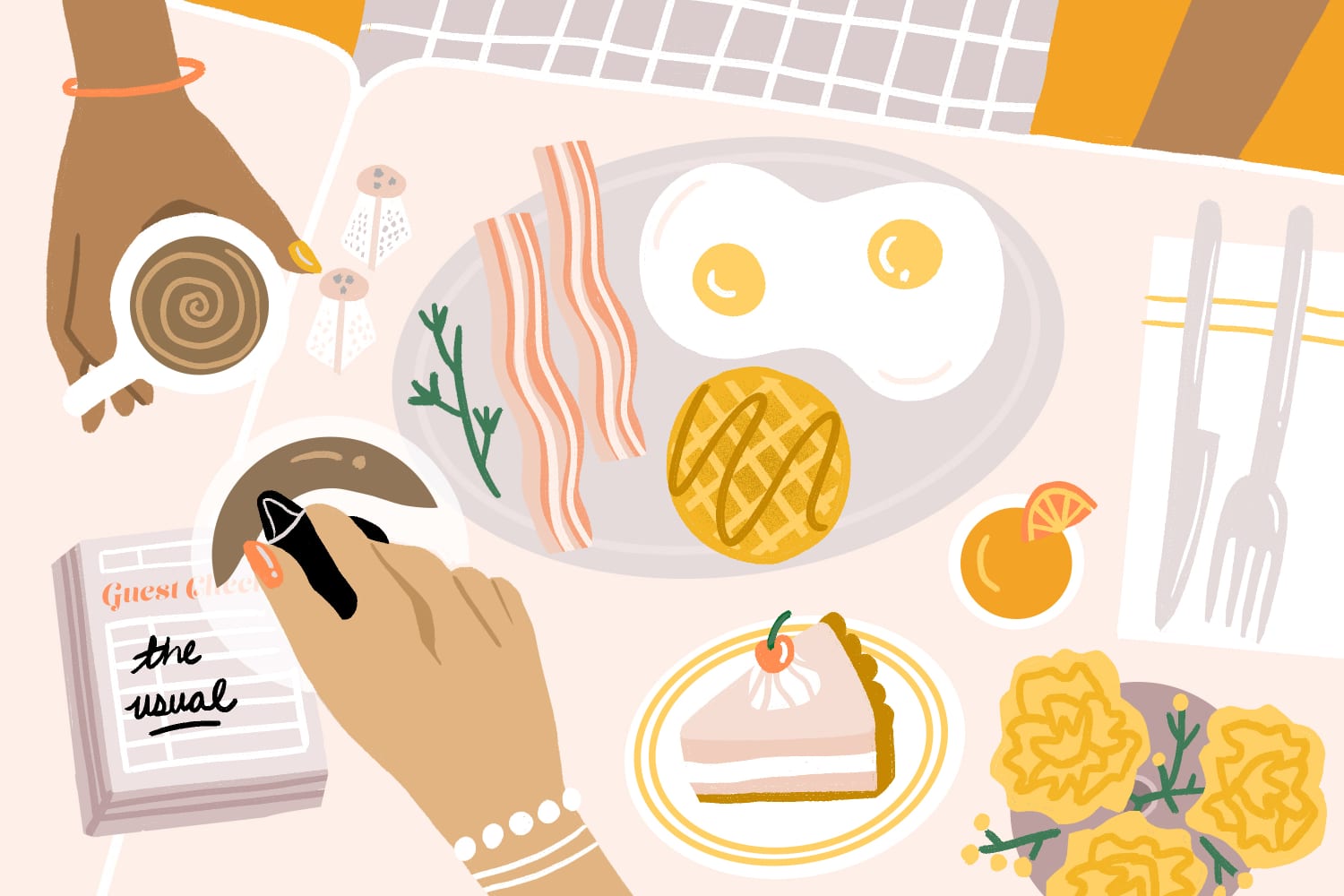 Is there somewhere you're a regular? A place where, when the bell jingles as you walk through the door, you instantly feel at home? A spot where you've found your people? To find out what makes a regular, we've asked friends and Apartment Therapy staffers to tell us about their favorite haunts.
Some folks love the personal attention of their "regular" status, while others are more contented by the vibe of a familiar space. Our product manager Vijay Nathan told me that being a regular "is about feeling like you belong somewhere." While studying abroad in Spain, he says two cultural consultants "gave me the best piece of advice I've ever gotten about moving and settling in: Force yourself to become a regular somewhere."
"When you move somewhere new, the impetus is to always try a new place when you have free time. That's great to explore, but it also means that you're always a tourist," Nathan says. But establishing a routine is important to having that sense of belonging in a new place. "It could be a bar or restaurant, coffee shop, even the guy you buy your newspaper from, it doesn't really matter," he says. "There are definitely places I go where no one knows us. It doesn't have to be like 'Cheers'—that's just an added bonus."
Here's what others had to say about being a regular. [Responses have been edited and condensed.]
The reliable greasy spoon
I have been going to "the Bee" since I first moved to Boston for my undergrad nearly twenty years ago. It's a greasy spoon diner locked in time with a colorful cast of characters and a cash-only menu that is straight out of 1984 New England. The daily specials are simple, uncomplicated, hearty items (Salisbury steak and mushroom sauce) with occasional nods towards the New England palate (Yankee pot roast and brown gravy) and touches of the owners' Greek heritage (moussaka and pistachio). Few things on the menu cost more than $12 and the $2.75 grilled cheese will always be the best deal in town. There is nothing organic on this menu.
During the busy Saturday mornings (they don't open on Sunday), orders for pancakes and French toast are shouted into the back kitchen as the waitstaff run out hot coffee and omelettes from the cramped station behind the well-worn counter. Weekdays are quieter but definitely not quiet. It's then that the regulars stop in and talk shop with the long-time staff, debating the state of the world, swapping recipes, and sharing life stories. Over the years, my meals have come with a side of hugs, tough love, and pep talks all delivered by sometimes gruff but well-intentioned staff. No matter where I roam in the world, whenever I'm back in town, this neighborhood spot is a must stop on my list. —Lilly, 36, Boston, Massachusetts
I moved to Kansas City for a job in the fall of 2015, and in March 2016, Ollie's Local opened up about a mile away from my apartment in midtown. I was in my first year of teaching and I had a few close friends who were also new teachers at other schools. We quickly made Friday night happy hours a standing event, to celebrate the end of another week in our demanding new jobs and to take some time to relax.
One of the things that make this place great is the happy hour prices on appetizers (our favorite is the "Fancy Pants Tots," which we eventually simply started calling "FPTs") and drinks (they have an amazing cocktail called "The Hemingway").
Eddie, the owner, quickly made us feel a part of the family. He always greeting us with hugs, and if the place wasn't too busy, he sits down for a drink with us. Sometimes Eddie even serves us up new drinks on the house and asks for our feedback on them. Plus, there are other regular patrons that we have gotten to know over time.
Since my friends and I were all new to the city, Ollie's provided us with a community, and we love the way that people know our names when we walk in at 5 p.m. on a Friday, and we can leave there a few hours later having met new people. Three years later, Ollie's continues to be one of my favorite spots in KC. —Amanda, 25, Kansas City, Missouri
The exceptional customer service
Jill Lindsey was one of the first of its kind in the area—equal parts cafe, home goods, clothing, and events—and was less than a block away from me. The first time I visited, I ended up being interested in a shirt that was out of stock in my size. The owner, Jill Lindsey herself, ended up taking down my contact information and promised to let me know if she was able to find an additional size.
I never expected her to reach out. When she did, she informed me that she had reached out directly to the local designer and had her send in a size for me that was waiting at the store. Of course, I felt obligated to go buy it. Jill really won me over with her enthusiasm, immediacy, and warmth. I eventually found myself stopping by more and more: a glass of wine after work, Saturday breakfast tacos, facial massage treatments, and always really great conversation. I met all of the "JL regulars," who became my best friends in the neighborhood. Jill Lindsey really defined both my experience of my neighborhood and of New York City. —Aaron, 34, Brooklyn, New York
The feels-like-family spot
I have been a regular at Olive Oyl's since 1996. It's the cutest mom-and-pop deli in my hometown, and the owners have this natural caretaker personality that makes everyone feel like you're in a family members kitchen. My earliest memories are from our town holiday parades running in and picking out an old-timey candy; my newest memories are my weekly breakfast date with my husband when we're in town. The first time I felt like a regular was when I took my husband for breakfast when we first started dating and everyone not only knew me by name but said, "You must be Brayden" to him. It's one of those places you walk into and feel a wave of comfort mixed with hunger wash over you. When in town I will always choose going to Olive Oyl's over a home-cooked meal because of the atmosphere as well as how it brings a smile to my face. At any given time it is packed with people connecting over food—who doesn't love an environment like that? —Louisa, 28, Essex, Connecticut
Thanks to the folks above for kicking off the discussion! Now it's your turn—what does being a regular mean to you? Tell us about your spots in the comments below!