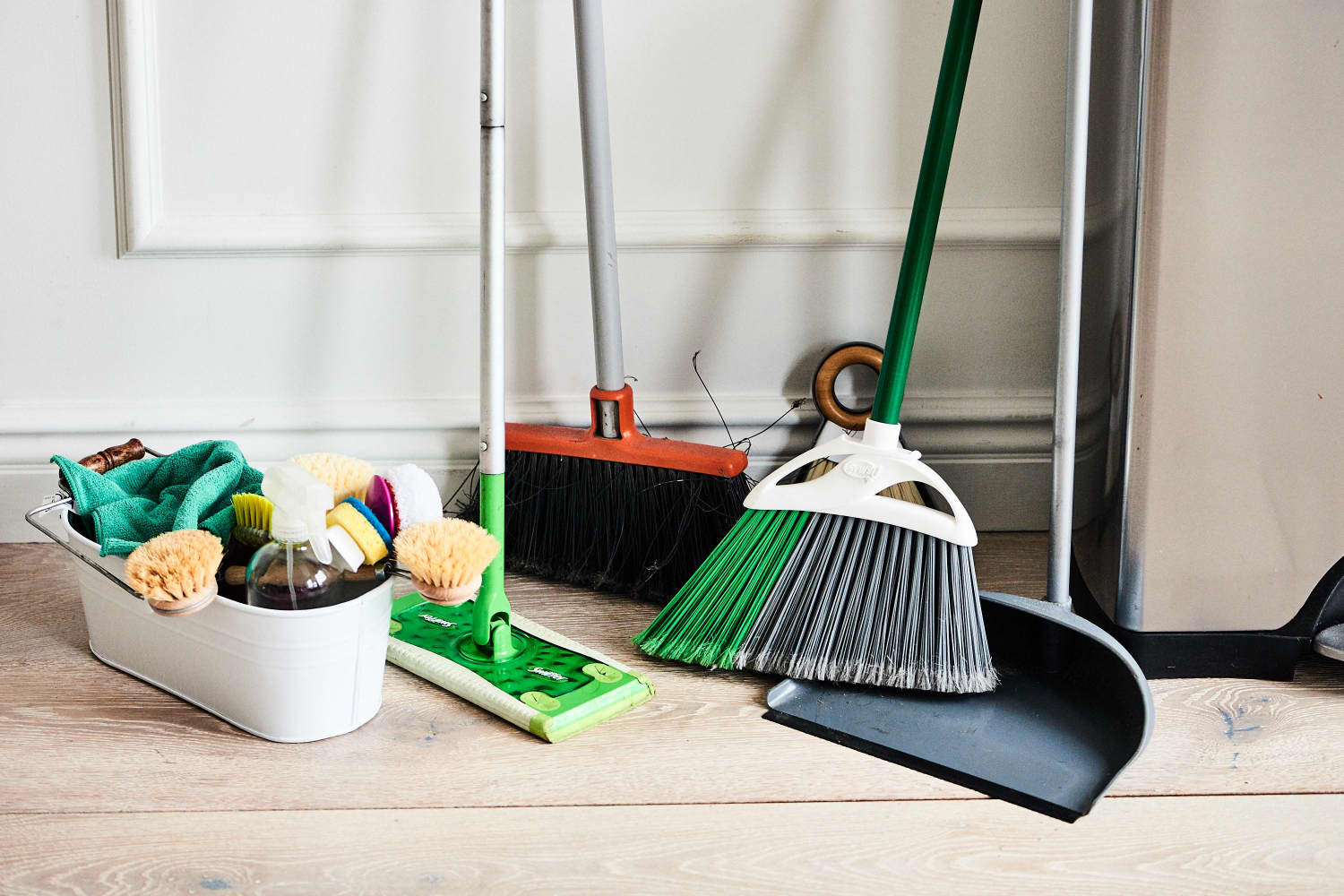 Apartment Therapy Weekend Projects is a guided program designed to help you get the happy, healthy home you've always wanted, one weekend at a time. Sign up now for email updates so you never miss a lesson.
Building a cleaning arsenal is an evolving endeavor. You find out about a new write-home-about-it wet mop and you know you've got to give it a try. Thousands of Amazon reviewers rave about a sponge with a smiley face and you wonder if it might change your life too. You notice the smudge-free mirror finish on your friend's stainless fridge and you realize you might need to switch from your own green cleaning solution.
As you add and subtract from the collection of products and tools you use to clean your home, it's easy to forget that the tools themselves might be getting neglected. The rags, brushes, and buckets you use to remove germs and grime might be full of it.
This weekend, we're going to make sure our cleaning tools aren't just spreading dirt around. We're going to clean what we use to clean.
This Weekend: Clean some of your cleaning supplies.
To clean what you use to clean, run through the following list:
Disinfect your mop bucket
When you're done mopping, you might not do any more than pour dirty mop water into the toilet or utility sink. But there is likely something microscopically gross lingering in that bucket, multiplying and waiting to be smeared over the floors we think we're cleaning. Take that scenario out of the equation. Fill your bucket with water and pour in bleach at a ratio of ¼ to ¾ of a cup of bleach per gallon of water to disinfect. Let sit for at least four minutes before dumping out and letting air dry.
Sanitize your utility sink
You might not have a dedicated utility sink, but whatever sink you tend to use to rinse mop water and soiled clothes needs a little extra disinfecting attention. Put a stopper in the bottom of the sink, fill it with water, and add bleach at a ratio of ¼ to ¾ of a cup of bleach per gallon of water.
Wipe down your laundry baskets
Your laundry baskets, which hold both the dirty laundry and the freshly laundered clothes, could use sanitizing. The easiest way to do this is to wipe it down with a disinfecting wipe. Make sure you allow the surface to stay wet for at least four minutes (it's on the package!) to let the disinfectants go to work.
Think about it: Your soap pumps get touched by hands that aren't yet washed by soap. They could use a good cleaning. Wipe them down with a rag moistened with an all-purpose cleaner, then run over them with a disinfecting wipe. Use a fingernail, or toothpick through your wipe to clean grime out of small crevices.
Run a cleaning cycle on your dishwasher and washing machine
It may not seem that your dishwasher and washing machine would be dirty. After all, each time they wash your dishes and clothes, those come out clean. But residue buildup from hard water, detergent, and dirt as well as mustiness caused by perpetual moisture can cause odors and eventually affect performance. You can use a product specifically designed to address these issues, one for washing machines and one for dishwashers, to ensure that the cleaning cycle you run is efficient. If you have more time to get hands on, you can clean your dishwasher or clean your washing machine with baking soda, vinegar and a few common tools.
Get your scrub brushes, big and small, and soak them in a bucket or container filled with equal parts warm water and vinegar. Alternately, you may be able to run them through a cycle in the dishwasher (without anything else in there).
Dislodge any clinging dust and debris by banging your broom against a tree or deck post outside. Next, soak in a bucket of warm water and dish soap for a couple of hours before rinsing it and setting it outside to dry in the sun.
Clean your vacuum cleaner
Start with the brush rollers. A seam ripper comes in handy for removing wound-around hair and fur. Next, clean the canister. For bagless machines, rinse the canister and set it outside to dry. For units with bags, wipe out the canister with a lightly dampened cloth. Wash washable filters. Clean out accessory tools by removing hair and debris and rinsing, when applicable. Finally, wipe down the exterior of your unit with a dampened cloth.
Deep clean your faucets and showerheads
Use the vinegar-in-a-bag method to clean kitchen sink and shower faucets. Next, scrub your fixtures with a baking soda-and-water paste or a damp rag with a bit of Bar Keeper's Friend. A small brush helps tackle tiny grooves and crevices.
You can catch up with weekend projects right here. Share your progress with us and others by posting updates and photos on Instagram and Twitter with the hashtag #atweekendproject.
Remember: This is about improvement, not perfection. Each week you can either choose to work on the assignment we've sent you, or tackle another project you've been meaning to get to. It's also completely okay to skip a weekend if you're busy or not feeling the assignment
We independently select these products—if you buy from one of our links, we may earn a commission.