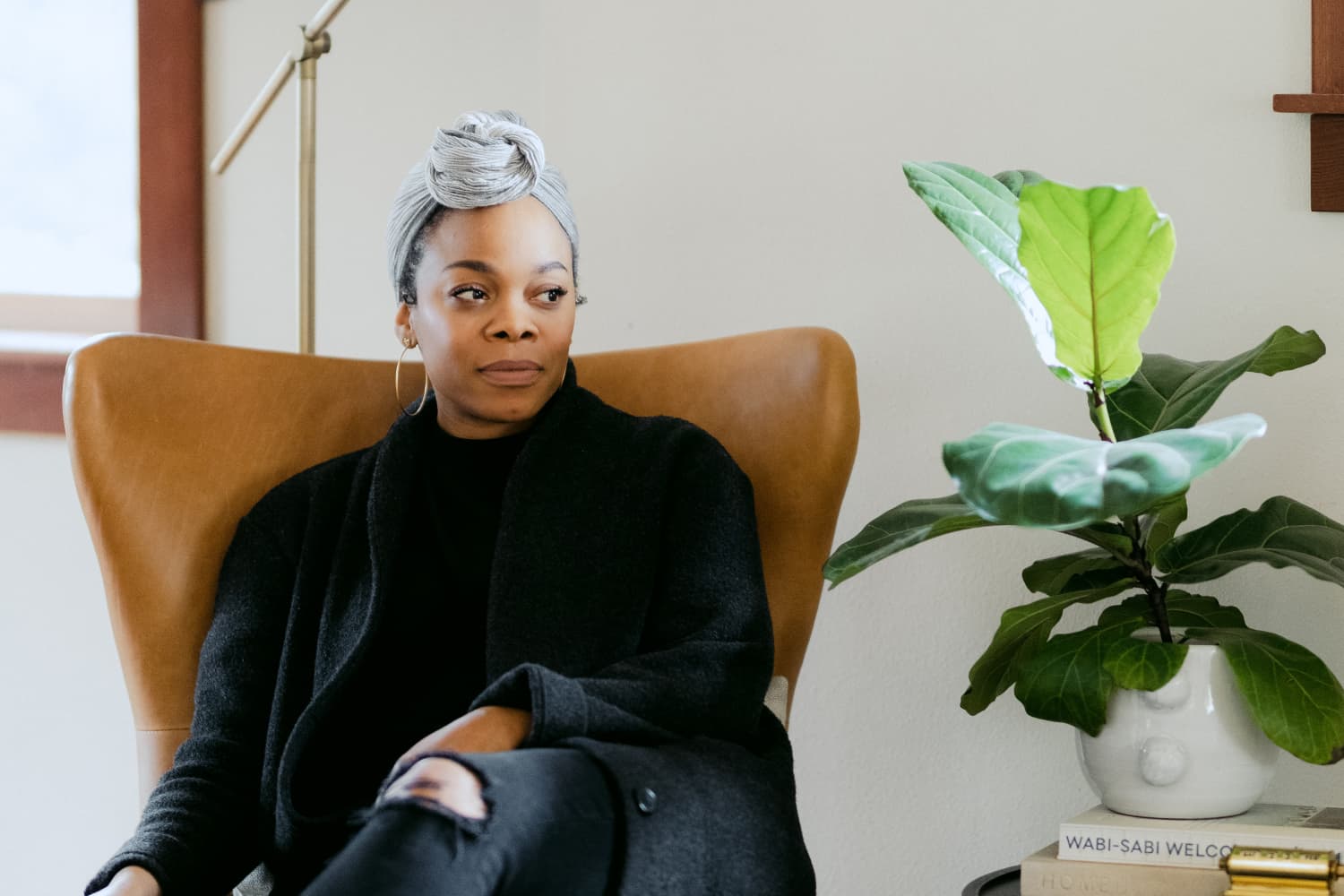 Name: Kennesha Buycks, her husband, and children
Location: Seattle, Washington
Size: 2,000 square feet
Years lived in: 4 years, renting
To only call Kennesha Buycks a "designer" would be missing a lot of what she does. "I am an encourager. A storyteller. A life-breather. A creative. An influencer. A stylist. A gatherer. But, most of all? I am a woman who loves connecting with the hearts of others through home," she writes on her popular blog, Restoration House. She tells her stories mainly through design, from the pictures on the wall, to the many artifacts that bring spaces to life throughout the home she shares as a fostering family in a fostering community in Seattle. The visual aesthetic of the rental could be described as a classic style with Southern persuasion and a modern touch. But as soon as you enter her carefully curated home, you are greeted by creative comfort that feels as wonderful as it looks.
Creating cozy and beautiful homes is something Kennesha learned through experience: as the wife of a veteran, she moved nearly 10 times in the first 10 years of her marriage due to her husband's command assignments. She believes that homes have the power to renew, and advocates for designing spaces that inspire. The title of her blog (which she started over a decade ago to show and sell furniture pieces she was refinishing) and the title of her book that published last month—Restoration House—references the restoration to one's spirit that can take place when you transform your home into a safe haven.
The book runs the gamut from tips to restoring furniture, to decorating in a small space, to describing the different homes she's lived in over the years, to sharing how her Christian faith shapes and influences her design work. Like her blog, it's full of suggestions on how to make the home you live in now your own sanctuary.
The rental home she shares with her family is a living example of all her design principles, with a soft, muted color palette taken from nature, organic modern accents, and lots of tactile textures. It's not exactly minimalist, but it's definitely uncluttered, giving an airy feel to the space. And perhaps most importantly, you see how the design of the home acts not just as a soothing sanctuary, but as a blank canvas for what she considers the defining element of the home: stories. "Beyond throw cushions and candle holders, our stories make our homes what they are, and inform what we want home to be, she writes in Restoration House. "Embracing our stories will leave us with something deeper, richer, stronger than mere decoration. It will help us build a home that's true to us—one of a kind."
You can check out the Restoration House blog for additional details about upcoming speaking engagements and events.
Apartment Therapy Survey:
Our Style: Classic design with modern touches
Favorite Element: Vintage and antique accents and pieces
Biggest Challenge: Layout of home
What Friends Say: "Feels so cozy and comfortable; relaxing…"
Proudest DIY: IKEA hack daybed in multipurpose room
Biggest Indulgence: Hipster coffee shop lattes
Dream Sources: sfgirlbay.com + shop amber interiors + elsie green and so many more…
We independently select these products—if you buy from one of our links, we may earn a commission.