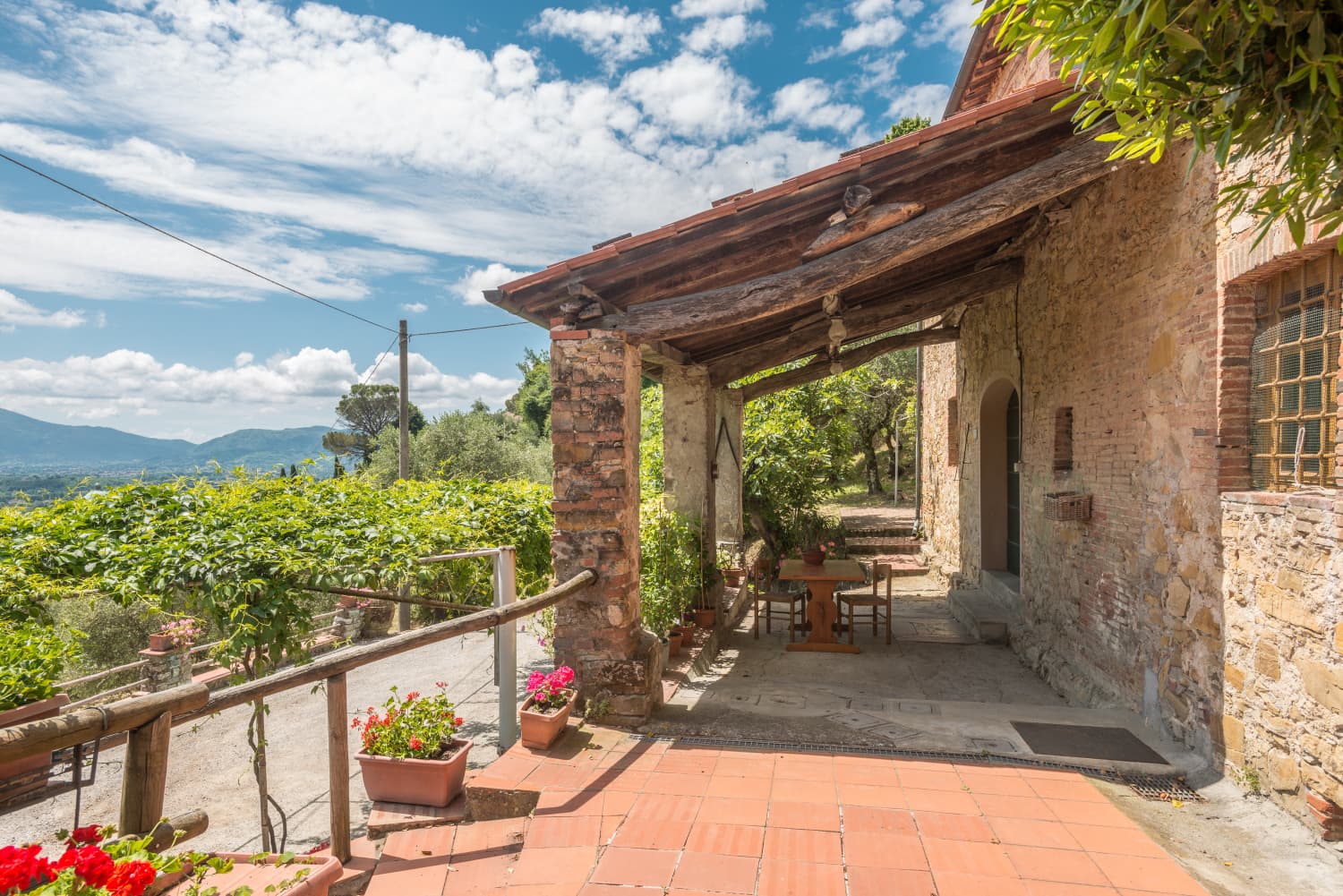 Pour yourself a glass of wine and join me on an excursion through a rustic Italian farmhouse (the luxury of which I could never comprehend in a thousand lifetimes). Nestled in the hills of the medieval city of Lucca, the home boasts breathtaking views of the countryside. Look as the green of hundreds of olive trees fades into the clear blue sky.
A blossoming tree canopies the tiled terrace, from which you can gaze at the Renaissance-era city walls in the distance. Take a few more generous sips of that wine while your mamma demands to know, yet again, which of Lucca's 100 churches you patronize on Sundays.
Now, savor the crunch of gravel beneath your feet as you make your way up the terracotta-colored steps into the main house.
The characteristically-Tuscan exterior leads to a beautifully detailed interior, complete with crisp white walls, stone floors, and sturdy wood beam ceilings. The living space, with its fireplace and built-in bookshelves, could serve as a prototype for a Pottery Barn ad. But this is the real deal, baby!
Pass through the dining area, take a bottle from built-in corner cabinets, and pour that second glass of wine. Stunning red tiles add warmth to the kitchen, bringing out the natural earthy flavors of the surroundings.
Among the property's eight bedrooms and five baths is a corner bedroom with ample windows to survey the splendor of Lucca. Recalling that this single bedroom is the size of my entire Chicago apartment, I'm pouring wine number three. I imagine you'd fall asleep to the sound of rustling trees and awaken to the faint chime of church bells.
The "guardian's apartment," complete with its own kitchen, bedroom, and bathroom, serves as a spacious separate quarter for your mother to retire at the end of the night—close, but not too close.
At the property's eighteenth-century mill, there are several (several!) wineries at ground level, and a separate space for bottling wine and oil. Drink your loved ones Under the Tuscan Table.
At tour's end, I'm tipsily flirting with the townsfolk and ready to curl up under an olive tree and live here for eternity. Join me as I bid arrivederci to my former life and eagerly name Lucca my new home. (If you have access to $990,322, please Venmo me ASAP!)
More great Real Estate reads: