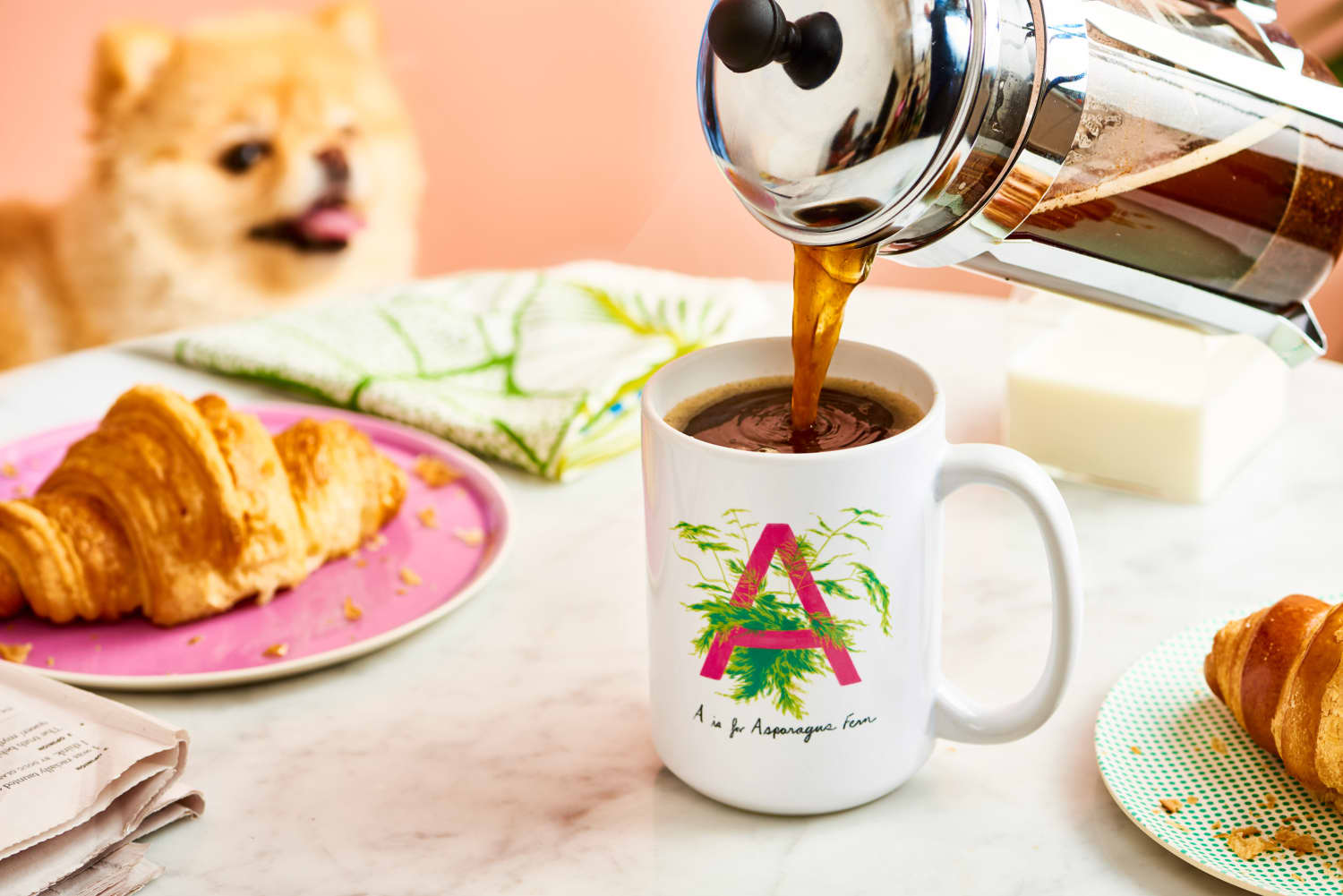 Monogramming isn't just reserved for your grandmother or local sorority. Even though the style has been around for centuries (back when it was mainly a symbol of prestige), it's making a comeback in the home. From towels and pillowcases to throws and accessories, monogramming is a great way to personalize your home—and make it clear to whoever is living with you what is yours.
This might be why monogram mugs are so popular—whether you live with roommates, a partner, or just like to have guests over, stamping your initial on a mug makes the ritual of drinking coffee (or tea!) that much more personal. We found some of our favorite monogram mugs on the market, ranging from classic and minimal to contemporary and bold. Take a look below, and get your carts ready because half of them are currently on sale.
Anthro started the monogram mug trend with their instantly recognizable Homegrown Mug (currently on sale for $6.40), but this updated tiled version is truly one-of-a-kind. Made of decaled stoneware (which means it's not microwave-safe), the design was inspired by French bistro tile work. It's distinctive, sophisticated, and a perfect gift (for you AND your friends). Right now, Anthro is offering 20 percent off full-price dinnerware (including mugs)—check out the entire sale here.
If you missed the announcement last week, we just launched a collection of adorable plant monogram mugs on Society6. Maybe we're a little biased, but these mugs are kind of amazing. They're made of ceramic with a large handle for easy gripping, are available in two sizes, and each letter corresponds to a cute house plant.
Sometimes simple is just better. With a bold serif type and large font, this mug is here to make a statement—namely, this is my mug, do not touch it. It's made of stoneware and is a good size (no dainty handles here), and for just $7 you can grab one for your entire household.
Currently super on sale at West Elm, you'll want to grab this mug while you still can. It has a ton of personality, with bright colors, bold patterns, and a gold initial that makes a real statement. Plus, it's really big (check out that perfect handle). If this mug doesn't wake you up in the morning, nothing will.
If you like a more homemade look, this handmade ceramic mug found on Etsy is calling your name. Each mug is made to order, so will have small variations that only increase the charm. It's also customizable: Choose between a soft white or oatmeal interior, as well as one of 7 exterior colors.
For a different style, consider this soup mug from Terrain. The initial is on the inside of the mug rather than the front, creating a simpler look that still identifies the mug as specifically yours. Hand-thrown and made of ceramic stoneware, each mug is slightly different—and each letter corresponds with a specific, muted color.
For a no-fuss option that still feels elegant, check out this calligraphy-inspired mug found on Walmart, of all places. The simple font and unassuming decoration keep things casual, and the budget-friendly price makes this a real must-have. Take note: Other letters are available as well, but you'll have to search for them (Walmart doesn't list them all together).
We independently select these products—if you buy from one of our links, we may earn a commission.