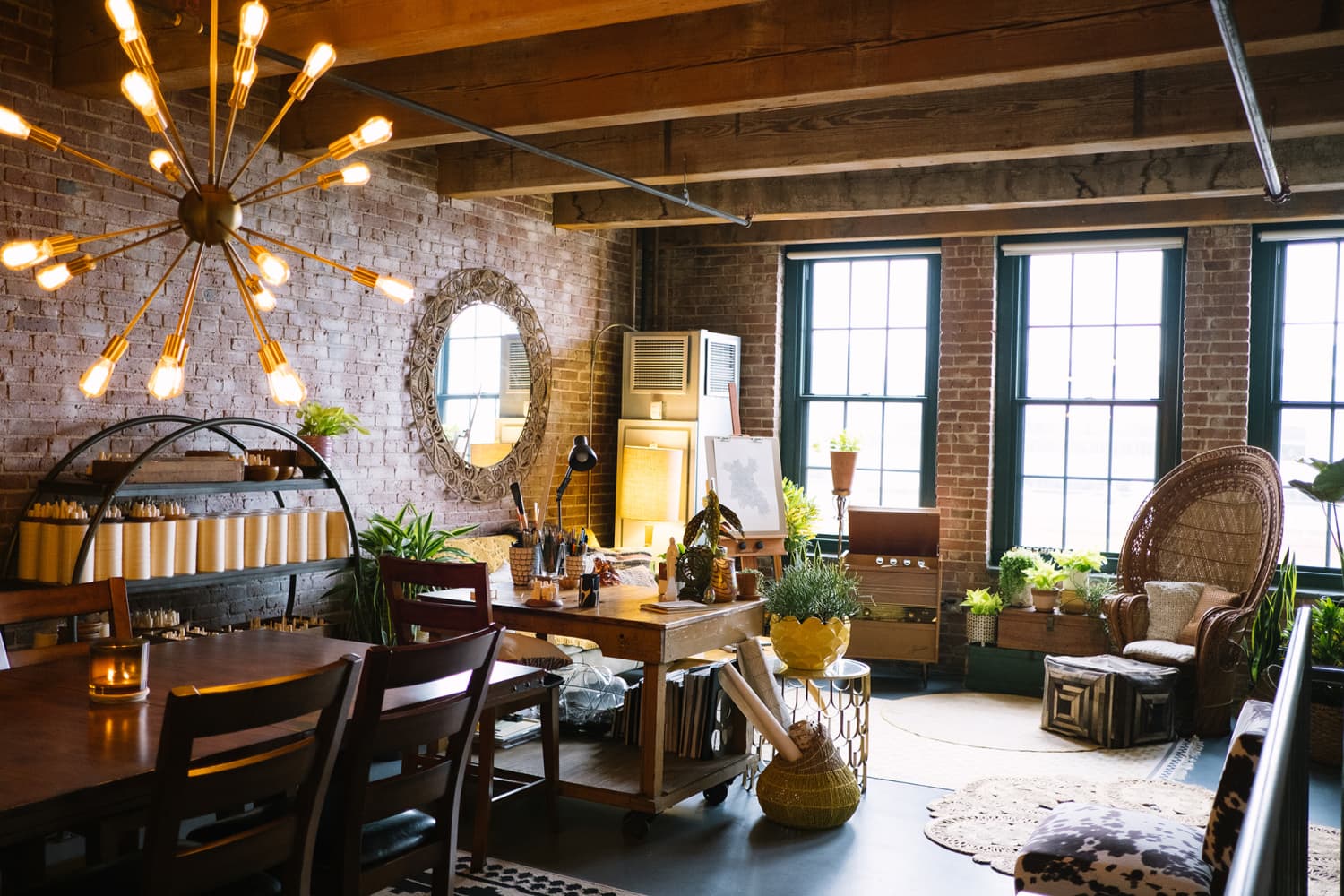 Name: Sarah Anne DiNardo and my fiancé Daniel
Location: Boston, Massachusetts
Type of home: Brick and Beam Loft
Size: 1,600 square feet
Years lived in: 1 year, renting
Tell us a little (or a lot) about your home and the people who live there: I love having new eyes and hearts in our home. To watch a new visitor walk in with a sense of delight and discovery as they ask questions about each individual piece in the space. EVERY piece in our home has a unique and interesting story. More is more with our design aesthetic and every blank space is an opportunity to tell our story. With the canvas of the brick and beam of the old wool factory building converted into artist lofts, we decided earth tones, textures, and pops of acid green/yellow would create the perfect nest. There are always candles burning, plants growing, and warm ambient light to make everyone feel like they have arrived home.
The name of my LLC was no accident. Life is a crazy journey we are all on together, and all you can do is roll with it. I love how our attitude toward life also relates to my sculpture work, which is hand-rolled masking tape. We have this oversized vinyl on our wall to remind us to just keep moving and stay positive.
This desk is a very special piece to me and where I spend most of my time. Daniel and I discovered her in an antique store in Wellfleet underneath a pile of treasures. We almost drove by the store, but something was calling, knowing something special was inside. When we inquired about its story, the owner explained that is belonged to an old book factory in Charlestown, Massachusetts in the early 1900s. It was used to transport books from one end of the factory to the other.
To complement all of the acid green found in the plant life in the space, we decided we needed the matching accent wall in the kitchen to add balance. I grew up in a home in Rhode Island with the same color kitchen and a mother that at all times had more than 100 house plants in the space. The apple never falls far from the tree!
The black and white linework pieces on the wall came from an illustration that I had drawn that was roughly 4" square. I worked with a fabricator and once vectorized, the illustration was replicated and turned into a crazy dance floor for an event. After the event, I claimed one of the dance floor pieces, cut it in thirds and enjoy it on the wall. I love the energy it has, especially with the scuff marks on it from people dancing and enjoying the event!
This 1950s Telefunken Sonata is one of my most prized possessions. My father was an army brat during WWII and received this German record console as a birth gift. He has carried it with him throughout his life from one home to another. After many years of transportation, the record player was in disrepair. I did some research on restoration services and found one of two people in the country capable of restoring this piece was located in Connecticut. It took over a year, but the artisan told my father and I that things aren't made like this anymore and now that it was restored, it would outlive us both. I hope my children will enjoy it one day as I have.
The lower level of the loft is where we wanted to just evoke comfort with accents of funk. Don't you want to just curl up on the couch and binge your favorite show? Daniel can be found here every Sunday cheering on the Patriots with a few libations!
Beneath the stairs is where I do a lot of my paperwork/email correspondence for the LLC. I can't help but surround myself with images from the past, samples from prior projects, and family trinkets to ease the nature of business emails.
Describe your home's style in 5 words or less: Lost and Found Assemblage
What is your favorite room and why? This is a difficult question because of the nature of our floor plan! But, I would have to say upstairs where we have designated a kitchen, guest entrance, and studio really evoke our vibe as a couple. Our kitchen table is always packed with laughter, food of every color, and lit with our amber Edison bulbs. We love to entertain and consider our tablescape and menu a satisfying and evolving art form.
Any advice for creating a home you love? Be patient but know nothing is permanent. If you LOVE something, it will work somewhere in your space. I've learned a lot about styling a home by the psychology of plants. You can purchase the most beautiful and unique plant and place her in the perfect location in your home, but plants are funny creatures. You have a plan and then they will tell you where they actually want to belong and alongside whom. I truly believe decor is this way as well. So if you don't love something, pick it up and try it somewhere else. Still don't love it, turn it in a different direction. Always keep imagining the things you love and they will evolve your whole life.