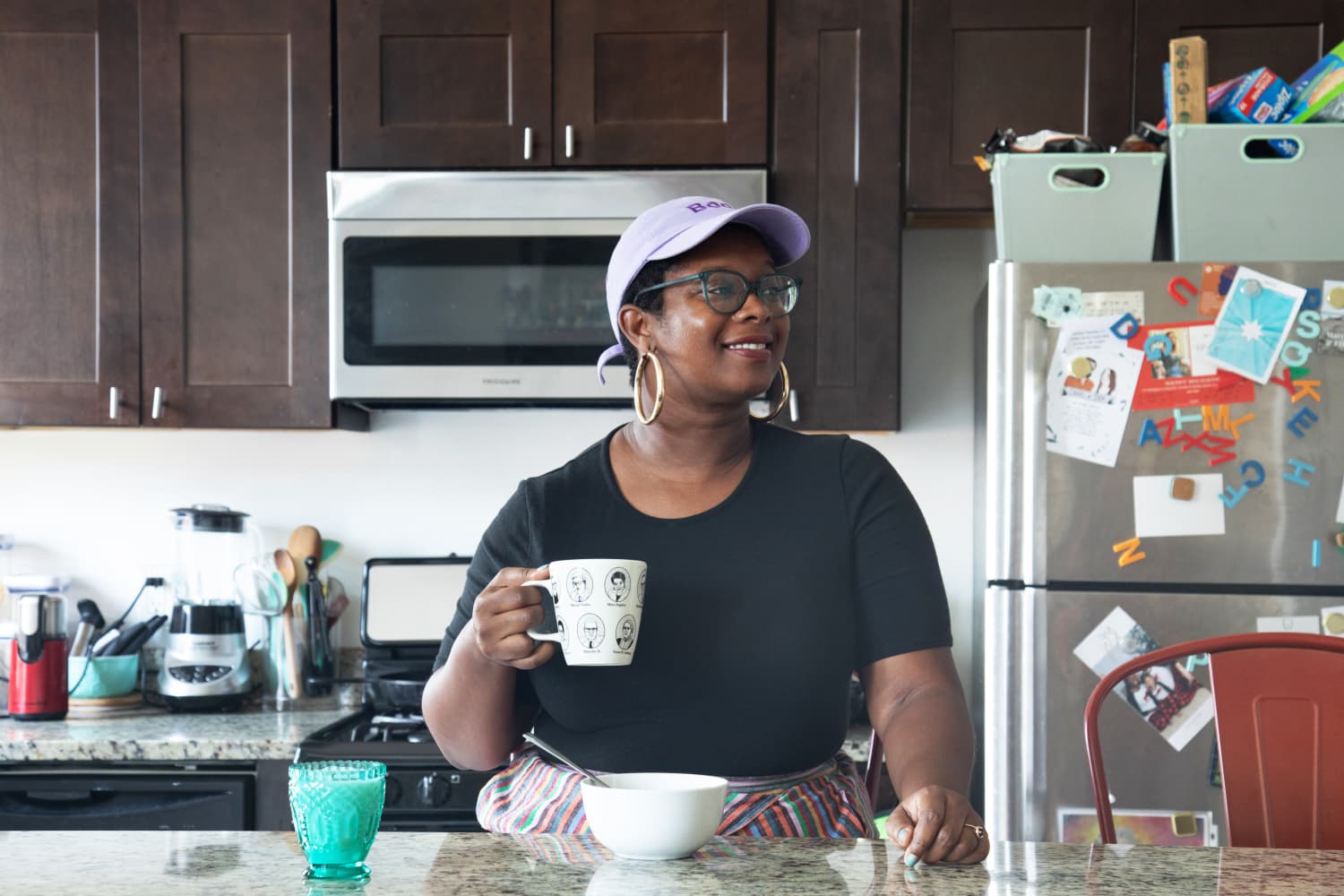 Writer Ashley Ford approaches her work with intelligence, humor, openness—and vulnerability, an element that also proves important in her home.
"To me, home is your safest space. And I don't mean safety in terms of a bubble or something that keeps danger out. But just a place where you feel free to be yourself. Free to love and be loved," Ashley says. " . . . Home is for you to be vulnerable."
Ashley's writing covers topics including bodies (and feelings about bodies), Black Girl Magic and queer identity. Right now, Ashley is the host of PROFILE by BuzzFeed News, an "interview show bringing you the biggest names in news and entertainment right now." She's also working on writing her memoir, Somebody's Daughter, which will be published by Flatiron Books. Her work has been featured in an impressive roster of publications, like Allure, ELLE, BuzzFeed, SELF, Slate, Teen Vogue, and The Cut. She's been on Forbes Magazine's 30 Under 30 list, Brooklyn Magazine's Brooklyn 100 list, and been one of Time Out New York's New Yorkers of The Year.
Originally from Indiana, Ashley currently calls this one-bedroom apartment in Brooklyn home, and shares it with her husband, writer Kelly Glen Stacy, and their newly adopted dog Astro Renegade Ford-Stacy (through The Sato Project). A warm, snug space filled with all of the things they love (records, books, encouraging notes to one another, a lot of Hulk), they also strive to make sure their home is comfortable for their guests, too. Ashley says they really want people to feel like they are welcome and wanted in their space.
While the entire apartment gives off a cozy vibe, the home isn't without its challenges. Both from the Midwest, Ashley and Kelly are used to much larger spaces. While they've made this one-bedroom space work beautifully for how they need their home to function, Ashley admits she'd "kill for a second bedroom."
Yes, the home of two writers is filled with shelves packed with books, but they both make decluttering their personal library a regular event. They often take boxes of books down to their building's lobby to share with neighbors. "Books aren't, in my opinion, meant to live on shelves forever," says Ashley. "Like at some point, someone should be reading that book. If you're not going to get back to it, it's time for that book to move on. It's time to give it to someone who will."
Everywhere you look, there's something meaningful, encouraging, or charming, from the "geeky" Hulk memorabilia, to stacks of gorgeous travel magazines, to even a prominently-displayed white board full of goals. Is it a minimalist's home? Nope. But it is a beautiful space created with intention… and definitely a home this creative couple enjoys.
"In my mind I'm a little bit of 'a place for everything and everything in its place,'" Ashley says. "But in reality I'm more of a person who just makes piles, so I need things that look cute even when they're just in piles."
We independently select these products—if you buy from one of our links, we may earn a commission.